CAMERISTI CROMATICI
Desde el Barroca a las bandas sonorous
Teatro El Salinero, Arrecife
Saturday 4th September 2021
reviewed by Norman Warwick
The concert, "Desde el Barroco a las bandas sonoras" took place in Teatro El Salinero in Arrecife at 8.00 on Saturday 4th September and run for an hour. Fot his beautiful convert the admission is only 15 euros.
The Ensemble "Cameristi Cromatici", was born in September 2017 as a result of the friendship of the musicians Carlo Romano, Massimo Macrí and Roberto Bacchini with the idea of proposing a repertoire from the Baroque period to reach our days, including magnificent soundtracks of some films that Roberto Bacchini has transcribed and arranged specifically for Massimo Macrí and Carlo Romano, who has always been the first Oboe of the Ennio Morricone Orchestra. The quartet travelled for the first time to the Canary Islands to offer us a repertoire in which they guided us through a journey from the Baroque to film music.
The players (left) were Oboeist Carlo Romano, with Violín ftom Francesco Postorivo, Violonchelo by Massimo Macrí and Clavicémbalo with Piano played by Roberto Bacchini.
The programme included a piece by Scarlatti(1659-1725), Pastorale dalla Sonata in Re min. K9. Giuseppe Domenico Scarlatti, also known as Domingo or Doménico Scarlatti (right) was an Italian composer. He is classified primarily as a Baroque composer chronologically, although his music was influential in the development of the Classical style. Like his renowned father Alessandro Scarlatti, he composed in a variety of musical forms, although today he is known mainly for his 555 keyboard sonatas. He spent much of his life in the service of the Portuguese and Spanish royal families.
Published in London in 1738 as one of Scarlatti's Essercizi per gravicembalo, this Sonata in D minor may well date back a decade or two before that year. It was one of 30 sonatas by the composer to appear in that volume, the first publication ever to feature Scarlatti's keyboard sonatas. Marked allegro moderato, it is paced much more slowly than that tempo indication would normally suggest. Its Pastorale nickname is well chosen: this Sonata is a light, lyrical work whose occasional playful qualities blend well with the overall sense of serenity and bucolic charm of the music.
The four players took to the stage tonight dressed as if the invitation had advised smart-casual dress, in open necked black shirts and trousers. Any formalities and introductions throughout the evening were delivered by Massimo Macri, from a position in the midst of the quartet, all placed centre stage. He is a soft spoken, but charming man, who delivered the opening explanation of what we might listen out for from where he was standing. There was an upright vocal mic, placed perhaps to capture the violin, that he could have used so that Dee and I, half-way back up the floor of the theare, might have better heard what we wouldn´t have understood any way because it was spoken in Spanish. That said, we might well have been the only English people in the audience, of course. This was again a performance under existing post covid restrictions, with a reduced capacity. That mattered not to Massimo who, as we all leaned forward to hear him, was winning friends and influencing people. His conversational manner created a lovely question and answer informality with the audience that was maintained throughout the evening.
The players perfectly captured the somewhat wistful theme of the opening piece. A mixture of elegance and gentle playfulness gives this a dreamy sense, a feeling the notes are floating amid the few clouds in a sunny, warm sky. The musicians illustrated, though, that while it has a pastoral character, its graceful manner and stately charm suggest a regal presence, as if the Court has gone on holiday to the countryside. In the second half of the work, Scarlatti develops the expository material, maintaining much the same mood but darkening the main theme a bit. This four-minute gem has a mesmerizing quality to its beauty and serenity and was a perfect opening to this showcase concert.
There was occasional use of pizzicato by both the violinist and by the violacellist, with the latter even once using his bow as a percussive to create a short thymic piece on the neck of his instrument.
This piece by Scarlatti was opened as an ensemble and the four players demonstrated mutual respect for the music, the composer and each other and their instruments. It would become a recurring event of the evening that the line-up would fluctuate between delivery by the four players and occasional paired partnerships of piano and violacello and of violin and oboe.
This was followed by a composition by Antonio Lucio Vivaldi (4 March 1678 – 28 July 1741).
Vivialdi (left) was an Italian Baroque musical composer, virtuoso violinist, teacher, and priest. Born in Venice, the capital of the Venetian Republic, he is regarded as one of the greatest Baroque composers, and his influence during his lifetime was widespread across Europe. He composed many instrumental concertos, for the violin and a variety of other instruments, as well as sacred choral works and more than forty operas. His best-known work is a series of violin concertos known as the Four Seasons.
Many of his compositions were written for the all-female music ensemble of the Ospedale della Pietà, a home for abandoned children. Vivaldi had worked there as a Catholic priest for 1 1/2 years and was employed there from 1703 to 1715 and from 1723 to 1740. Vivaldi also had some success with expensive stagings of his operas in Venice, Mantua and Vienna. After meeting the Emperor Charles VI, Vivaldi moved to Vienna, hoping for royal support. However, the Emperor died soon after Vivaldi's arrival, and Vivaldi himself died, in poverty, less than a year later.
Antonio Lucio Vivaldi was born on 4 March 1678 in Venice, then the capital of the Venetian Republic. He was baptized immediately after his birth at his home by the midwife, which led to a belief that his life was somehow in danger. Though the reasons for the child's immediate baptism are not known for certain, it was done most likely due either to his poor health or to an earthquake that shook the city that day. In the trauma of the earthquake, Vivaldi's mother may have dedicated him to the priesthood. The ceremonies which had been omitted were supplied two months later.
Vivaldi's parents were Giovanni Battista Vivaldi and Camilla Calicchio, as recorded in the register of San Giovanni in Bragora. Vivaldi had eight siblings: Iseppo Santo Vivaldi, Iseppo Gaetano Vivaldi, Bonaventura Tomaso Vivaldi, Margarita Gabriela Vivaldi, Cecilia Maria Vivaldi, Gerolama Michela Vivaldi, Francesco Gaetano Vivaldi, and Zanetta Anna Vivaldi. Giovanni Battista, who was a barber before becoming a professional violinist, taught Antonio to play the violin and then toured Venice playing the violin with his young son. Antonio was probably taught at an early age, judging by the extensive musical knowledge he had acquired by the age of 24, when he started working at the Ospedale della Pietà. Giovanni Battista was one of the founders of the Sovvegno dei musicisti di Santa Cecilia, an association of musicians.
During his lifetime, Vivaldi was popular in many countries throughout Europe, including France, but after his death his popularity dwindled. After the end of the Baroque period, Vivaldi's published concerti became relatively unknown, and were largely ignored. Even his most famous work, The Four Seasons, was unknown in its original edition during the Classical and Romantic periods.
In the early 20th century, Fritz Kreisler's Concerto in C, in the Style of Vivaldi (which he passed off as an original Vivaldi work) helped revive Vivaldi's reputation. This spurred the French scholar Marc Pincherle to begin an academic study of Vivaldi's oeuvre. Many Vivaldi manuscripts were rediscovered, which were acquired by the Turin National University Library as a result of the generous sponsorship of Turinese businessmen Roberto Foa and Filippo Giordano, in memory of their sons. This led to a renewed interest in Vivaldi by, among others, Mario Rinaldi, Alfredo Casella, Ezra Pound, Olga Rudge, Desmond Chute, Arturo Toscanini, Arnold Schering and Louis Kaufman, all of whom were instrumental in the revival of Vivaldi throughout the 20th century.
In 1926, in a monastery in Piedmont, researchers discovered fourteen folios of Vivaldi's work that were previously thought to have been lost during the Napoleonic Wars. Some missing volumes in the numbered set were discovered in the collections of the descendants of the Grand Duke Durazzo, who had acquired the monastery complex in the 18th century. The volumes contained 300 concertos, 19 operas and over 100 vocal-instrumental works.
The resurrection of Vivaldi's unpublished works in the 20th century is mostly due to the efforts of Alfredo Casella, who in 1939 organized the historic Vivaldi Week, in which the rediscovered Gloria (RV 589) and l'Olimpiade were revived. Since World War II, Vivaldi's compositions have enjoyed wide success. Historically informed performances, often on "original instruments", have increased Vivaldi's fame still further.
Recent rediscoveries of works by Vivaldi include two psalm settings of Nisi Dominus (RV 803, in eight movements) and Dixit Dominus (RV 807, in eleven movements). These were identified in 2003 and 2005 respectively, by the Australian scholar Janice Stockigt. The Vivaldi scholar Michael Talbot described RV 807 as "arguably the best nonoperatic work from Vivaldi's pen to come to light since the 1920s". Vivaldi's 1730 opera Argippo (RV 697), which had been considered lost, was rediscovered in 2006 by the harpsichordist and conductor Ondřej Macek, whose Hofmusici orchestra performed the work at Prague Castle on 3 May 2008—its first performance since 1730.
It always fascinates me how pieces of classical music, by even the greatest of composers, seem to flow in and out of favour and fashion over the centuries. Perhaps classical music is more affected by history than any other genre.
Certainly tonight, this selection showed why Vivaldi and his music remain great favourites on the Classic fm playlists. Although, on what felt like the hottest night of the year, there could be little doubt that of the four seasons, we were definitely in summer this was all beautifully and coolly played.
The temperature on stage, despite the serenity of the delivery, must have been torture, particularly when the players looked out at an audience of fans, of whom around 75% were waving fans, if you see what I mean.
In his humble, chatty way Massimo requested technicians to subdue the stage lighting, and then a few minutes later begged the indulgence of the audience so that the hard-working ,Oboeist Carlo Romana, the only musician not seated, might leave the stage to change his shirt. Whilst Carlo did so, Massimo, from his un-miced stage position conducted a bit of a chat with the audience until Carlo returned, but sadly had left his glasses in the changing room, and so Massimo extemporised with chats about Baroque music and film score music and particularly that to come later.. Carlo was soon back, though and the unperturbed Massimo introduced a work by a composer I was barely familiar with until now.
Tomaso Giovanni Albinoni (8 June 1671 – 17 January 1751) was an Italian Baroque composer. His output includes operas, concertos, sonatas for one to six instruments, sinfonias, and solo cantatas. While famous in his day as an opera composer, he is known today for his instrumental music, especially his concertos. You can hear plenty more music created by Albinoni (left) on the Classic FM website, and I will certainly be heading over there to learn more about him, Tonight, though, we were offered his Concerto per Oboe e Orch. In Re min. Op.9 n.2.
This was a strange concoction that gloriously played, and my wife Dee swore she heard the theme from Love Story, and there would be other film scores to come.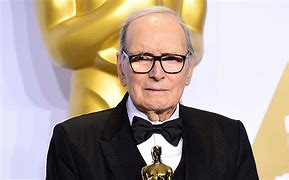 These came with a change of mood with a selection of film scores from Ennio Morricone (right). He was, of course, an Italian composer, orchestrator, conductor, and trumpeter who wrote music in a wide range of styles. With more than 400 scores for cinema and television, as well as more than 100 classical works, Morricone is widely considered one of the most prolific and greatest film composers of all time. His filmography includes more than 70 award-winning films, all Sergio Leone's films since A Fistful of Dollars, all Giuseppe Tornatore's films since Cinema Paradiso, The Battle of Algiers, Dario Argento's Animal Trilogy, 1900, Exorcist II, Days of Heaven, several major films in French cinema, in particular the comedy trilogy La Cage aux Folles I, II, III and Le Professionnel, as well as The Thing, Once Upon a Time in America, The Mission, The Untouchables, Mission to Mars, Bugsy, Disclosure, In the Line of Fire, Bulworth, Ripley's Game, and The Hateful Eight. His score to The Good, the Bad and the Ugly is regarded as one of the most recognizable and influential soundtracks in history. It was inducted into the Grammy Hall of Fame.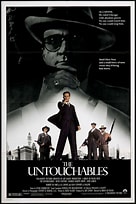 I love Ennio most of all for his film score of Once Upon A Time In The West and the gorgeous Cinema Paradiso. Of course he is also widely known for the spaghetti music of A Few Dollars more and, also, The Good The Bad And The Ugly and had the knack of making music that enhanced the mood of a film at any stage of its telling. I always think his theme for The Untouchables (left) perfectly captured the derring do of Kevin Costner (as Eliot Ness) and Sean Connery (as cop, Jim Malone) and the sheer terror of the baby in a pram rolling ever-more-quickly down the steep steps of a railway terminus.
Tonight the four musicians gave us a moving interpretation of that sound from Cinema Paradiso: the wanderlust of the violin, the sadness of the violacello. The audience was respectfully silent for all the music tonight, but this was a pin-drop moment of the kind that only great classical music played by musicians as one with their instrument can produce. For a few minutes, I´m sure, we were an audience of 250 individuals each considering our personal take on the emotions we were hearing. For me the music complements the title and my awareness of the film and the beautiful sounds created tonight took me back to Tadcaster Odeon, and vivid, tangible memories of my under fifteen self creeping in for the movies for grown ups.
We have referred previously on these pages to the work of Giovanni Rota Rinaldi , better known as Nino Rota, (right) was an Italian composer, pianist, conductor and academic who is best known for his film scores, notably for the works of Federico Fellini and Luchino Visconti. He also composed the music for two of Franco Zeffirelli's Shakespeare films, and for the first two films of Francis Ford Coppola's Godfather trilogy, earning the Academy Award for Best Original Score for The Godfather Part II (1974). During his long career, Rota was an extraordinarily prolific composer, especially of music for the cinema. He wrote more than 150 scores for Italian and international productions from the 1930s until his death in 1979 — an average of three scores each year over a 46-year period, and in his most productive period from the late 1940s to the mid-1950s he wrote as many as ten scores every year, and sometimes more, with a remarkable thirteen film scores to his credit in 1954. Alongside this great body of film work, he composed ten operas, five ballets and dozens of other orchestral, choral and chamber works, the best known being his string concerto. He also composed the music for many theatre productions by Visconti, Zeffirelli and Eduardo De Filippo as well as maintaining a long teaching career at the Liceo Musicale in Bari, Italy, where he was the director for almost 30 years.
Tonight our players gave an enchanting interpretation of Rota´s Piccola Suite, that flew and flit as if a bird finding its wings. It was a classical piece of toe-tapping dance music.
The evening closed with a performance of another film score: this time Buongiorno Principessa y La vita è bella. Composed by Nicola Piovani, (left, born 26 May 1946) an Italian light-classical musician, theater and film score composer, The film and its soundtrack were released under the title of Life Is Beautiful, and Piovani´s music won the 1999 Best Original Dramatic Score Oscar for the score of the Roberto Benigni film.
The quartet delivered this to close the show, and it was a perfect, joyous selection. So much so, that within seconds of the closing the audience were on their feet in a standing ovation, in demand of an encore. The musicians genuinely seemed as pleased for the composers and their music as they were for themselves, but be in no doubt that this ovation was paying a tribute to the musicians.
It was applause for the gently supportive piano work of Roberto Bacchini. He also took great joy, for a few, brief bars, in delivering a carefree lead melody line, and on one occasion played tambourine in a manner that lent a touch of the Steeleye Span to this stately music.
It was cheering for how the violin of Francesco Postorive was held as if a lover and for how he and it had whispered sweet-nothings to each other throughout the concert.
It was a ´bravo´ for the playing of the violacello and the unassuming control of the audience with which Massimo Macri had laid the foundation of the relaxed tone of this concert.
It was a stand-up for the oboe, played always by Carlo Romano in empathy and sympathy with his three colleagues and their own instruments. Each musician had contributed to the whole but Carlo had also gently conducted his three friends whenever he was not playing. There seemed to be a spirit of a loose-limbed, easy going, jive talking jazz player in his performance.
And Carlo it was who extended the encores to lead the audience in a lovely la la la sing-along, to close the encores, that had theatre staff dimming and rising the lighting, filing people to the exits and then ushering them back in again as we all, some of us perhaps for the first time since covid arrived, thanked the musicians for the concert and for reminding us all of the joy of This Beautiful Life.
It was an ovation for music and musicianship that had reminded us that Life Is Beautiful !
The excedllent front of house staff at El Salinero took in their stride all the spontaneity and unscheduled movements of the quartet, and allowed the audience to enjoy the concert. As ever the staff were observant and diligent in wnsuring covid restrictions were followed but they were never intrusive or officious.
We offer them, here, their own ovation.
https://aata.dev/wp-content/uploads/2021/09/cover-2-1.jpg
608
745
Norman Warwick
https://aata.dev/wp-content/uploads/2020/04/newlogo.png
Norman Warwick
2021-09-07 08:23:05
2021-09-07 08:33:50
CAMERISTI CROMATICI