MANCHESTER CATHEDRAL; open
MANCHESTER CATHEDRAL; open to musicians
by Norman Warwick & Michael Higgins
More than fifteen years ago I organised and took part in a flash mob event in Blackburn Cathedral, (with all necessary permissions I hasten to add). To celebrate National Poetry Day 2005 I encouraged the members of my Blackburn writing group to write a scene, in poetic form, that would open up discussion about homelessness in the town. With over 600 school-children in the Cathedral for a creative writing marathon in the morning, this activity in the afternoon and then my own Just Poets group giving a performance in the same venue later in the evening the Cathedral was in its rightful place with its finger on the pulse of its community. Although I have been retired here on Lanzarote for six years now I still hear great things about the work the cathedral undertakes. Now I also hear from Michael Higgins about a series of events to be held at Manchester Cathedral, intended to reach out to its people.
Manchester Cathedral has been centre stage in its city's history for nearly 600 years. In 1421 Henry V signed a charter granting permission for a collegiate church to be built. In 1847, following the huge growth in population during the Industrial Revolution, a new Manchester Diocese was created and this church became Manchester Cathedral. Its thrilling beauty and majesty, forest of pillars and magnificent 15th century quire have inspired musicians, writers and poets to find expression and joy in this sacred space. But this is not a museum – this is a working church and it is teeming with life. Come along to the host of brilliant events that we run here at Manchester Cathedral every year and help us to protect this very special place for another 600 years. 
Poetry And The Life Of The Soul is advertised as areflection and resource day, with Canon Mark Oakley. The Priest and award-winning spiritual writer Mark Oakley will visit Manchester to lead a day of prayerful reflection on poetry and its power to form us into the likeness of Christ. This attempt to welcome a non-traditional audience into the arena and no doubt some members of the local Travellers creative writing, (reported previously on these pages) will drop in, too. All will be welcome. The event is 'free', but the suggested donation (on the day) is £10.
Mark Oakley is Dean of St John's College, Cambridge, a popular public theologian, and an award-winning writer on poetry, prayer and spirituality. The Splash Of Words won the 2019 Michael Ramsey Prize, and his writing on George Herbert and R.S.Thomas has been universally praised.
George Herbert (3 April 1593 – 1 March 1633) was a Welsh-born poet, orator, and priest of the Church of England. His poetry is associated with the writings of the metaphysical poets, and he is recognised as "one of the foremost British devotional lyricists." He was born into an artistic and wealthy family and largely raised in England. He received a good education that led to his admission to Trinity College, Cambridge, in 1609. He went there with the intention of becoming a priest, but he became the University's Public Orator and attracted the attention of King James I. He served in the Parliament of England in 1624 and briefly in 1625. After the death of King James, Herbert renewed his interest in ordination. He gave up his secular ambitions in his mid-thirties and took holy orders in the Church of England, spending the rest of his life as the rector of the rural parish of Fugglestone St Peter, just outside Salisbury. He was noted for unfailing care for his parishioners, bringing the sacraments to them when they were ill and providing food and clothing for those in need. Henry Vaughan called him "a most glorious saint and seer".[4] He was never a healthy man and died of consumption at age 39.
Ronald Stuart Thomas (29 March 1913 – 25 September 2000), published as R. S. Thomas, was a Welsh poet and Anglican priest noted for his nationalism, spirituality and dislike of the anglicisation of Wales. John Betjeman, in the introduction to Song at the Year's Turning (1955), the first collection of Thomas's poetry from a major publisher, predicted that Thomas would be remembered long after he himself was forgotten. M. Wynn Thomas said: "He was the Aleksandr Solzhenitsyn of Wales because he was such a troubler of the Welsh conscience. He was one of the major English language and European poets of the 20th century."
The day of reflection with Canon Oakley is only the first of a fairly packed calendar of events at Manchester Cathedral throughout the rest of the 2021.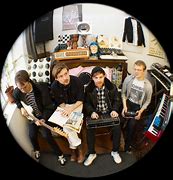 On Thursday 14th October Manchester Cathedral welcomes a British art rock band based in London, England. The quartet of David Maclean (drummer and producer), Vincent Neff (singer and guitarist), Jimmy Dixon (bassist) and Tommy Grace (synthesizer operator) met at Edinburgh College of Art, and formed Django Django (left) in London in 2009.
On the following evening of Friday 15th October, Turin Brakes continue the 20th anniversary tour of the celebration of their release of their highly regarded album, The Optimist. The group that've made folk rock fashionable again, Turin Brakes (right) lace their melodic acoustic musings with a healthy dose of indie to make the perfect hummable songs for those lazy summer afternoons. You can expect mind blowing vocals and awesome guitar from this very talented band.
On Saturday 13th November Manchester Cathedral will welcome Bobby Gillespie and Jenny Beth (left), a duo making quite a name for themselves. Jenny Beth's career started with Johnny Hostile in 2011 in London, where they founded Pop Noire. Widely considered as one of the most powerful women in independent rock music, Jenny Beth doesn't hold back. Front singer in the band Savages, she champions sexual exploration and self-empowerment while challenging the cliches surrounding what it means to be a woman in a band. In addition to having travelled the world with Savages and performed on stage with the XX, LCD Soundsystem or Primal Scream, she also worked with artists such as Gorillaz, Julien Casablancas, and Trentemøller. Since 2016, she has been hosting her own radio show Start Making Sense on Beats 1 inviting every week an artist from the independent musical sphere. Catch them in Manchester if you can, as this is part of a short tour of only five dates.
Formed in 1994, Low is an American indie rock group from Duluth, Minnesota. Low scored two entries in NME's top 50 albums in 1999. Their music is commonly described as 'slowcore', a subgenre characterised by slow tempos and minimalist arrangements – very reminiscent of Joy Division in their utter soulfulness. The group has also worked with noisenik Steve Albini.
So the doors of Manchester Cathedral are open and if you step inside you may well be surprised at what you see and hear. There may be a debate still to be had about this strange synergy between faith and popular culture, but as yet there seems to have been no misappropriation form either side of a divide that perhaps should not, may even does not, exist. You are bound to meet some like-minded fellow Travellers, as mentioned in our post From Ebor Sound Artist posted on 22nd July and still stored in our culture and tradtion archives. You don´t have to live in Manchester, of course,  to attend these concerts. The city is well worth a visit from any part of the UK and the extremely comprehensive Cathedral web site at manchester cathedral – Bing even signposts you down sidetracks & detours towards recommended affordable accommodation.
https://aata.dev/wp-content/uploads/2021/09/cover-2.jpg
1536
2311
Norman Warwick
https://aata.dev/wp-content/uploads/2020/04/newlogo.png
Norman Warwick
2021-09-06 08:26:04
2021-09-06 08:26:06
MANCHESTER CATHEDRAL; open