LOOKING FOR LAUGHS? THE CHASE IS ON !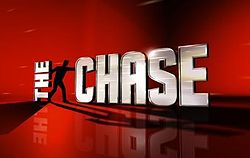 At all across the arts we often speak of the synergy between poetry and comedy as one art form often feeds the other. We were pretty amazed though when we discovered more links in the chain: general knowledge and quizzing skills.
We discovered this when laughter rang as punch lines were delivered with perfect comic timing at a Comedy Store event at Bury Met and at the monthly poetry reading of Those Bard From The Baum held in that same week in the neighbouring town of Rochdale. In our years of following Sidetracks and Detours all across the arts we have learned that when it comes to comedy and poetry we should ´treat those two imposters just the same´ and two gigs in a short time frame proved the point. The Baum provided the poetry and The Met in Bury gave us an evening on which two guest comics followed the advice given to all aspiring writers and simply talked about what they know.
Alfie Moore has created a real niche market, being surely the only serving police sergeant on the comedy circuit. He discussed life in the locker room, on the leafy suburban beat and at the sharp end of inner city riots as he reviewed the changing relationship between the police and the general public.
The headline act was Paul Sinha (pictured left). He, too, spoke of what he knew, giving a humorous insight into life as a first generation immigrant who, being a qualified doctor making his way up and down the comedy clubs of the country and openly gay, doesn't fit many social stereotypes. His comedy is edgy and shows quite clearly how he, a non-conformist, employs confidence bordering on arrogance to disguise fear and uncertainty. Paul Sinha also described himself as "Britain's eighteenth ranked quizzer" who appears regularly on the tv quiz show The Chase.
Presented by ex footballer turned comic and actor, Bradley Walsh, The Chase is a British television quiz show in which contestants play, individually but in teams of four, against one of a squad of professional quizzers, who can prevent them claiming a cash prize by beating them in a head to head final ´chase.´ The programme has become one of ITV´s most successful ever daytime shows, often gathering audiences of between three and five million. The Chase has won a host of tv awards that have helped it become a successful international franchise with versions being shown in almost a dozen countries.
Sinha joined the squad of chasers in series four but was, by then, already a serial tv quizzer, having appeared on a version of Eggheads, Brain Of Britain, Mastermind, University Challenge and The Weakest Link. Like all the chasers he enjoys badinage with the host so Walsh and viewers have nicknamed Paul as The Sinnerman or even as Sarcasm In A Suit. Whatever his nicknames on the programme may be, the quizzer is, as we have already stated, a fully qualified doctor and successful stand-up comedian.
Even the recent diagnosis of Parkinson´s, a disease unlikely to become any easier for him, is treated by Paul as comedy material for his act. He told The Daily Mirror, in a recent interview that ´seeing the funny side of the debilitating condition helps prevent me from descending into self-pity.´
He has written about his fight against the condition revealingly, honestly and bravely in his regular blog posts at https://www.bing.com/news/search?q=Paul+Sinha+Blog&qpvt=paul+sinha+blog&FORM=EWRE but even as I write this article has come news that he will shortly be leaving The Chase. He has, however, made positive news, too, this week in celebrating Ben Stokes´ ashes-stirring batting in the recent third test of England´s now finely balanced cricket series against Australia. If the purpose of art is to lift a lid on society and reflect on the collective and individual human condition, then the best stand-up comics, like Paul, are artists in the same way as are painters or poets.
Ancient Greeks often highlighted comedy and tragedy and Mr. Rudyard Kipling declared centuries later, in an exceedingly good poem, that such imposters must be treated "just the same." Shakespeare employed comedic characters as commentators on their age and The Nurse, in Romeo and Juliet, also offers comic relief as do Romeo's gang-mates in their teenage banter. Sometimes comedy heightens the attention in the serious themes of the work. One of the funniest scenes in Hamlet is his tragic/comic conversation with the gravediggers. Punctuated by puns and one-liners is a very serious conversation about life after death and how death places us all on the same status. Such use of comedy to relieve tension in serious work is known as comic relief, a phrase used in modern times as the title for the phenomenal use of comedy to raise awareness of global issues of deprivation and injustice.
When local folk act Rhyming Ron Davis, at The Baum, re-told Sam Laycock's old poem about Bowton's Yard, the landscape was patently Northern. Rhyming Ron listed characters recognisable today as the poem reflected the good humour we still employ for social cohesion. He also delivered the acute social observation of music-hall great Robb Wilton, speaking on "the day war broke out". At the folk 'n poetry nights at The Baum, Tony Webb & Jed Greenwood (The Nearly Dead Poets) often de-bunk social hierarchies with savage wit and Robin Parker frequently wraps hilarious comedy in parody and song. The most recent event also saw local writer Rod Broome delivering a comic piece by folk singer Bernard Wrigley. Those who had earlier watched ´tennis from Wimbledon on tv´ were lightly mocked in an original poem by poet Graham placing sport in general and tennis in particular in a very different perspective.
Marketeers are currently peddling comedy as 'the new rock and roll". This is a grand claim but a trip to the seaside later in the week certainly reminded us again that comedy is both global and culturally specific. Gazing at the statue of Eric Morecambe in his home town it is impossible to forget that comedy and even classical music are inextricably linked. Just like a pianist, a comedian delivers ´all the right notes, but not necessarily in the right order.´
Parts of this article previously appeared in our pages in The Rochdale Observer.
https://aata.dev/wp-content/uploads/2019/08/The_Chase_game_show.jpg
158
250
Norman Warwick
https://aata.dev/wp-content/uploads/2020/04/newlogo.png
Norman Warwick
2019-08-30 12:02:11
2019-08-30 12:08:50
LOOKING FOR LAUGHS? THE CHASE IS ON !