THE RENAISSANCE CHOIR IS SET TO TOUR
Detective Chief Inspector Coward learns that
THE RENAISSANCE CHOIR IS SET TO TOUR
and Norman Warwick reports her findings
Detective Chief Inspector, Margaret Coward often only finds the clinching piece of evidence after the jury has been selected, but once she has found it she gets it over to us pretty quickly. For instance she learned recently of the future plans of The Rennaisance Choir from the Chichester area only after their itinerary had been printed on to fliers and distributed. Nevertheless, DCI Coward recognised that, from our little home here on Lanzarote, Sidetracks And Detours could inform the rest of the world. So, come follow your art down the choir´s sidetracks and detours that will be taking them to some wonderful events next year. And thank you, DCI Coward, for finding the information and reporting it.
The DCI reported that members of The Renaissance Choir based in the Chichester area of the UK will surely be putting red circles around some of the dates in their turn of year diaries. There are one or two gigs that are already sounding very attractive.
For instance on Sunday 4th December at 3.00 pm you can join their Christmas Celebration Concert, at St. James Church, Emsworth.
The Renaissance Choir was formed in 1976 by Ray Calcraft, with a vision to put the beautiful music of the Renaissance period at the heart of its repertoire
Conductor, Peter Gambie, has led the choir since 1992. There are more than thirty members in the chamber choir and they create a real camaraderie with new members often commenting on how welcoming the choir is! .
Whilst the favourite choral music is Renaissance polyphony, the choir also performs more contemporary works and love to sing the music of Byrd, Tallis, Victoria and Palestrina, andof later composers such as Bach, Mozart, Poulenc, Whitacre and Lauridsen, to name a few. Most of this music is performed a cappella.
The choir regularly performs in Portsmouth and Petersfield. Each year The Renaissance Choir go on a choir tour either to a UK or Continental European destination, and have been privileged to sing in many fine venues, including St Peter's Basilica (Rome), the cathedral in Santiago de Compostela (Spain), Notre Dame (Paris), and Jeronimos Abbey (Portugal). We have also collaborated with choirs in Europe, joining with the world-class Monteverdi Korus to give the first Anglo-Hungarian performance of Spem in Budapest, with Portugal's premier cathedral choir the Coro Santa Maria de Belem in Lisbon, and with the prize-winning Marianski choir in Krakow, Poland.
Much of their choral work is pioneering – in their early years the choir was highly regarded in Spain for re-introducing the public to composers such as Vivanco and Guerrero. More recently, in the UK, The Renaissance Choir gave premieres of works by American composers, including Whitacre. They also gave the world premiere of Rodrigo's Cantico de San Francisco at the Queen Elizabeth Hall in London.
Aiming to perform up to six concerts a year as a choir with around seven or eight rehearsals preceding each concert keeps conduictor and choristers pretty busy.
In the last few years the Chichester ensemble has visited Utrecht in the Netherlands (along with friends and supporters who often join for social events and tours), released the album Stream Of Life (named after its featured work by Ian Schofield) and made a recording of Tallis' If Ye Love Me from their homes.
In 2023 they will be touring to Wells Cathedral, Glastonbury Abbey and St Mary's Bridgwater. Further ahead, there are plans to re-visit Palestrina in Italy.
We currently rehearse at the Emsworth Community Association (near Emsworth train station, and on the 700 bus route), PO10 7DD, on Friday evenings. New members can be assured of a warm welcome.
Musical Director Peter Gambie (right) studied music at Dartington College and Reading University. In the 1970s, Dartington was a unique mixture of hippy culture and fans of Renaissance music, so Peter learned to be a conductor as well as a sitar player. He also spent many hours in an electronic music studio, much to the despair of his singing and violin tutors.
His early career was a mix of teaching music in schools in Hampshire and composing weird-sounding electronic music, some of which was performed at the Queen Elizabeth Hall (often to audiences of less than ten people). Radio 3 also broadcasted Peter's compositions but he says it is not known whether anyone listened.
Realising that electronic music wasn't catching on, Peter focussed on teaching, establishing a method of music education which became a model for secondary schools across the county and beyond (until successive governments decided that music in schools was a luxury).
But he was still searching for something, until…he became The Renaissance Choir's conductor in 1992, which has provided him with some of his richest musical experiences.
"A marriage made in heaven" is his summary, describing the many wonderful moments he and his choristers share in their quest for musical perfection. The choir seeks professional standards and understanding, constantly challenging themselves with music of increasing complexity. Empathy between conductor and choir is central to high-quality performances: both parties are fortunate that this quality is developed to an advanced degree. Even a twitched eyebrow brings the appropriate response.
Peter is also proud of his long association with Southampton Choral Society. His nine years on the podium have included performing with Dame Emma Kirkby; scooping a £10,000 Community Arts Award from the BBC which resulted in the commission of a major work about slavery; and performances of the standard classical repertoire for orchestra and large chorus, including an original version of Orff's Carmina Burana involving video images, Bach's B minor Mass and St Matthew Passion, Mozart's Requiem and many more.
Malcolm Keeler, (left) the choir´s assistant musical director, graduated with a degree in Music from Royal Holloway College, University of London, where he studied Organ with John Porter. As a member of their Schola Cantorum he sang in many of the cathedrals in Southern England. For eleven years he was organist and choirmaster of St Mark's church in Portsea. He has performed as a soloist for the Lee Singers and for the Midhurst Music Society. He has accompanied visiting choirs at a number of Cathedrals including Manchester, Durham, Newport, Llandaff and Salisbury. Besides being the Assistant Musical Director of the Renaissance Choir, Malcolm is the conductor of the Portsmouth Baroque Choir.
The choir´s vocal coach is Alex Poulton (right) , who offers singing lessons to everyone in the choir to improve vocal technique. Alex has performed in recital in major festivals and leading concert venues around the world including Wigmore Hall in London and De Doelen in Rotterdam. His core repertoire includes the three Schubert song cycles. He also sings art songs for BBC television and has appeared on ITV. His operatic roles include Figaro in Rossini's Barber of Seville, Falke in Strauss's Die Fledermaus, Doctor and Marquis in Verdi's La Traviata, for Focus Opera, Chiswick House, London, Papageno in Mozart's The Magic Flute, Masetto in Mozart's Don Giovanni for Zeist Opera Festival, Netherlands, The Indian in Smetana's The Bartered Bride for the Mid Wales Opera, Cascada in Lehar's The Merry Widow and Sharpless in Puccini's Madame Butterfly for a US Tour presented by Columbia Artists.
He has also performed El Dancaïro and Morales in Bizet's Carmen with the Slaithwaite Philharmonic Orchestra at Huddersfield Town Hall, Orff's Carmina Burana with the Southdowns Choir, J.S. Bach's St. Matthew Passion with the Exeter Chamber Choir and Devon Baroque and Vaughan Williams' A Sea Symphony with The New Elizabethan Singers in the UK. He graduated in singing from the Birmingham Conservatoire. He won the Reginald Vincent Lieder Prize and was awarded the Joseph Weingarten Memorial Trust Scholarship to study lieder at the Liszt Ferenc Academy of Music in Budapest.
Alex is the vocal coach for the Southampton Choral Society, the Portsmouth Choral Union and the Renaissance Choir. He also runs three hugely successful vocal practices along the South Coast of England.
Karen Kingsley (left) , concert accompanist for The Renaissance Choir, gained her GRSM and LRAM diplomas in piano and piano accompaniment at the Royal Academy of Music, where she was awarded several prizes and commendations. Whilst at the Academy she performed Gershwin's piano concerto and Shostakovich's 2nd concerto. She has played in masterclasses with John Barstow, Peter Katin and Roger Vignoles.
A graduate of, and prize-winner at, the Royal Academy of Music, Karen had the privilege of playing to Lutoslawski, the Polish composer and playing concertos with the college ensembles.
According to a press report, Karen is a 'soloist with a smile on her face and a smile in her heart' – a statement with which listeners to any of her performances will wholeheartedly agree.
She is a local favourite and is now a national celebrity following her debut on BBC TV in April 2010 accompanying Sam Moffitt in the Brass Section Final of the BBC Young Musician competition and on BBC Radio 3 earlier this year with Robert Blanken and Richard Moore playing the World Premiere of Anthony Hedges' trio called Three Humours for Clarinet, Bassoon and Piano.
In addition to all her concerto, chamber, solo playing and accompanying commitments, Karen is Head of Keyboard at Portsmouth Grammar School – a post she so enjoys that she can't remember exactly how long she has held it! She thinks it's almost ten years. In her spare time Karen enjoys playing tennis, collecting factual magazines about crime, playing Scrabble and watching 'Countdown' on television.
Another date The Renaissance Choir (right) is currently looking forward to is the return of their annual Christmas charity at 7.30 pm on Saturday, 17 December 2022 at Portsmouth Cathedral. If you are in that part of the country at the time you can join them for a beautiful, festive evening full of traditional carols. This concert features Portsmouth Cathedral Choir along with by Candlelight Concert in Portsmouth Cathedral in support of the Rowans Hospice the Renaissance Choir.
Both choirs are delighted to announce the return of their annual Christmas Carols by Candlelight Concert in support of Rowans Hospice Charity
On arrival, audience members will receive a complimentary bottle of water and mince pie. There will also be an opportunity to purchase Rowans Hospice Charity Christmas cards and to take part in our Christmas Raffle.
TICKET PRICE:
£5 – £18 from Rowans Hospice.
Nevertheless, The Renaissance Choir members are already busy filling their diaries for 2023. They have designed an exciting programme for the year ahead, including a tour to Wells Cathedral, Bridgwater and Glastonbury in May.
They will be performing The Best of European Sacred Music Masters 1 April in Petersfield,
They will begin a tour in May that will take them to places like Wells Cathedral, Bridgewater and Glastonbury (?!) which will be followed by Folk Songs of the British Isles on 8 July in Southsea
Sidetracks And Detours are ae pretty certain that our UK classics correspondents, culture-vulture Detective Chief Inspector Margaret Coward and her Superintendent Iain Shepherd will keep us informed of events in the Portsmouth area of the UK whilst they are there and we are grateful to them for sharing the above information. We are looking forward to seeing DCS Coward and Commander Shepherd back over here on Lanzarote very soon, though, so we will also explore alternative ways of keeping readers informed of what sounds a great arts scene in the part of England.
We mentioned earlier the collaborations The Renaissance Choir undertake with Portsmouth Choral Union and we encourage you to look out tomorrow for an insightful review of one of their concerts, extrapolated from The Porstmouth Cathedral Concert Page, written by David Green.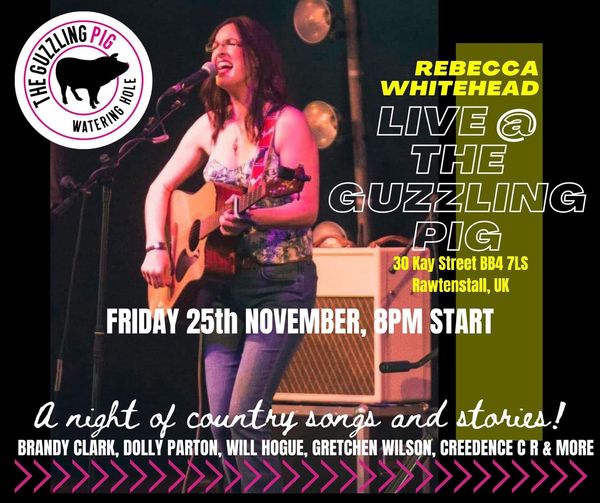 Meanwhile, be aware that diagonally North West of that area this weekend, Rebecca Whitehead (left) will deliver a solo acoustic set at The Guzzling Pig – Home Page on Friday 25th November at 8pm and again The Commercial in Mossley on Saturday 26th at 9pm before performing again at Manchester Xmas markets on Sunday 27th at 6pm.
The tour extends to THE MONDAY CLUB ON 28th November at The Weavers in Todmorden with a full complement of her colleagues from the British Country Music Awards nominated band Between The Vines Music from 4pm.
The Remix Jazz Orchestra (right) is a hard swinging and exciting 17-piece big band that was formed in September 2010 and it is one of the South's premier big bands. The band contains some of the regions finest musicians and is directed by professional jazz trumpeter Stuart Henderson. Since it's inception the band has gone from strength to strength playing to packed out audiences of loyal fans and big band aficionados at it's monthly concerts.

The ethos is to never stand still and to always strive to keep the musicians (and the audience) on their toes! The programme will include selections from the golden age of Swing through to more contemporary arrangers and composers, including a few festive favourites along the way. A sample of just some composers and arrangers that the band features are: Basie, Ellington, Kenton, Herman, Goodman, Nestico, Hefti, Heath, Dankworth, Francy Boland, Thad Jones, Dave Wolpe, Gordon Goodwin along with contemporary arrangements from Jonathan Lewis and Alex Brown.

The band will be joined by a familiar face on the London jazz scene, jazz vocalist Fleur Stevenson. "Fleur has a great voice and sense of timing, and her ability to scat is quite phenomenal." – London Jazz News

There will be a dance floor!
Saturday 10th December 2022. Doors: 6.45pm, show 7.30pm.

Please note this concert will be held at Cholsey Great Hall (Cholsey Meadows, Fair Mile, Cholsey OX10 9GW), not our usual venue of Crowmarsh Village Hall.

There is a bar and festive snacks available, provided by local pub The Queens Head.

Book tickets here £15 standard ticket price. Tickets are reduced to £5 for anyone living or working in adult social care and anyone in receipt of benefits from DWP – please get in touch for details: fleur@fleurstevensonjazz.co.uk / 07795 974 223

Crowmarsh Jazz pays all musicians properly and supports the campaign for fair pay for musicians.
We close this article with more good news about Atlanta based jazz artist, Karla Harris, who has e mailed us at Sidetracks And Detours to tell us in a press release of several new developments. Remember the lady only last month released Moon To Gold with The Joe Altarman Trio. That album is already earning rave reviews we are hearing whispered rumours of plans for a UK tour.
Moon To Gold is a jazz album pure and deceptively simple but the tracks are so perfectly delivered, with all production values privileging the song, that when I placed it on my record shelves, alphabetically under K for Karla, I realised it now stood between album by Karen Dalton, on her left, with her rough, gruff, bluesy voice and by Kate and Anna McGarrigle on her right, with those light and airy, folksy harmonies. Serendipity again, but somehow that seemed a perfect placing for Karla´s superbly sung and played collection.
In her latest press release Karla and her team open with a lovely, apposite quote:
"I would maintain that thanks are the highest form of thought, and that gratitude is happiness doubled by wonder." Gilbert K Chesterton
Karla wished for us all, Happy Holidays! She says, " Thanksgiving has long been my favorite holiday. I love the gathering, the cooking, the conversation, the food, the autumn weather, the atmosphere of gratitude…
Reflecting on these past months, I´m grateful for some really special musical moments in 2022. Thank you for helping make it so ! Concerts throughout the southeast and on the Oregon Coast, working with amazing artists, a reunion show in my hometown of St Louis, seeing old friends and meeting new ones, a jazz camp for kids in rural North Carolina, a new CD released with the swinging Joe Alterman Trio … much good news. The new album, Moon To Gold, with the irrepressible Joe Alterman Trio is now available. . If you love the classic standards, this one is for you! A great holiday gift;) – Check out reviews here.
"There are so many moving parts to a career in music" says Karla, "much of them behind the scenes. I couldn´t do it without the support of my family, friends and many others who help me realise these creative dreams — and encouragement – thank you! You´ll never know just how much it´s appreciated.
Looking forward to sharing more music with you at an upcoming show, soon. Lots on the schedule, with more on the way".
Get into the spirit together with jazz sounds of the season. Karla´s performs a holiday show at Atlant´s Callanwolde Fine Arts Centre´s Winter Series, in the beautiful Indoor Courtyard of the mansion.
More new recorded music is in the air, too — an album featuring original music by composer and bassist Tom Kennedy with lyrics by Karla. This is modern jazz with Latin vibes, touches of old-school R&B grooves, lovely ballads. Guest artists include world-class musicians Randy Brecker, Dave Weckl, Gary Meek and other greats. Coming in 2023.
So whether your choice of companion is choral music or country music, or whether you prefer to journey with jazz or, indeed, motor along with a mix tape, there´´ll be plenty of music to listen to in the car as you follow the festivals and get to the gigs in 2023
.
https://aata.dev/wp-content/uploads/2022/11/6.webp
360
1080
Norman Warwick
https://aata.dev/wp-content/uploads/2020/04/newlogo.png
Norman Warwick
2022-11-24 09:47:28
2022-11-24 09:50:23
THE RENAISSANCE CHOIR IS SET TO TOUR