MARKET FORCES TO INDICATE RECOVERY
MARKET FORCES TO INDICATE RECOVERY
By Norman Warwick
One of the best Canarian markets in the north of Lanzarote is held in the town of Teguise. the old capital becomes a great market town every Sunday morning. Its central, narrow streets, its main square and other corners fill up with colour, music and its many visitors, making it a reference point for handcraft lovers on the island. Teguise Market is the island's biggest and oldest open-air market and attracts coach-loads of tourists to spend their Sunday morning browsing and bartering.
Actually the capital city of Lanzarote is Arrecife which only launched its own market in 2010, offering craft items and souvenirs, food items and local agricultural and fish produce.
On LANZAROTE there are several markets, where we see many of same stall holders, at places such as
Arrecife Market. Launched in 2010, this market offers craft items and souvenirs, food items and local agricultural produce. There are also market, where we see many of the same stall holders, at Haria, Costa Teguise, and here in our own town of Playa Blanca.
The market at Playa Blanca is held on The Marina Rubicon, set against the beautiful backdrop of blue skies punctured by the tall masts of the scores of fancy, and expensive, yachts moored in the harbour. This market offers a slightly more upmarket range of Jewellery, Clothes, Crafts and Books than some of the other markets and makes for a perfect excuse for a trip to Playa Blanca's Marina. It has re.opened after covid and is held évery Wednesday and Saturday between 09:00 and 14:00
The popular and family friendly resort of Costa Teguise holds a market every Friday evening on Pueblo Marinero from 5.00 pm to 8.00pm. This market offers the usual tourist souvenirs and fakes, but is worth a visit since it is held in the evening and Pueblo Marinero has a convivial atmosphere where you can enjoy some Tapas, drinks or a more formal dinner in between browsing the stalls.
The market at Haria, high in the North of the island is held in Plaza León y Castillo. This market is a little different than the rest, located as it is in the sleepy village square of Haría. On offer is a selection of craft items along with fresh local fruit, veg, local dairy products and pastries. (enough said, I´m on my way ! I can´t resist a pastry. See you there on a Saturday between 10.00 am and 2.00 pm.
There is a lovely market held every Saturday between 9:00 am and 2:00pm opposite the glorious Church of Nuestra Señora de los Dolores in Mancha Blanca. This agricultural market is not too touristy and draws mostly locals shopping for fruit and vegetables. Lanzarote's local produce is well worth trying with the cherry-plum tomatoes, papas crias (somewhat similar to truffles) and baby potatoes all particularly noteworthy.
However, the biggest and best market on the island, albeit aimed at tourist spenders as well as locals, is held every Sunday morning in the former capital of Teguise. By 10.00 am there are scores of coaches parked up, whilst their passengers, from hotels around the island, are strolling round the market stalls. They will invariably find goods to purchase, but can also visit the timple museum, listen to the folk lore musicians and their dancers in the square, or enjoy an al fresco meal at any one of a scores or restuarants and bars dotted throughout this elegant town, dominated by beautiful buildings such as the church with its clock tower. Looked over by the mountain top castle built to deter invasions by the Moors this area made a wonderful mis en scene setting, five years ago, when a strolling theatre company gave a walk-round performance of Romeo and Juliet which hundreds of us followed as the drama and tragedy unfolded.
My son, who lives in SOUTH KOREA, says that although market places over there are very different from the markets he knew as a bou growing up in the UK, they also reflect the heartbeat of South Korea as do markets in England, reflect the inner health of the country.
Street markets in Seoul, he says, are great places to experience authentic Korean lifestyle, mingle with friendly locals, and browse through a vast range of goods. Most of these markets stay open year-round and are easily accessible via subway trains and buses.
These street markets cater to locals and tourists with specific shopping needs – visit Dongdaemun Market for trendy apparels, jewellery and accessories, Gwangjang Market for an extensive array of Korean comfort foods, and Noryangjin Fish Market for seafood that comes fresh from the ocean. A visit to Seoul's most popular street markets is a must-do for every first-time visitor.
Namdaemun Market, founded in the early 1400s, is one of the busiest markets in South Korea. The traditional market was named after Seoul's Great South Gate, which was the main gate to the ancient city. You can find quality leather goods, clothing, crafts, imported goods, utensils, electronics, and traditional oriental medicines at really affordable rates.
During the day, you can see locals shopping for groceries and household items. It's also particularly famous for its wholesale handicrafts and food sections. Namdaemun becomes a vibrant night market from 11pm until 4am every day.
Address: 88, Changgyeonggung-ro, Jongno-gu, Seoul, South Korea
Opening hours: Daily from 8.30am to 11pm (hours vary by shop)
Dongdaemun Market has around 26 shopping malls, 30,000 speciality shops, and 50,000 manufacturers. It's one of South Korea's largest wholesale and retail shopping districts, with items for sale ranging from textiles, clothes, shoes, and jewellery, to leather goods, toys, electronics, and office supplies.
Dongdaemun Market is also a food haven – Mukja Golmok is an alley dedicated to Korean street food and snacks. The shopping district stays busy well into the night, with festivities, fashion shows, music and dance performances taking place year-round.
Gwangjang Market dates back to 1905, and is the 1st permanent street market in South Korea. While it is more known for its extensive selection of fabrics and textiles, you can also find kitchenware, imported products, fruits and vegetables, and dried goods. Many locals visit the market to purchase prayer items for Korean rituals as well as traditional wedding items such as hanbok (traditional Korean clothing) and pyebaek (wedding food that brides prepare for their future in-laws).
The ground floor has dozens of food stalls and restaurants, where you can enjoy authentic Korean dishes when you're shopping at Gwangjang Market. Tailor shops occupying the 1st floor offer folk clothing at reasonable prices.
Address: 88, Changgyeonggung-ro, Jongno-gu, Seoul, South Korea
Opening hours: Daily from 8.30 am to 11 pm (hours vary by shop)
Noryangjin Fisheries Wholesale Market is a 15-minute train ride from Seoul Station. The best time to visit this marketplace is around dawn, when seafood auctions take place. There are around 800 vendors selling seafood fresh from the ocean at very affordable prices. The upper levels of Noryangjin Fisheries Wholesale Market has several restaurants serving Korean and Japanese dishes. 
Address: 674 Nodeul-ro, Noryangjin-dong, Dongjak-gu, Seoul, South Korea
Hours: 24/7
Phone: +82-2-2254-8000
Gyeongdong Market has over 1,000 stalls selling homemade medicines, roots, herbs, and spices. Located in Dongdaemun, this street market is especially popular among Chinese and Japanese tourists as Asian herbs and medicinal products are available at affordable prices.
The rich fragrances of herbs immediately greet you as you enter the market – some of the most popular items here include red ginseng for restoring energy, maesil (plum) to improve blood pressure, and chrysanthemum flowers which are brewed to make refreshing drinks.
Address: 147, Wangsan-ro, Dongdaemun-gu, Seoul, South Korea
Opening hours: Daily from 4 am to 7 pm (hours vary by store)
Phone: +82-2-967-8721
Sidetracks And Detours have plenty of readers in VIETNAM, thanks to Steve Vewick´s connections on the jazz scene over there.
The Ho Chi Minh City located in the south of Vietnam is a must go to place to explore the happening night market. Vietnam is a land of unimaginable beauty with a perfect setting for adventure. The country has its own charm and divine culture, and the night markets are a perfect reflection of what they imbibe. If you are accustomed to your regular dose of shopping experiences, then the night markets in Vietnam introduces you to a new shopping culture under the night sky. You will be amazed by the urban display of culture with diverse colorful stalls of great food, and a lot of other interesting items to browse through the roadside market at an unbelievable cheaper price. If you are a shopaholic in nature then, a visit to these night markets in the happening city of Ho Chi Minh shouldn't be given a miss. Let's have a look at the best night market places in Ho Chi Minh City, Vietnam to harness your bargaining skills.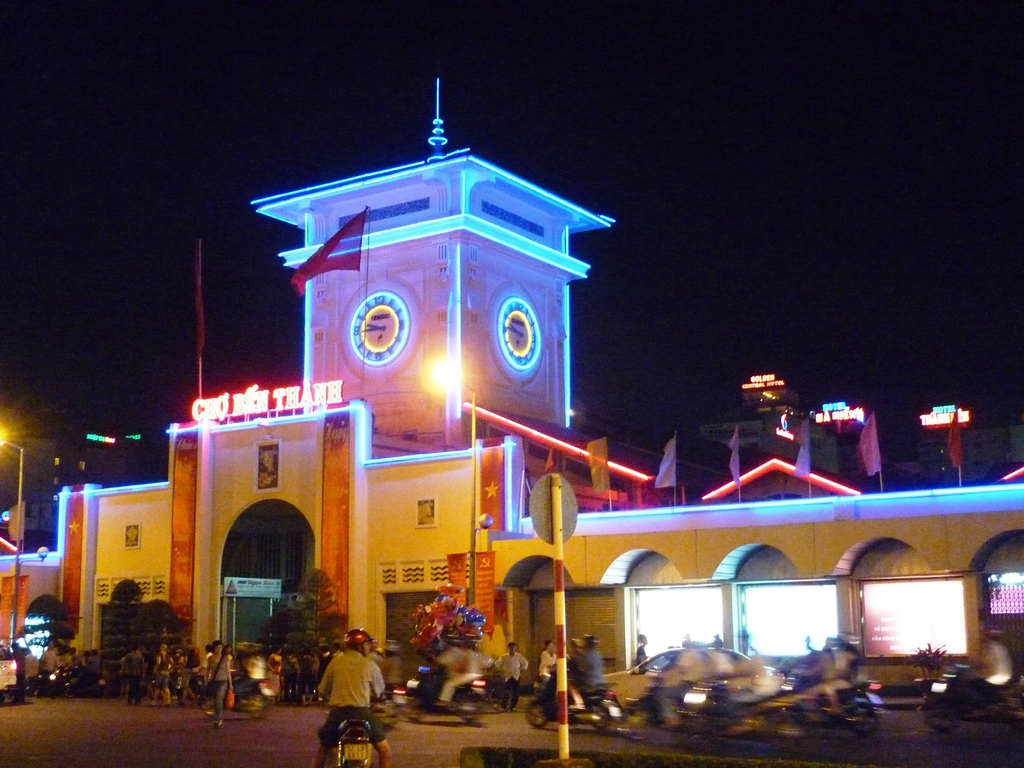 This night market is one of the oldest and popular markets in the city. This emblematic market has evolved as a popular landmark and the colorful backdrop acts as the best place for a photo session. Starting from clothing, local handicrafts, jewelry, beautiful souvenirs to household items, electronics, and branded goods, this market has virtually everything that you might think of buying to satisfy your shopping need. This market is a huge maze with a series of colorful stalls and eating joints serving the best of local cuisine.
Ben Thanh Night Market
Address: Chợ, Lê Lợi, Phường Bến Thành, Quận 1, Hồ Chí Minh 700000, Vietnam
Website: Ben Thanh Night Market
Opening hours: 6 pm-12 am
The Minh Phung night market is a shopping paradise for travelers. Whether you are looking for trendy handbags or you're quibbling over local handcrafted goods, there is every possible thing available here that you might think of. If you are good at bargaining, then you can pick your choice of clothing, handbags, accessories or any other fancy goods at a way cheaper price that is displayed on the side of the street.
Minh Phung Night Market
Address: 122 Minh Phụng, Phường 6, Quận 6, Hồ Chí Minh, Vietnam
We also picked up a good readership base in ISRAEL from Steve Bewick reporting on the places jazz he discovered on his jazz journeys of discovery over there in 2020 that led to Steve making a jazz poetry recording of his emotional trip.
The "Old" Markets In Tel Aviv are Carmel Market, Nachalat Binyamin, HaTikva Market, Levinsky Market, and Jaffa Flea Market. And the "New" markets are Tel Aviv Port Market, North Market, Sarona Market, Rothschild Allenby Market, and Jaffa Port Market (though the last two are not operational anymore).
Travelers and locals alike flock to the many markets in Tel Aviv on a daily basis. Whether you are looking to buy food, flowers, antiques, art, or even vintage clothing, there is an option to suit everyone's needs. The market choices in Tel Aviv offer both indoor and outdoor options. Shopping in Tel Aviv can be a sensory adventure, rich with flavors, sounds, textures, and smells, and allows you to enjoy not only the products you purchase but the whole experience. Be sure to check out as many markets as you can. Here are our suggestions for the best markets in Tel Aviv that you should plan to check out on your next trip!
Start with this local tip – almost every vendor, no matter which market you shop in, will pack your purchases in a plastic bag. We always recommend to bring your own shopping bag along to reduce plastic waste, and use the phrase "Bli Sakit Bevakasha" to let them knw politely you don't need theirs!
Carmel Market, also known as "Shuk HaCarmel" is a definite must-see while shopping in Tel Aviv. You can buy a wide variety of market goods including fresh fruit and flowers, the perfect pair of knock-off sunglasses, or a giant bag of fresh candy! The beginning of the main drag features a wide array of souvenirs for cheap, although you will get what you pay for, moving onto imitation high-end cosmetics and spa products before the food begins. The next section of the market is a mix of small flower stands, homemade sweets, and lots of local veggies, while the alleys off to the sides offer freshly butchered meat and hole in the wall restaurants side by side with specialty vegetable boutiques and bumping bars. The end of the market offers candy, cheeses, and the larger flower and plant vendors, and the market truly offers something for everyone. This is also the perfect place to test out your bargaining skills with the many market vendors: our tip is to start with about half the value of what they offered and work your way up to a reasonable middle. Be sure to sample things like halva or olives if you can, and embrace the crowd, it is part of the experience. To experience the market to the fullest, we recommend joining this guided food tour through Carmel Marke at HaCarmel St, Tel Aviv-Yafo – Opens 8:00 am
If you love meeting the locals alongside the sights and sounds of a real Israeli market in action, this one is for you. Definitely not on the typical tourist trail, this market is as authentic and close to the bone as you can get. Here you will find plenty of fresh produce at great prices, fresh meats, spices, and a number of hidden restaurants serving delicious home-cooked food with Moroccan or Iraqi flair. The goods here are cheaper than the other markets tend to be since it's on the outskirts of the city, but we promise that the surrounding restaurants and their mouth-watering offerings make this journey well worth the effort. Two giant parks nearby are a great place to take the kids to enjoy an impromptu picnic or burn off their sugar high after sampling some of the decadent sweets on offer HaTikva St 10, Tel Aviv-Yafo, open Sunday-Friday, 6:00 – 7:30pm
Michael Higgins, our arts and cultural correspondent here at Sidetracks And Detours, has written on these pages before about the part of his life he spent in CANADA, and submitted these recollections of the market places he knew there.
As for Toronto markets, well it was a long time ago and even on my relatively recent visits I can't recall much. Cabbagetown market springs to mind. The dreamy poet does not always remember or relish these things. I fondly remember the Farmers Market in St Jacobs about 50 miles west near where my parents went to live. It was Mennonite farming country and they came in their dark suits and hats in their own carriages. They were Old Mennonites who do not drive or use modern appliances. I recall their 'ancient German' and amusing encounters with modern German speakers.
Cabbagetown has a history rooted in food as the heartbeat of the community, dating back to the 1840's when Irish immigrants settled here after fleeing the potato famine. Always creative, these residents grew cabbages (and other veggies) on their lawns and in open land spaces as essential sources of food. This is how the neighbourhood we know and love came to be called Cabbagetown!
The original farmers' market, formerly known as the Riverdale Farm Farmers' Market – was Toronto's first organic market. It was opened in 2001 by the late, passionate Cabbagetown resident & local food activist, Elizabeth Harris. Thanks to Elizabeth, the original vendors, the Riverdale Farm and the Cabbagetown community – Tuesday's in the park were always buzzing with market activity and colourful farm fresh goods.
Leading up to its closure the market was caught in a cycle of diminishing patrons and vendors – all of which influenced the decision for closure. After the announcement in 2015, many people were sad to say goodbye. Fortunately, it didn't stay closed for long. As local food and farm-loving residents we believe that together we can make this ecologically focused farmers' market vibrant once again. We believe in creating market opportunities for Ontario farmers & food artisans and in ensuring the local neighbourhood has access to a greater variety of sustainably produced food items. Our goal is to learn what food producers and local residents would like to achieve.
Michael also referred to The Mennonite Community. In response to unrelenting tourist pressure The Mennonite Story was established in 1979. In the age of televisions, video games and the arrival of modern computing, an Old Order Mennonite on a horse and buggy was an unexpected sight for visitors to the St. Jacobs' region. Tourists would often stop to take photos of members of the Mennonite community, and on several occasions, perhaps unknowingly, walked into meeting houses disrupting religious services. ​
This growing pressure led Mennonite pastors and community leaders to come together and formulate a plan to ensure that visitors had somewhere to go, to have their questions about the Mennonite community answered in a respectful way. Thus, The Stone Crock restaurant was founded in 1975, by Milo and Laura Shantz.
The Shantz's hoped their restaurant would be a site where tourists would be able to have their hunger for good food and curiosity about the Mennonite community satisfied. Waitstaff received training that allowed them to field questions from tourists about the Mennonite community in the region. Demand for information continued to grow, exceeding the ability of the restaurant to meet these needs. ​
The solution? An interpretive centre wholly dedicated to telling the Mennonite story. After years of intense planning and fundraising, The Mennonite Story officially opened its doors to visitors, in 1979.
The Stockyard Farmers' Market, now known as the St. Jacobs Farmers' Market dates back to 1952.
Formerly located on Victoria Street North in Kitchener, the 'Stockyard Farmers' Market' was operated alongside the Kitchener Stock Yards.
Abner Martin – one of the owners of the Kitchener Stock Yards – recalls having approximately 25 – 30 vendors at the market.
In 1975, the Kitchener and Waterloo Stock Yards merged and moved to the present site. The Stockyard Farmers' Market decided to open its doors on Saturdays in the mid 1980's, however this was a slow process for the first couple of years.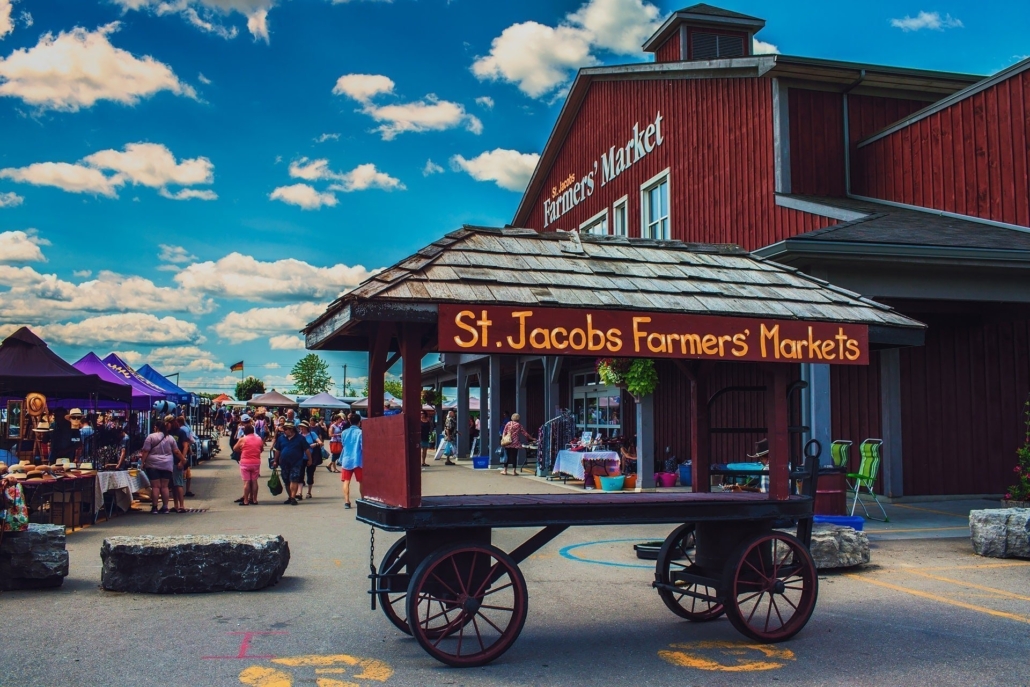 In 1987,Ross and Milo Shantzfacilitated the construction of the 2-level Farmers' Market Building. The main floor was designed as a food fair, while the mezzanine level housed arts and crafts vendors. After the grand opening of this building in September, the Stockyard Farmers' Market eThe Peddlers Village building was renovated in 1988 and 1989 to house even more craft and flea market stalls which resulted in the building being doubled in size. With each addition, more vendors were admitted to the Market to sell their products, and the Market again experienced wonderful growth. From horse barn to flea market, the Peddlers Village has seen thousands of visitors during its history.
In July 1991, the name of the market was changed to the St. Jacobs Farmers' Market & Flea Market. The Tuesday market was also added at this time, running from June to Thanksgiving.
The St. Jacobs Outlet Mall opened in 1994 and until covid had experienced tremendous growth.
The Village of St. Jacobs itself is a beloved destination steeped in history and set in a charming location along the Conestoga River, and only 3 km north of St. Jacobs Farmers' Market. It's a community known for originality, one-of-a-kind shops, and as a place that blends a pastoral setting with remarkable shopping experiences and fun things to do. There is a magic in visiting St. Jacobs; getting to know the shopkeepers and enjoying the charm of the town.
THE CHANNEL ISLANDS are now the home of my former Lendanear song-writing partner in Rochdale now lives on Jersey and with me now living here on Lanzarote that gave us the title of Two Islands for our most recent recordings which are marketed at www.lendanearmuisc.com
There are, though, more traditional markets on Jersey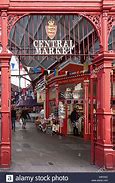 Jersey is an island rich in heritage and culture. Our Central Market and Beresford Market are an integral part of island life and have served the local community for over 200 years. Alive with the delicious aromas of freshly baked bread, seasonal flowers and of course, fish, crab, lobster and oysters caught fresh that same day, the markets offer a wide variety of local produce from fruit and veg to family butchers as well as fabrics and haberdashery, toys and gift/souvenir shops, jewellers and off-licenses.
And all this supported by a vast compliment of cafes to tempt you with everything from Tapas and Paella, noodles, traditional full English breakfasts as well as succulent cakes, chocolates and locally made fudge.
For anyone looking for something just a little bit different, St. Helier's historic markets are a treasure trove of fascinating books on local history and an Aladdin's Cave of interesting and intricate trinkets and artefacts. Be sure to pop into one of the island's own antique and jewellery shops where you're sure to be amazed by what you might find!
The Central and Beresford Markets are open from 7:30 to 5:30 Monday to Saturday, except for 7:30 to 2pm on Thursdays. Both markets are closed on Sundays.
Those of us who live or have lived in England, especially up north in the UK, have a score of historic market places we will always remember.
Indeed, the Fivepenny Piece, (left) when they were a newly minted folk group, post-decimilisation, celebrated Staleybridge Market in song. Their break came when they entered and won the ATV talent show New Faces in 1968, which led to a contract with the Noel Gay agency, a recording contract with EMI, and their new name. Many of their mostly self-penned songs reflected their roots, using Lancashire dialect, with references to the mining and weaving trades, the mills and factories, and the Lancashire characters who lived in the area. But there was another side to the group's music, perhaps best described as more pop-oriented. The band's music is most often categorised as folk, though I feel that is too limiting a description.
The original personnel were John Meeks (born 24 March 1937, Stalybridge, Cheshire) (guitar, vocals); John's sister Lynda Jane Meeks (1 August 1947, Stalybridge – 22 January 2013) (vocals); brothers George Radcliffe (9 August 1937, Ashton-under-Lyne, Lancashire – 2002) (bass, vocals) and Colin Radcliffe (born 19 January 1934, Ashton-under-Lyne) (guitar, vocals); and Eddie Crotty (24 February 1942, Stalybridge – 11 April 2009) (guitar, vocals).[1] John Meeks and Colin Radcliffe wrote most of their best-known songs, although Crotty also penned several.[1] The unofficial sixth member of the band was the drummer Phil Barlow, who accompanied them in many of their concerts and on their albums.[1]
During the band's 1970s heyday they released over a dozen albums for EMI and then Philips, and reached the Top 10 in the UK Albums Chart with their LP King Cotton. They performed many times on national television, and had their own BBC Television series, The Fivepenny Piece Show.
By the early 1980s the group had reached an impasse, and John Meeks' departure was followed soon afterwards by Lynda Meeks. With John's replacement Trevor Chance (born 1 March 1942, Gilsland, Cumberland) and Andrea Mullins (formerly of the Caravelles), the band continued until 1985 when they broke up. They reformed in the mid-1990s, and played occasional gigs with various personnel, including the Lancashire folk singer and comedian Bernard Wrigley and Pete Brew. Crotty and George Radcliffe continued to play in the band, along with Mullins. Salford-born guitarist and vocalist Paul Johnston joined the band in the late 1990s as they continued to perform, their final show being at the Grand Theatre in Lancaster around 2004.
George Radcliffe died at the end of 2002and Eddie Crotty, the band's only remaining original member, died of a heart attack in hospital on 11 April 2009, aged 67, after being ill for the previous nine years.[3] Lynda Jane Meeks died from cancer on 22 January 2013, aged 67 years, at the Christie Hospital in Manchester.[4][5]
For a while in the 1970s the group had a weekly interlude spot on the BBC programme That's Life! with Esther Rantzen.
They left a legacy of many charming songs, but none with a prouder line than
´London is out of comparison quite, with Staleybridge Market on a Saturday night´.
Listening to that song was always a sensory delight as the folkies delivered lines about
´cabbage and broccoli, potatoes and onions, and quacks with their ointments for warts, corns and bunions
and lanterns of paper that show such a light at Staleybridge market on a Saturday night´.
There is a particular couplet that resonated even today, perhaps even more for the stall holders than their customers, because the market men have had to endure months of no trading due to covid.
´But money is scarce, it´s taken it flight, from Staleybridge market on a Saturday night´.
I will forever love The Fivepenny Piece for the affinity they evoked with Staleybridge market, but I have always been proud of the fact, too, that one of their album covers affiliates them with Boddingtons brewery where my dad spent the best part of his brewing career. We would call in on the way home from every Man United match at Old Trafford so I could practice my typing bY writing a match report on his old Underwood while dad checked how the mash was going, whatever that meant.
Staleybridge market is one of a Jackson Pollock splash of towns across the North West and my folk duo with Colin Lever would often play in the local pubs and folk clubs in the town and there was always something heart-stopping about driving down from the moors into the bowl of the Staleybridge town centre and seeing the lights strung out over the market place, hearing the buskers and the bands, and smelling wonderful food stuffs that somehow burst the taste buds in our mouths. I´m sure Staleybridge market will touch thousands more people in the same way as it emerges now from lockdown.
Other market towns on that densely coloured part of the Pollock painting included Bury and Bolton , Oldham, and Todmorden.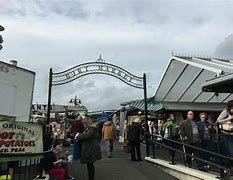 Never bashful of self-promotion, Bury Market smoothly changed its name a few years ago to The World Famous Bury Market. It was the growing national awareness of Bury Black Pudding, a local dish, that had a lot to do with that, but pre-pandemic times, not only was there a huge number of stalls, but also a massive footfall, an overspill of cars parked legally and illegally and more coach parties than came to watch Bury Football Club. Enforced closures, temporarily, of Bury Market and permanently of Bury FC have cast a shadow over the town. As markets return to our way of life, Bury will look to its market to once more remind people and put the town back on the map.
Throughout the pandemic period many stall holders took to offering a home delivery service with those in any kind of isolation able to phone in an order for home delivery. Check out the Bolton Markets facebook page for current status.
I feel a special affinity with Bolton Market Halls (left) because my poetry writing and performance business, Just Poets with Pam McKee, was commissioned by Artists In Schools to work with a local school in creating some poetry and visual art to adorn the huge bricked alcoves in Bolton Market Hall. This would have been around 2002, and when I left to come and live here on Lanzarote in 2015 the exhibits from our group, and those from seven other appointed artists, each to a different school, were still on public display. Another reason for my love-affair with Bolton Market, though, is that it is famous for selling pigs´ feet, or trotters as they are parochially known. Indeed, Bolton Wanderers Football Club, for whom I was a match day steward for twenty five years, are nicknamed The Trotters.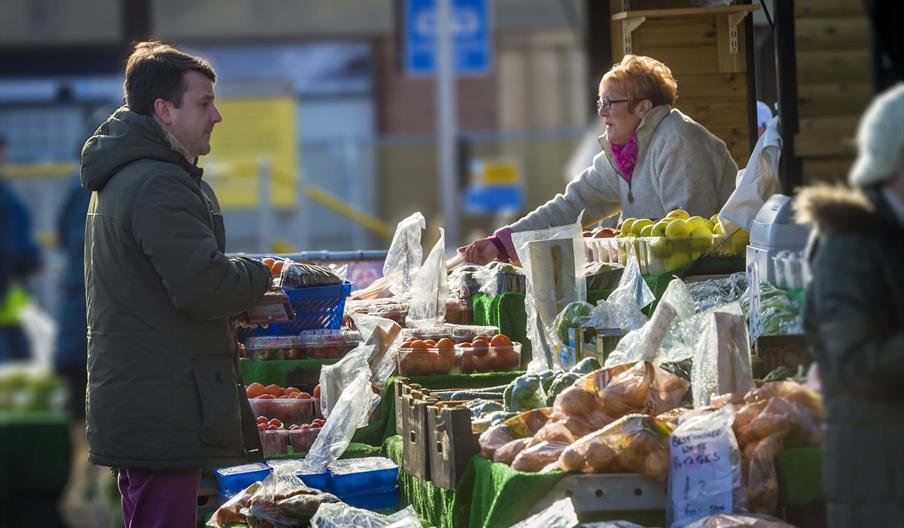 The Rochdale market trades on The Butts in Rochdale and is home to a variety of traders. The market opened in August 2018 and is run by the traders. I think its fair to say that Rochdale Market, like the entire town centre, spent a number of years in the doldrums in the early two thousands as the town centre´s Yorkshire Street devalued to a pound shop area, shopping malls housed more empty floor space than was occupied and people with cars visited Oldham, Todmorden, Bury, Bolton or anywhere with a market place instead of Rochdale. My wife and I would often take a hundred mile round trip to Skipton on a Saturday in favour over our local markets or even further afield to Leeds indoor market, or Tony Blair´s local market in Sedgefield.
When a solution was offered to the Rochdale market´s despair, with the promise of easy, inexpensive and frequent trams to and from Manchester I wrote, rather unkindly, in a poem at the time that
´the trams will be coming in empty and be full going out´
and indeed the tram system and footfall creating initiatives like the annual Literature And Ideas Festival, were just beginning to take good effect when Rochdale, like most, perhaps all, of its neighbouring market towns had to at least partially close because of covid.
This was, to say the least, ill-timed. as the Metrolink – the Manchester city region tram network – was acknowledged as the largest light rail system in the United Kingdom. With a line running through Rochdale borough, residents have direct access to a large number of destinations across the city region, including MediaCityUK (northern home of the BBC), Manchester Victoria and Piccadilly rail stations and Manchester Airport. There are six Metrolink tram stops in Rochdale borough, and five trams an hour depart from Rochdale towards East Didsbury via Oldham and Manchester City Centre.
Many market towns in the UK , and in other countries around the globe, will have quite a climb to reach the economic ground zero they were holding before the pandemic, let alone before they can reach heights that signal a recovery. Such market areas, though, reflect cultural and historic traditions that many of us hold dear, and I´m sure we all look forward to a day, soon, when the market traders will have to remember how to shout to make themselves heard over the buzz of the market throngs.
We recognize that to address the challenges that existed previously, and have been exacerbated by covid problems, markets around the world will need both a variety of vendors and committed weekly customers. We may well become ever more thankful if traders are committed to sustainable practices and to providing urban dwellers with freshly harvested and produced food items.
Markets are crucial selling spaces for vendors because direct sales provide a greater return for their labour intensive efforts as they compete with an expanding industrial food system. Markets also contribute positively to community health and the local economy. They provide opportunities for social connection and for consumers to better understand the diversity of ethical and ecological production practices within Ontario.
As patrons of the markets we can make the choice to support farms that sustainably manage the soil, conserve water, and reduce the use of pesticides. Together we can positively impact our local food system. We can do this by respecting the health of ourselves and the environment and ensuring that local food producers have equitable livelihoods. Plus, we get the best added benefit- enjoying the delicious flavours and textures only the freshest ingredients can offer. Markets around the world are still re-building many relationships and partnerships within the community. Farmers, food producers and market attendees might have to support, participate and commit to living local!
Only then will be able to truly believe life is returning to normality. Market towns have long been the indicator of the economic health of their region and their country and the attitudes of traders and customers alike, it seems, cannot help but reflect the state of the nation.
The prime sources for this article were articles published on line at Lanzarote Guidebook, Go Guides, Market Places In Vietnam, Israel In Photos, Jersey Vibrant, Fivepenny Piece Staleybridge Market on You Tune
In our occasional re-postings Sidetracks And Detours are confident that we are not only sharing with our readers excellent articles written by experts but are also pointing to informed and informative sites readers will re-visit time and again. Of course, we feel sure our readers will also return to our daily not-for-profit knowing that we seek to provide core original material whilst sometimes spotlighting the best pieces from elsewhere, as we engage with genres and practitioners along all the sidetracks & detours we take.
https://aata.dev/wp-content/uploads/2021/10/cover-7.jpg
396
1024
Norman Warwick
https://aata.dev/wp-content/uploads/2020/04/newlogo.png
Norman Warwick
2021-10-14 09:38:18
2021-10-14 09:42:22
MARKET FORCES TO INDICATE RECOVERY