BETWEEN THE COVERS, on a Monday night with Norman Warwick
BETWEEN THE COVERS, on a Monday night
with Norman Warwick
Between The Covers was the name of programme, (that didn´t take me too long did it?) and it was presented by Sarah Cox on Monday evenings at 7.30 pm through May.
It was actually the second series, and was described by Amanda Ross, Cofounder and CEO of the programme´s production company Cactus TV, who said: ´Between the Covers is the ultimate fantasy book group. We've assembled a dream cast and chosen six great new books that really are something for everyone's taste. The guests' passionate, engaging banter makes us all want to try books we wouldn't otherwise have picked up´.
This second series was delivered as part of the BBC Arts And Culture In Quarantine initiative. With many book clubs across the country either not going ahead or happening entirely online, Between The Covers gave BBC audiences everywhere the opportunity to take part in a nationwide TV book club. All the books featured in the series were labelled with Between The Covers stickers in stores, libraries and online so that audiences could read them too and tweet along with each episode using #BetweenTheCovers
Sara Cox (left) returned as host, with a brand new panel of four different famous faces for each episode who brought with them their favourite book of all time to discuss with their fellow guests. There were also two review sections: in each show the panel discussed a big hitter book from last year as well as a newly published book, which deserved to be put in the spotlight. The six new book picked provide an interesting mix of genres and authors. The aspiration was to get people reading and trying books that they might not otherwise have picked up. The programme was invariably well led by Sarah Cox who is patently an enthusiastic readers and guests often revealed themselves in a new and favourable light by eloquence.
There was a phenomenal line-up of celebrity panellists keen to share their love of books and reading, including Bridgerton's Adjoa Andoh, Catastrophe's Rob Delaney, Don Warrington off Death In Paradise (and a long time ago, Rising Damp) and food hero Rick Stein. They all named a book they like to share with the world, because it really meant something to them: some were surprising, some were classics and some were certainly new to at least this member of the tv audience, and I came away from every episode with an exciting new reading list.
Sara Cox said before the series was aired, ´I'm so thrilled the show is back – I can't wait to welcome everyone to our TV book club again as we delve between the covers of some fantastic books with some of my most favourite, witty and wise people. You'll need to clear a space on your bookshelf as we're going to be recommending some absolute crackers´.
The complete reading list included a big hitter and a newly-published book per episode (listed in broadcast order):
Episode 1
Newly-published book: The Fine Art Of Invisible Detection by Robert Goddard (published 18 March)
Big hitter: The Vanishing Half by Brit Bennett
Celebrity book club panel: Mel Giedroyc, Rick Edwards, Oti Mabuse and Griff Rhys-Jones.
Robert Goddard (right) was born in Hampshire. He read History at Cambridge and worked as an educational administrator in Devon before becoming a full-time novelist. He is the author of many bestselling novels, including Into the Blue which won the first WH Smith Thumping Good Read Award and was dramatized for TV in 1997, starring John Thaw. Goddard´s is a name I always look out for as I find his mysteries gripping despite, or perhaps because of, their being devoid of the graphic sensationalism that informs too many ´crime´novels.
Episode 2
Newly-published book: Should We Fall Behind by Sharon Duggal (published October 2020)
Big hitter: The Lying Life Of Adults by Elena Ferrante
Celebrity book club panel: Rachel Parris, Rick Stein, Vick Hope and Rob Delaney.
´Duggal writes about the devastation of vulnerable lives with all the hard-eyed clarity of William Trevor´, says fellow author Pretti Teneja, ´and as much literary heart as Rohinton Mistry.  Should We Fall Behind (left) deeply inhabits its world but wears its craft so lightly – it is beautifully observed, suffused with inner-city melancholy and shot through with the hope that can only come from random encounters, the small acts of generosity that help strangers to find affinity with each other even in the worst of time.'
Episode 3
Newly-published book: Sixteen Horses by Greg Buchanan (published 29 April)
Big hitter: The Girl With The Louding Voice by Abi Daré
Celebrity book club panel: David Baddiel, Katherine Ryan, Adjoa Andoh and Phil Davis.
photo 4 In her debut novel Abi Daré, uses pidgin English to tell a powerful story of Adunni – a fourteen-year-old girl who fights to overcome the turbulence of life in order to become a girl with a louding voice.
(see cover, right)
Episode 4
Newly-published book: Another Life by Jodie Chapman (published 1 April)
Big hitter: Agent Running In The Field by John le Carré
Celebrity book club panel: Don Warrington, Zoe Lyons, Hugh Dennis and Giovanna Fletcher.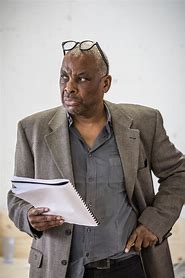 Along with his brother, Don was raised in Warrington Road, Newcastle upon Tyne. Inspired to act after seeing the film On the Waterfront (1954), he got into stage school then became an Assistant Stage Manager. As there was already an actor called Donald Williams, Don had to change his name so adopted that of the road he grew up in. In 1973 he got a part in the touring production of The Banana Box with Paul Jones, Leonard Rossiter and Rosemary Leach, who after a short while left and was replaced by Frances de la Tour. This was then adapted for television and with a change of title became the hit series Rising Damp (1974).
With his very precisely enunciated upper-class accent, still redolent of his role in that series, Don Warrington spoke eloquently about his love of literature.
Episode 5
Newly-published book: The Last House On Needless Street by Catriona Ward (published 18 March)
Big hitter: Hamnet by Maggie O'Farrell
Celebrity book club panel: Nish Kumar, Stacey Dooley, Robert Webb and Caitlin Moran.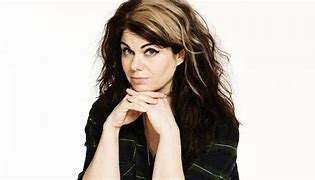 Catherine Elizabeth "Caitlin" Moran is an English journalist, author, and broadcaster at The Times, where she writes three columns a week: one for the Saturday Magazine, a TV review column, and the satirical Friday column "Celebrity Watch". Moran is British Press Awards (BPA) Columnist of the Year for 2010, and both BPA Critic of the Year 2011 and Interviewer of the Year 2011. In 2012, she was named Columnist of the Year by the London Press Club, and Culture Commentator at the Comment Awards in 2013. I always enjoy her writing, but this may have been the first time I had ever seen her or heard her. I had images in my head as some kind of journalistic wild-child, but I must have been confusing her with Julie Birchill. Tonight she spoke intelligently and lovingly about the written word.
Episode 6
Newly-published book: The Frequency Of Us by Keith Stuart (published 25 March)
Big hitter: Shuggie Bain by Douglas Stuart
Celebrity book club panel: Ranvir Singh, Micky Flanagan, Sophie Willan and Reginald D Hunter.
The Frequency Of Us is by author and journalist, Keith Stuart.. His heart-warming debut novel, A Boy Made of Blocks, was a Richard & Judy Book Club pick and a major bestseller, and was inspired by Keith's real-life relationship with his autistic son. Keith has written for publications including Empire, Red and Esquire, and is the former games editor of the Guardian. He lives with his wife and two sons in Frome, Somerset. And now his latest novel comes highly recommended by Between the covers.
Of this run of six episodes Emma Cahusac, Commissioner for BBC Arts, has said: ´The first series of Between The Covers sparked a national conversation about books, so I was delighted when it returned with another fantastic line up. Continuing BBC Arts' commitment to books programmes, the second series featured a broad selection of genres and styles, so there was something for everyone to enjoy. I looked forward to working my way through the reading list, and I joined in the conversation on social media during each episode.´
And with this big thumbs up endorsing her observations, readers of Sidetracks And Detours must surely know we are obviously already looking forward to a third series.
https://aata.dev/wp-content/uploads/2021/08/cover-6.jpg
414
736
Norman Warwick
https://aata.dev/wp-content/uploads/2020/04/newlogo.png
Norman Warwick
2021-08-11 07:25:39
2021-08-11 07:25:40
BETWEEN THE COVERS, on a Monday night with Norman Warwick