OF MEN AND WOMEN AND MICROPHONES
OF MEN AND WOMEN AND MICROPHONES
by Norman Warwick
Since she appeared unannounced at the 1959 Newport Folk Festival, Joan Baez has occupied a singular place in popular music. Within three years, she had recorded three best-selling albums. Her voice, according to
Joan Baez: The Last Leaf – A major new biography | Folk Radio UK
has often been described as ´lustrous and rich as old gold´. She has mentored generations of singer-songwriters, including Dar Williams, Josh Ritter, (two brilliant but woefully under-rated singer writers) Grace Stumberg and, most famously, Bob Dylan.
But Joan Baez has always been much more than simply a singer. Even before she joined Dr Martin Luther King, Jr. on the podium at the March on Washington for Jobs and Freedom in August 1963, she had used her gift to bring solace and hope to people who had little of either. In words and deeds, Baez has consistently championed social justice, non-violence as the guiding principle of her life, and the causes for which she has campaigned are legion. Whether playing to integrated audiences in the American south during the years of segregation, in Latin America during the years of brutal dictatorships, or Sarajevo under siege, Baez offered ´an act of love, sharing, witness and music´. now turned eighty, she has stepped down from the stage following a worldwide farewell tour and a final, Grammy-nominated album. She is now embarked on a new chapter of life—painting.
Drawing on interviews with long-time friends and musical associates, and on conversations across four decades with Baez herself, Joan Baez: The Last Leaf is a celebration of a timeless figure whose music and influence will endure long after her voice is silenced. The book was published by Palazzo in October 2020, ISBN 9781786750969 and is available in hardback £14.99.
I read Daybreak, Joan´s own almost stream of consciousness notes, through starry eyes when I was a mid-teenager. I had by then fallen in love with her, albeit in a pretty chaste manner, and at fourteen I even tried to pretend I had fallen for her because of her music. That was not true, of course, her music was actually too old, too traditional, altogether too grown up for me, a lad who was still pledging his love to the likes of Carrie Ann and Jennifer Eccles or that pretty girl at the Bus Stop.
But Joan had that gorgeous long hair, soulful eyes, sad sort of smile, and that voice.
Actually, just for once I have decided not to trust my memory that doesn´t work chronologically no matter how hard I try, Due diligence and research shows that I would have actually been seventeen when Daybreak was published in 1969 in the UK, when Joan Baez was twenty six. Ah, but I was so much older then, I´m younger than that now !
The eventual ´proper´ memoir, A Voice To Sing With by Joan Baez was published in 1991, and I carried a torch for her even then. In fact because she was now writing contemporary music too, and recording it in what I deemed to be appropriate folk / country style, or what I today refer to as Americana fashion I was even more deeply enamoured. I had, of course, followed her career as singer and organiser. I honestly didn´t take too much notice of her good causes and protests. I knew about the Vietnam war and a lot of what she said made good sense. However, I was married by now though and had my own wars and survival to fight for. Looking after my wife and raising my son was pretty tough on the income of a songwriter who hadn´t sold any songs.
Something about that book vexed me, to be honest, and I realised that had I ever met Joan and persuaded her of my undying love and to settle down with me ours would have been a marriage of prolonged separations. Her book read a little bit as if she were really giving us a list of all the red letter days in her life, of which there seemed to be some 350 per year since she had been seventeen. She had walked with Diplomats and Dylans and had broken bread with Poets and Politicians and Presidents. She seemed to have fought, non-violently of course, Democracies and Dictatorships and beaten them all.
None of what she wrote seemed boastful, but I turned each page begging her to tell me more about the music.
Over the years since, I have bought every record release, and watched every UK tv performance I could find. I have seen her in concert, and have spoken to her, albeit in the strangulated tongue-tie of that teenage boy who first fell in love with her. Somehow she has been one of only a few heroes I have failed to interview, and to add insult to that injury I have now learned that my new amigo in music, Larry Yaskiel, with whom I´ve become friends with since coming here five years ago to Lanzarote, where Larry has lived for decades. In a former life, though, he was a music executive who signed the love of my life to the A & M record label. He has lent me this photograph showing him (left) with Joan (second right) with her sister Mimi and her mother and father in the record A & M offices.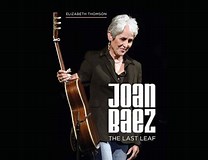 And now we have a new biography of Joan Baez by Elizabeth (Liz) Thompson, a widely publisher journalist and broadcaster. She has interviewed Joan Baez numerous times over the course of forty years and reported on the live recordings for Ring Them Bells in New York. A contributor to The New Grove Dictionary of Music & Musicians, she is the editor (with David Gutman) of critical anthologies on John Lennon, Bob Dylan and David Bowie. She is the revising editor of Robert Shelton's classic biography, Bob Dylan: No Direction Home. Thomson has been a Visiting Fellow of the Open University Sixties Research Group and is the founder and executive producer of The Village Trip, an annual arts and music festival celebrating the history and heritage of Greenwich Village, New York City.
I particularly like one on-line review review, by Richard Hollingum of this new biography. He is, he says, a former teacher and journalist who now enjoys listening to a whole world of music and keeps coming back to his first love of folk in all its forms.
´Over the past sixty years´, he says, ´there are few musicians and activists who have stood the test of time as well as Joan Baez. She has influenced and mentored generations of singers and is living proof that music can cross boundaries and move people to change. A voice for social justice and change, she is an encouragement to others to do the same, having reached 80 this year and, having completed her farewell tour, she has placed down her song-writing pen and taken up paintbrush for a new chapter in her life. It's an ideal time as any to take look back on her life and Joan Baez: The Last Leaf, the new biography by Elizabeth Thomson is the perfect place to start.
Many people of my generation will remember We Shall Overcome; her performance at Woodstock, singing for her then husband who was languishing in jail for draft-related offences; marching with Martin Luther King; and all that stuff with Bob Dylan. Is there more to her than that?
Thankfully, Thomson takes us on a guided journey through Baez's career from her Quaker origins, through the hippy cafe culture of Greenwich Village and on to world-wide fame. Throughout her life Baez combined music and activism. And did so with success, but not easily and it was hard keeping up her commitments to humanity, her personal life and her music.
We learn that the first known recorded footage from 1958 shows her 17 year old self 'ramrod-straight, half in shadow, her hair long and wavy', to all intents and purposes 'fully formed as a talent'. She was not, however, as amenable on stage as she later became, stopping singing if the Club 47 audience so much as made a sound. And even off stage she was difficult to befriend.
Baez's musical career took off pretty quickly. Before her twentieth birthday her 1960 release Joan Baez entered the Billboard chart at 20, more importantly staying in the charts for 64 weeks, eventually earning her a Gold Disc. The same year she had made her television debut, on one occasion watched by Robert Zimmerman who eventually travelled to New York to seek her out.
The Dylan theme weaves its way through a large part of the book, though like all of her content, Thomson does not make large of it. The detail is there, and the subtle undercurrent or hint of critical commentary on the relationship is sympathetic to Baez yet contains no Red-Top style of ramp up. If you want a dish-the-dirt exposé, this is not the book and I suggest that you would be hard put to find one. Having said that, a bit more detail on how the story of Baez helping Dylan got turned into one of Dylan helping Baez might be useful, but it is, as my parents would have said, ancient history.
Thomson does give more critical analysis of the music, which is only to be expected for someone who contributed to the Grove Dictionary of Music and Musicians and who has attended Joan Baez concerts for fifty years. Baez's voice, at the start of her career 'too polished' for some folk followers, has changed over the decades. Thomson acknowledges that Baez, the consummate performer, nurtures and alters to fit the ageing process and only on a few tracks of her later albums does she point out the weaknesses.
If Baez's music is the warp of her life, the activism has been the weft, such have the two been knitted together. It was only into the new century did Baez look to concentrate primarily on music, deciding that her final decade of performing would terminate about 2000 but actually continued for the best part of the next 20 years. The new century also brought about some form of political peace for her, for a few years at least, when the only President she actively promoted, Barack Obama, was elected to the White House. Assiduously apolitical, or perhaps non-partisan, it was always the cause, not the political party that needed to be fixed. From the Vietnam War, the subsequent fight of the Vietnamese Boat People, the Race Riots (her sallow complexion and facial features always made her feel different at school), to her friendship with Václav Havel, her visits to worn-torn Sarajevo, the vicious dictatorships in South America, all were causes worth standing up for, debating and arguing against, promoting non-violent dissension, disarming the opposition by asking them what they thought and what would they do. If you think that the music output is staggering in quantity as well as in quality, the list of dangerous places Baez felt the need to visit to support the downtrodden, the forgotten and the innocent must be greater and more important.
And that makes me think that Thomson has crammed so much into a relatively short book of some 170 or so pages. There is more in this book that I didn't know than I did, and has painted a picture of a person of whom I knew relatively little, and most of that knowledge stopped at 1980 at the latest. Baez's later work needs interrogating further. The artists she took under her wing, supported and helped fly, pepper her albums, as co-performers, writers, producers. She takes a song from someone else, or rather people send songs her way, and she makes them her own, her voice and her guitar work as distinctive as ever.
Baez gave her last concert, in Madrid, on July 28, 2019. Thomson was there with her sister, and notes that the reviewer in El Pais described the concert as "emotional, serene, humble and extraordinarily generous". The emotion, Thomson says, was 'palpable'. I bet it was. And thankfully Thomson was there to complete the circle. Joan Baez: The Last Leaf presents us with a lot of detail, with a fair number of questions and with a picture of a woman who has given so much to the world, to music and to activism that it is surprising how little has been written about her. However, Thomson's book is an excellent starting point.
I pretty much agree with all that Richard has written so eloquently above but I would add that Elizabeth Thompson creates an easy rhythm in the text of Joan Baez: The Last Leaf and despite her obvious respect, and even friendship, for Joan there is no sense of self-serving by the author. Whilst she serves her subject well Thompson comes across as a reliable narrator and is fastidious in detail. However, much as I enjoyed the book and as good as it is, I found myself still with all the unanswered questions I had after reading Joan´s own memoir thirty years ago. I wanted to know more about her selection of ´covers: the who, what, when, where, why of the selection process. I wanted to be somehow reassured that these choices were Joan´s rather than her label´s or managers´.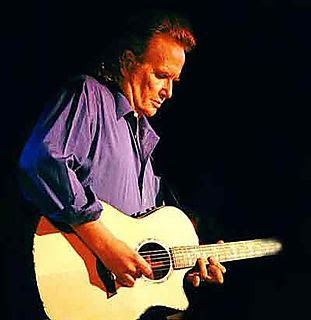 In particular I wanted to know how my favourite female singer came to record a song by my favourite songwriter, John Stewart. His song Strange Rivers is performed beautifully by Joan on her, perhaps, first real crossover album, Play Me Backwards. Tell me, I begged, but of that song there was not word one.
Generally, the author is as thorough about the music as she is about the Baez viewpoints, and she paints Joan in a sympathetic light that reveals a sense of humour not always apparent to the casual viewer or listener.
In much the same way as A Voice To Sing With, this thorough biography places at least as much emphasis on Joan´s successful effects on social justice as it does on the music, and so in some ways my understanding of Joan becomes more complicated rather than simplified. Social justice and music, though, so seem to be the warp and weft Richard refers to
Perhaps Joan is really that complex. My first question at that now-never-going-to-happen interview would still be ´who does Joan Baez think she is?
All Or Nothing is a biography described on its cover as the Authorised Story Of Steve Marriott, and is shown as having been authored by Simon Spence. That, of course, is, technically speaking, true but it doesn´t do just justice to all the work he must have undertaken. The book tells a linear biography in a traditional sense, but this is not an everyday life story written in a conventional manner. Rather, Spence has followed a chronological path but tells of its events by direct quotes from those involved in those events. In this way the author does not interfere with or engage in any with those events: they are recounted by the participants, some of whom were tightly close to Marriott and some who were friends  and some who found him hard work. None, though, were indifferent to him and, perhaps because Marriott isn´t here to speak for himself, this is the best way to gain any kind of rounded picture. Those who tell parts of Marriott´s story are all in some way participants in his life, including Lanzarote resident Larry Yaskiel, who when working as a record company exec at A & M records played a huge part in signing Marriott´s new ´super group´ to the label in 1970, the same year as Miguel Rios.
The comments of those providing the author with information and memories give us very obvious clues of how highly Marriott, who became famous in the Small Faces before forming Humble Pie, was rated by his peers. We learn that when Jimmy Page first thought up the idea of what became Led Zeppelin he asked Steve Marriot to front the band; Keith Richards wanted him to replace Brian Jones in the Stones; He was friends with David Bowie and they talked about forming a duo, David and Goliath; in the very last attempt to retain former glories he teamed up with Peter Frampton!
The Author reveals in his bibliography that he has raided some other top biographies to find those who might contribute. This brings in Elkie Brooks. Joe Brown, leader of The Bruvvers, Phil Collins, Roger Daltrey, and Marianne Faithful and of course, Ronnie Wood.
Simon Spence also must have studied the best book about the music industry I have ever read, Off The Record, by another record company executive, Joe Smith, who knew a thing or two about contract negotiations. It all paints a vivid picture of a musician who lived to the full and to the excess, and beyond, and who died way too young.
The eponymous single that gives the book its title, as well as other hits like Itchycoo Park, Whatcha Gonna Do About It and Lazy Sunday Afternoon serve to remind us that behind the rock electric guitar virtuoso there was a young man who grew up with a family in an area that would have been tinged with some of the trad jazz of the era and the music hall songs of an earlier generation,
When someone like Bob Dylan describes you as ´simply an amazing talent´ and David Bowie says you were ´the best vocalist this country has ever produced´ it perhaps suggests that such a great talent and a full life cut so short is a tragedy. Even the author describes the artist as ´a willing victim in his own demise´ but reminds us, in his foreword that even at the time of his death in a tragic house fire Steve Marriott still had plans to return to the music scene he had once graced.
Last night, I closed my Kindle on the final page of Beeswing, My Memoir, (left) an autobiography by Richard Thompson. The fact that the time was 3.20 a.m. is submitted in evidence that Thompson´s writing style, whether in song or in prose, flows like any one of the thirteen rivers he once extolled in an album title, It is unstoppable and un-put-downable and although we can hear him weighing decisions between the lines about what to tell us and how about whom he seems a reliable narrator and the book is much about the camaraderie of musicians, the love of music and a quest to somehow re-create the traditional in a new form-, and although in the later stages of the book he discusses Sufi beliefs and attitudes in some depth and recounts his less than glamorous pilgrimage to Mecca, he does so in less than strident terms.
Thompson, a hero of mine for many years, seems to me to now be what Marriott might have become. but his claims for his own song-writing and guitar playing are modest and far from grandiose.
In fact the memoir´s strap line of ´losing my way and finding my voice´ perhaps is a clue to the introspection of the bookHe writes about a UK folk club scene that I was simultaneously inhabiting. That he went on to such a great career with Fairport Convention and, I would argue, an even greater sole career was not because he enjoyed serendipity that I did not. He met serious, gifted and hungry musicians because he was a serious, gifted and hungry young man.
Fairport´s recording of Dylan´s If You Gotta Go, was sung in French and echoed of Cajun reels and none of us working the folk clubs of Heywood, Middleton and Rochdale were quite that adventurous. That it sailed into the ´pop´ charts was no surprise as the musicianship was superb. Many permanent and itinerant members of Fairport went on to become stellar names not for their writing and playing abilities but also for their ability to fuse the elements of a traditional British sound to create news traditions.
A terrible road accident in the group van out on the folk-road left a band member dead and we still wonder about the death of Sandy Denny, she of the purest, untroubled voice who was, from what we read here, often troubled in mind.
Thompson´s title for his memoir is taken from one of his loveliest songs. Well, we say lovely, but it is about a woman as gentle as a bee´s wing but in fact is as hard and defiant as nails. It is an incredible lyric and his vocal delivery is gorgeous on the album on which it was first released. It is also at this point that the memoir closes, so we can only hope and pray that volumes two and three will be written to complete the life story of a man who seems, from the way it is all told in what must only volume one, seemed to simply walk into people like his fellow Fairport colleagues and the likes of The Band.
I really enjoyed working in a folk group called Lendanear in the seventies with Colin Lever, (see our cover photograph at the top of this article), the man who is still my song-writing partner.
At Colin Lever – Open Mic – ArtHouse Jersey you can find a screening of Colin reading an extract from his new book Open Mic. Reviewers have called it ´a hilarious tale of one man's journey round the open mic scene, ´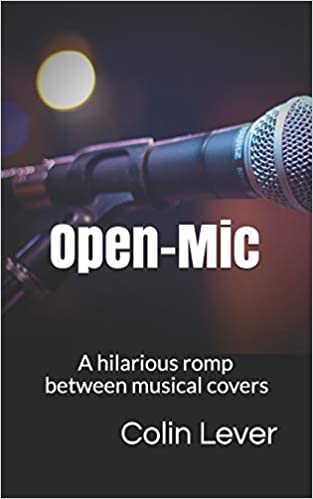 The journey takes its protagonist, says another reviewer, 'from pop-up pipers and a tyranny of TV's to tortured testicles and menopausal magnets.'
That protagonist is the hapless Reg, who is as out-dated as the corny motifs on his tee-shirts. Recently retired and at a loose end, he seeks sanctuary from his implacable wife. In the relative calm of the shed, Reg unearths his old guitar. The discovery sets him on a hilarious mission to relive past glories. But the hustle and bustle of OPEN-MIC nights are a far cry from the conservative folk evenings he remembers with such affection. Standing, dry-mouthed, behind a microphone for the first time, he experiences how unpredictable OPEN-MIC nights can be.
Rescued by the imperturbable Pisspot, the dawning of Anna raises more than just his spirits. Reg's hopes rest on the prospect of getting his first gig. Reg's road trip is filled with music and mayhem in equal measure. Like a Rom-com in reverse, OPEN-MIC uncovers the vagaries of the Open-Mic music scene. Whether you are a seasoned musician, a happy amateur or a watcher in the wings, Reg's journey is sure to put a smile on your face.
Although Edgar Alan Poe once said that ´the mind of man can imagine nothing that has not previously existed´, I ought to add here the disclaimer that ´the characters in this book are fictitious. Any resemblance to persons living or dead is purely coincidental´.
Colin (left) and I never did (hardly) any of the things he describe in this book. We might have been out on our own on the folk club circuit with its infamous lock-ins, jam sessions and rampant groupie scene (I wish) but we never participated (as we were never invited) and it was not for nothing that I was known as the man the permissive society said No to !
The attempts Reg makes so late in his day to make a career on this much-changed scene is full of comedy and confusion, Like all great comedy, though, it is tinged with tragedy. Reg´s actions are in some ways allegorical to the decision of his namesake Mr. Perrin to take off his suit, shirt and tie and wade into the all-consuming sea.
Reg, like Basil Fawlty, perhaps, feels misunderstood by a world he no longer understands. He is a Quixotic tilter at windmills, and perhaps is what David Brent might become in another twenty years.
What Reg patently isn´t, despite the old guitar he found in his shed, is a Steve Marriott, or a Richard Thompson or a Fairport conventioneer.
There is, though, something heroic about him. He is, in the words of John Stewart ´still running like he always did. Still with the heart of a kid´.
Read the book and laugh with, and at, Reg and some of the grotesques and gargoyles he meets. You will come to like this character, and next time you visit a folk club, (if they ever re-open) you might find yourself wondering who this old geezer is coming on to do one song straight after the raffle.
Listen to his song, though. It´s beautiful. And you will probably be able to find it, and purchase it. from www.lendanearmusic
Meanwhile all proceeds from Colin's work of fiction, Open Mic, which is now available to buy on Amazon, will be donated to Comic Relief.
The dream never dies, of course, and it seems each new generation throws a hero up the pop charts from the aspirants on the pop, folk, rock, country, blues jazz scenes. Most will fall by the way side and sink (a pejorative verb) into domesticity and a wage-slave lifestyle, and only a few might go on to make a name for themselves. Among those who would seem to have a chance of doing that is a band called Freewomen, newly-formed of experienced Canary Island musicians. My attention was drawn to them when I read in Lancelot (summer 2021 edition) of how composer Antonio Del Pino contacted Sergio De Pais and read him three short stories by the late Charles Bukowski, who died in 1994. The tales had been translated into Spanish with a view to turning them into songs and making recordings. They then invited bassist Abel Herrera to support the vocals of José and the percussion of Sergio.
The trio subsequently performed sixteen songs based on the works of Charles Bukowski (right) at the Cic El Almacen (The Warehouse) in Arrecife in December 2020, Positive reviews prompted them to contact producer and guitarist Ane Fernández of Neptar studios. Over the following few months they recorded four titles before the covid brought proceedings to what was thankfully a comma rather than a full stop. Freewomen are now back at work in the studio, now recording as a four piece, father recent addition of Miguel Angel Fernández.
A musician slightly further on up the recording ladder is film-producer, television presenter and singer writer José Maria de Paiz, who has just released a solo albums of material he has written over the last few years. Lancelot describe his pitch as varying considerably whilst remaining clearly identifiable. This eclectic musician delivers a variety of styles in the genres of pop rock, electronic rock, hard rock and funk and punk. The album was recorded at Cascaja studios here on the island in San Bartolome and released by the Tenerife based label ´los 80 Pasan facture´.
The album was superbly produced and mixed by lead guitarist, Mame Spinola and he also cut the master.
Another example of José Maria de Paiz talents was seen when a film produced by him, Ildefonso´s Aguillar´s Paisajes Audible was shown recently at the El Salinero theatre in Arrecife.
Although we are huge fans of Ildefonso´s work, and had previously been given a guided by walk by art historian Estefania Comojo and had marvelled at his studies of the island´s volcanic system and at the matching of audible recordings to created visual art, we hadn´t been able to attend this film screening.
Lancelot told us what we had missed by saying that Jose Maria´s ´creative filming morphed Lanzarote´s volcanoes and sea with the other instruments playing the soundtrack´.
So this article has brought together Joan Baez, Steve Marriott, Richard Thompson, Freewomen, José Maria de Paiz, Ildefonso Aguillar, Colin Lever, Lendanear….. and Reg !
availability of books reviewed:
Joan Baez: The Last Leaf by Elizabeth Thompson
All Or Nothing; Steve Marriott by Simon Spence
Beeswing, Losing My Way And Finding My Voice by Richard Thompson
Open Mic by Colin Lever
Sidetracks & Detours are grateful to Larry Yaskiel and the Lancelot seasonal magazine. for some of the text and photography provided for the article above
Look out for our forthcoming Reading And Writing Literary Festival, although it won´t, literally speaking be any such thing. It is, though an event that will run from 17th to 21st May.
The inaugural Sidetracks & Detours Annual Reading And Writing Literary Festival will include a look at ´literature with a sense of place´, an interview on Still Life with Val McDermid, and offer advice on how to stay right where you are and write. We will also attend a two day court case to hear a defence of writers accused of being under-worked and overpaid. All delivered free of charge by Sidetracks & Detours. It will, almost literally, be a literary festival
https://aata.dev/wp-content/uploads/2021/05/Colin-Lever-musician-c-pass-it-on.jpg
357
480
Norman Warwick
https://aata.dev/wp-content/uploads/2020/04/newlogo.png
Norman Warwick
2021-05-11 09:18:46
2021-05-11 11:28:12
OF MEN AND WOMEN AND MICROPHONES