SIDETRACKS & DETOURS 250th EDITION AWARD: best musical event 2020
SIDETRACKS & DETOURS 250th EDITION
AWARD FOR BEST MUSICAL EVENT 2020
by Norman Warwick
A 50th anniversary version of The Weight, written and recorded by Robbie Robertson with The Band has been released on You Tube. It shows Robbie playing a Fender Stratocaster guitar, Ringo Starr playing drums, and incorporates various musicians and vocalists performing in the USA, Italy, Japan, the D. R. Congo, Bahrain, Spain, Argentina, Nepal, and Jamaica. It has been released on the Playing For Change YouTube channel. It enjoys all the best production values of a major promotional video.
The zoom performance opens with Ringo Starr, looking happy and healthy and somehow younger than ever, asking to camera ´what key is it in Robbie? F-demented?´
The following frame shows a similarly relaxed and youthful Robbie Robertson (right) playing the opening riff on his Fender strat, somewhere outdoors in LA in sunny California. Ringo´s fantastic percussive performance kicks in on the audio after only a couple of bars.
The frame changes again to take us to Greenville in South Carolina where Marcus King (left) adds to the guitar with his own instrumental accompaniment to his singing of that strange first verse that takes us to a mythical place that somehow is instantly recognisable even as it shifts our temporal and geographical positions. Marcus King, (born March 11, 1996) is an American musician, singer, songwriter and guitarist. He is best known as the frontman, lead singer and guitarist for The Marcus King Band. As he completes the opening verse here the visual frames briefly cut back to Ringo and Robbie, each playing in their own remote locations.
The next musician we meet is Roberto Luti, sitting on a park bench on a beautiful day in Livorni, Italy playing an impressive black bodied guitar. He was born in Livorno, Italy, in 1977 where grew up hearing and listening to the blues and rock & roll records his father, a big time music lover, played in the house. Luti picked up the guitar around the age of eight, and his dad taught him the basics. He continued learning mostly on his own, loving playing the guitar and trying to match the lines and the tone of the guitar players in old blues records. As a teenager, Luti played in a few bands in the Livorno area, then at age 22, he embraced his old national steel guitar and went to the United States. He was searching for the blues and for adventure, and wanted to travel playing on the streets and living life. He went to New Orleans in September 1999 and left to Italy in 2008. He claims that New Orleans taught him a lot, about both music and life.
Luti met Playing For Change in 2002, while playing in the street of the old Big Easy. Mark wanted to come down to New Orleans to film street musicians, and needed advice about the scene in the City, so he got a number from a friend (Keb' Mo') of a New Orleans musician (Anders Osborne) and called it. Luti happened to be sleeping in the house and answered the phone. When Mark told him what he was up to, Luti explained that he played on the street every day. So Mark went down to the City, the two met and got along, so they kept in touch and became friends.
Luti feels proud and honoured to be able to help the Playing For Change cause with his music.
Playing For Change (see logo left) is a multimedia music project, co-founded in 2002 by American music engineer/producer Mark Johnson and film producer/philanthropist Whitney Kroenke. Playing For Change also created a separate non-profit organization called the Playing For Change Foundation, which builds music and art schools for children around the world.
As Roberto explains. ´playing music is my life, it is how I meet friends, how I have good time, how I overcome difficulties, and how I travel and buy my bread.´
These days, Luti plays both on the street, and tours with the PFC Band, a rock/blues trio called TRES, and some of his good friends from New Orleans and around the world: Niki laRosa, Luke Winslow King, Lynn Drury, Washboard Chaz. Luti also loves to be involved in other socially active musical projects such as the Caciuk Orchestra and One Eat One Band, both located in Livorno, Italy.
The You Tube scene switches to a male and female duo called Larkin Poe back in Venice, California with the female protagonist playing her instrument held flat against her hip whilst her partner plays electric guitar.
Larkin Poe is an American roots rock band originally from north Georgia and currently from Nashville, Tennessee fronted by sisters Rebecca Lovell and Megan Lovell. Featuring strong southern harmonies, heavy electric guitar riffs, and slide guitar, they are often touted as "the little sisters of the Allman Brothers". The band performed at the 2014 and 2016 Glastonbury Festival, and were voted "Best Discovery of Glastonbury 2014" by the UK's The Observer.
Meanwhile The audio track brings an almost choral sound to the first chorus, giving us a clue as to the large number of musicians taking part in this incredible feat of technology.
We then see and hear a blindingly brilliant, but really tasty guitar riff from Char, a few miles away in Japan. Hisato Takenaka, born in 1955 in Togoshi, Shinagawa, is now known professionally as Char, a Japanese musician, singer-songwriter and record producer. He is considered one of Japan's greatest guitar players. In 2003, Char was ranked by HMV Japan at number 38 on their list of the 100 most important Japanese pop acts.
The vocal for the second verse performed by Mermans Mosengo, (right) singing in sublimely solipsistic fashion up in the hills somewhere outside Kinshasa in the Dominican Republic of Congo. Upon his arrival to South Africa from Congo in 1998, Mermans joined the Young Bakuba Band as a drummer and bass guitar player. After a year in the band he found that his independence and musical style were being limited and so he branched out on his own as a solo artist in 1999. He was soon in high demand doing solo gigs at various Cape Town venues, however, he decided that he preferred a band set-up and assembled what is now a highly regarded multi-cultural band, Afro Fiesta.
Playing For Change first met him on their first night of a trip to Cape Town when they went to eat supper at a restaurant called Mama Africa on Long Street in the centre of town. Throughout their meal they heard vibrant sounds of African music coming from the other room and were seduced. During the band's set break playing For Change introduced themselves and talked with Mermans, the band's leader, about their project and all immediately found unity and a time was set to meet the next day to film and record their music.
On this video of The Weight, Mermans is joined, from afar, by the acoustic guitar of Ali Boulala, (left) cool in his round-framed sunglasses in the Kingdom Of Bahrain.
Ali Boulala (Born August 24th, 1991) is a Belgian/Bahraini guitarist, composer, producer and songwriter based in the Kingdom of Bahrain. Born in the U.A.E and raised between Palau, Belgium and Bahrain helped pave the way for an equally eclectic range of musical influences and styles heavily rooted in Blues, Funk & R&B.
The studio is his first home, where he is passionate about developing up and coming talent and bringing the results to the forefront of the international music stage. He is currently part of a team working to bring this vision to fruition.
For a spilt second and a split frame follows Ali to show us Ringo clearly enjoying himself back behind a drum kit, and Char with more fluent guitar work.
Suddenly and briefly, two descriptions that are constant to this exquisite production, we are in the seemingly deserted streets of Barcelona watching Sol Hamar add her vocals and hand held percussion to the overall sound.
Sol Homar is a percussionist, singer and composer from Montevideo, Uruguay who credits her love for the drum to growing up surrounded by the culture of candombe (Afro-Uruguayan traditional music). She began her career as a percussionist at the age of sixteen, in Buenos Aires, and step by step discovered the immensity of the black culture and its tributaries. At the age of eighteen, she traveled to Cuba to study music with professors from the Higher Institute of Art of Havana. Since then, Homar has worked as a composer and performer for theater and dance companies, as well as a session musician for recordings and music groups of various genres.
In 2001, Homar moved to Barcelona with the group Tambor Mutanta who she toured with for three years. In 2012, she created her own company,´ Sol y las Pintasueños´ , and released ´Camino a la Alegría,´ where she made her debut as director, also creating the script, music and staging. Through her company, she has created a method of introduction to music through percussion, voice and movement, and teaches people of all ages.
Homar has shared the stage with numerous artists and currently lends her talents to various projects such as LaKolmena (percussion with signs), Arena y Mar (Latin American music), Joy & Soul (Acoustic Soul), and others.
As the second chorus comes around with an ever expanding range of voices we are back in Japan, where Keiko Komaki (left) is playing a beautiful piano accompaniment from somewhere called Kagoshima.
Keiko Komaki seems to personify the music we are listening to on this Playing For Change prpmotion,. An accomplished pianist and B-3 player, Keiko Komaki began playing the piano at just 5 years old. After graduation from Kunitachi College of Music, she quickly became more interested in the improvisation world playing funk, blues, and jazz fusion rather than her classical roots. However, it was a few years later where she learned of New Orleans music. She later visited New Orleans for Jazz Fest and decided to take the bold step in 2006 to move to the city and make it as a musician, despite opposition from her family.
Keiko has reached her goal of musical success in the city. Shortly after moving to New Orleans, she started to play with the Late Marva Wright and the Wild Magnolias as their keyboard player and started to perform at local clubs and tour with them till Marva passed away. Since then, she has played with many of the Crescent City's most beloved musicians.
Keiko met the guys from Playing For Change in New Orleans while working on the recording of A Better Place. We Mutual admiration was immediate with the guys being impressed not only by her playing, but also by her soul and joy, and she became has now been part of the PFC Band since 2013.
As that chorus fades on our You Tube video we catch a glimpse of Taimane (right) somehow making her ukulele sound like a mandolin and adding shimmering strings to this arrangement, from Ka´a´awa Valley in Hawaii. Taimane Tauiliili Bobby Gardner (born February 13, 1989) is an American ukulele virtuoso and composer.
From Kaaloa in the same part of world we are then introduced to another duo, in John Cruz on vocals and electric guitar. He is a fine musician and singer-writer, and certainly one of the major musical talents to emerge from Hawaii. When not touring his regularly working on local community arts projects, but for this more global affair he is accompanied by James "Hutch" Hutchinson an American session bassist.
Hutch is best known for his work with Bonnie Raitt. Though his work takes him nearly everywhere he primarily resides in Studio City, Los Angeles, CA and Haiku-Pauwela, Hawaii.
From Buenos Aries in Argentina we receive the fluid piano accordion of Chango Spasiuk, an Argentine chamamé musician and accordion player. Of Ukrainian grandparents, El Chango had a strong Polka music influence from his early days; Eastern European musical influences were also already present in the chamamé music of the region. He had his first accordion at age 12, which he played at parties, weddings and other events with his father and uncle and could be a character straight out of Accordian Crimes, the wonderful, factive novel by Annie Proux.
He is joined in the mix almost immediately by the acoustic guitar sound of Robin Moxey, playing from some leafy glade in Seattle, Washington. Originally from Los Angeles and based out of Seattle, WA, Robin has been involved with Playing For Change since its inception.Over the years, he has worn many hats: producing, mixing, song-writing and playing guitar in the Playing For Change band. Tasty solos and soulful vocals have earned Robin the respect of his peers and a Bogner Amp endorsement. As an advocate of arts education and its importance to our future generations, Robin works as a mentor for "at risk youth" at S.A.S. Alternative High School in Bothell, WA.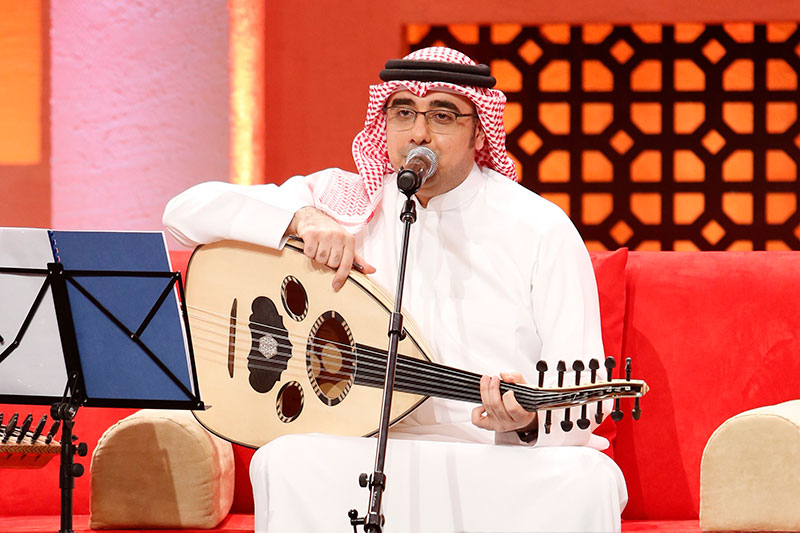 From there, though, this video like some supersonic form of in-flight entertainment whisks us back for a return to Bahrain where Ahmed Al Harmi (right) is making beautiful sounds on a stringed acoustic instrument I´m afraid I can´t identify from the camera-angle but it seems to be some sort of deep backed, short, necked lute !? The brief glimpse of the front of the instrument does show it to have six strings.
Ahmed is a Bahraini multi-instrumentalist musician, singer and songwriter. His musical career began in 1995 with his first release as a solo artist. Since then, Ahmed has performed across the Gulf becoming a household name through high profile concerts, television appearances and a successful career composing songs for other respected Arab recording artists. Whilst the oud (that could be it !) is his favourite instrument to play, Ahmed is also a proficient piano and guitar player.
We are in the bridge here on the video and the next instrument I would guess to be a sitar, albeit one with a disproportionately long and wide neck in comparison to the small body. It, too, makes a glorious contribution, played superbly by Rajeev Shrestha in Kathmandu, Nepal. A sitar player from Kathmandu, Nepal, Rajeev is a member of the Nepalese band Sur Sudha. He holds a masters degree in music, specializing in sitar, from Prayag Sangit Samiti in Allahabad India and has received several awards including the Ganesh Ram Bhandari Smriti Puraskar junior diploma from Manju Shree Sangit Maha Vidhyalaya for securing the highest score in string instruments.
With his band, Sur Sudha, he has released two albums, Brooding and Suranjali, and performs both locally in Nepal and internationally. He's performed on stages in China, France, Morocco, Canada, and the U.S.A., among others.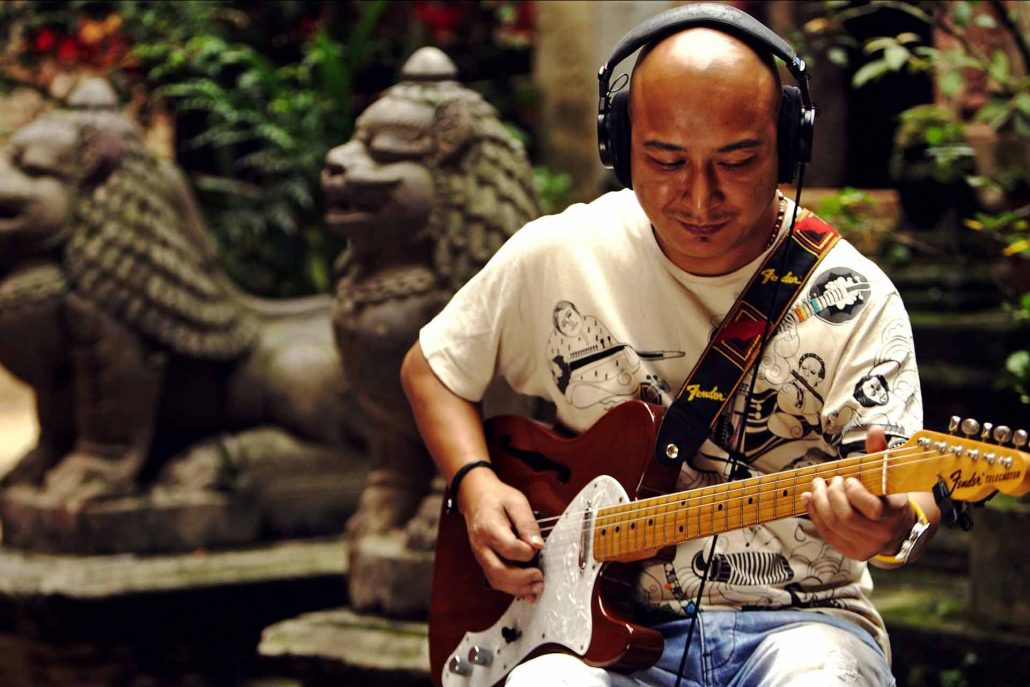 Sanjay Shrestha joins in on bongo-like percussion later on in the piece. Sanjay Kumar Shrestha has been playing music since he was a student at St Xavier's school. He played in numerous school bands and Brother Josh Niraula, who noticed his talent, gifted him his first guitar. While Sanjay's first instrument was the Nepali folk maadal, his experience has led him to experiment with all kinds of drums and percussions and various forms of music including fusion, rock, classical, jazz, reggae, and heavy rock.
In 1997, he formed Shristi with fellow Xaverians Ashish Sinha and Parangat Moktan while studying in Campion Academy in 12th Grade. Shristi is remembered as bringing 'fusion' music to the mainstream audience in Nepal and was one of the first bands to cut a CD album in Nepal. Sanjay joined 1974AD in 1999 as a percussionist, moving to drums in 2009. He has recorded 5 albums with 1974AD and although he is not a vocalist, he has co-written the lyrics to many of the songs and sings the song 'Swargadapi gariyasi' on the Album 'On Air'. 1974AD has taken him to the four corners of the globe playing to a very diverse audience. In addition to his busy touring schedule, Sanjay has performed and recorded with many high profile national and international musicians, like Ani Choyang Dolma, Mukti Shakya, Robin Tamang, Deep Shrestha, Grammy Award winning bluegrass singer Peter Rowan, and many more. He was also a member of Rusty Nails and Alt F4 briefly, in 1999 and 2010, respectively. Lately, he has developed a taste for reggae and performed a season with Australian reggae band Pachooka and is currently livening up the Kathmandu party scene with Joint Family Internationale.
In 2009, Sanjay started Musicology, a music promotion company. Musicology has teamed up with Hits FM to hold a concert series 'Music by the Museum' at Patan Museum featuring Nepali musicians in fresh ways. In August 2009, Sanjay and some fellow Xaverians founded House of Music, which has gone on to become one of the premier live music venues in Kathmandu.
Lukas Nelson, (right) who follows the footsteps of his father Willie, but is not unafraid to take sidetracks and detours off even that winding trail, captures, seemingly without trying, the essence of The Band vocals on the original recording of The Weight with which we are so familiar. So the iconic city that is Austin, Texas also makes its own unique contribution to this global sound.
After a second, shorter bridge, the next verse is opened from Trenchtown, Jamaica, another iconic location, by Sherieta Lewis and Rosalyn Williams on harmony vocals,
Sherieta is a singer/songwriter and vocal arranger from Kingston, Jamaica. Although she has only recently launched her solo musical career, she is no stranger to the reggae music industry, penning lyrics for artists such as Etana, Luciano, Marica Griffiths and Jah Cure to name a few and has also done background vocals for the likes of Tarrus Riley, Diana King, Duane Stephenson and a host of other reggae music greats. Sherieta has released a number of her own singles, namely 'In the name of Love', 'Lies', 'Reggae is Life', all receiving positive responses and quite a bit of airplay across the world.
"Music is my life. It's what I do best and I love it with all my heart" is what Sherieta says when asked "Why music?" With an unbreakable commitment to spread positive messages through powerful lyrics and strong and convicting vocals, Sherieta has set out to take the world by storm.
hoto 18 Every now and then you hear a voice that penetrates your very soul, the kind of voice you would just love to hear singing your favorite love song or passionately championing your greatest concern: Roselyn Williams has such a voice.
This Gemini grew up as the youngest of nine siblings. At times when it was challenging to even find food Roselyn and her siblings would sing, dance and play music, with her taking the lead part in all the songs. She was affectionately called Mic Belly because even at such a young age you could hear the power in her voice. Her journey took her to The Ashe Ensemble and later singing backgrounds with Damian Marley, Nas, Third World, Beres Hammond and a host of other musical greats.
This wildly joyous and yet haunting masterpiece of a performance was produced by Sebastian Roberston and Mark Johnson, founders of Playing For Change, and its making was sponsored by Cambria: ´family owned, American made´.
Sebastian Robertson (left) is an American non-fiction children's author, musician, composer, and studio engineer. As a children's author, Robertson has written the book Rock and Roll Highway, a biographical book about his father, The Band co-founder Robbie Robertson. He has also co-written Legends, Icons, and Rebels, a contemporary pop and rock and roll history starter book, which he created in collaboration with Robbie Robertson, Jared Levine, and Jim Guerinot.
Mark Johnson is a Grammy Award Winning Producer/ Engineer and Award-Winning Film Director. For the past 20 years, Mark has worked with some of the most renowned producers in the music, film and television industries, and with such musical artists as Paul Simon, Jackson Browne, Keith Richards, Sara Bareilles, Bono, Robbie Robertson and Ringo Starr. In hopes of showcasing musical talent found on the streets, Johnson parlayed his musical knowledge and technical skills to turn his vision into what is now known as Playing For Change. Mark has recorded and filmed music around the world in over 60 countries and he has dedicated his life to connecting the world through music.
Mark also sits on the Board of Directors for the Playing For Change Foundation, a separate 501(c)3 nonprofit organization created in 2007 in order to bring music education to children in communities the team had visited while traveling. Mark Johnson has also been a keynote speaker at the United Nations, TED Global, the World Economic Forum in Davos and a featured guest on "The Colbert Report", "Tavis Smiley", "Bill Moyer's Journal and CNN heroes.
I have never been quite sure how the industry defines ´world music´ but this is surely the epitome of the term. Here we have more than twenty musicians, including the writer of the song, from all points along the circumference of our world taking part in, for the sheer pleasure of playing great music ´together´ with like-minded, multi-talented musicians in the promotion of a good ethos and cause. That this was done with the help of producer and sponsors who ensured that what was captured was joyful and spontaneous rather than any soul-less picture of self-congratulation.
Unlike so much of what is marketed as World Music this was no kind of hegemony. Each artists reflects his own musical culture but rather than becoming so knotted up inside that the individual components are no longer recognisable the uniqueness of each of these cultures somehow entwines and enhances the whole.
For people of my generation it is wonderful to see Ringo so relaxed and so patently enjoying his work as he reminds us how much he really contributed to The Beatles, and the smile of approval and appreciation from Robbie at the very end of the video is a die of him the world hasn´t always seen.
I don´t want to make grandiose claims that this might be even better The Band´s original for that would be to add an element of competition that was clearly never intended by the organisers of this project. What I will say is that is the absolute peak of a mountain range of zoom-style work that has emerged on our planet in defiance of covid and its lockdowns, and that for many of us gave us constant hope that all will be well and that new horizons will appear out of the mist.
The Weight is an original song by the Canadian-American group The Band that was released as a single in 1968 and on the group's debut album, Music From Big Pink. Written by Band member Robbie Robertson, the song is about a visitor's experiences in a town mentioned in the lyric's first line as Nazareth. The Weight has significantly influenced American popular music, having been listed as No. 41 on Rolling Stone's 500 Greatest Songs of All Time published in 2004. Similarly, The Rock And Roll Hall Of Fame named it one of the 500 Songs that Shaped Rock and Roll. The song has been described as ´a masterpiece of Biblical allusions, enigmatic lines and iconic characters´ which translates, I guess, as ´people feel the song without necessarily understanding it!´ and it has been noted for its enduring popularity as ´an essential part of the American songbook.´
The Weight had brought success for a diversity of artists such as Jackie DeShannon who recorded a 1968 pop arrangement, debuting on the Hot 100 one week before The Band's, peaked at No. 55 in the US and No. 35 in Canada. there has also been a joint single rhythm and blues arrangement released by Diana Ross & the Supremes and The Temptations.
The Band's own version credits the group's individual members, Robbie Robertson, Rick Danko, Richard Manuel, Garth Hudson and Levon Helm on the record label, rather than The Band as a single entity. The group had signed to Capitol as The Krackers and the name 'The Band' had yet to be arrived at when Music From Big Pink was issued. The group wasn't identified as "The Band" until their second album.
The inspiration for, and influences affecting, the composition of The Weight came from the music of the American South, the life experiences of band members, particularly Levon Helm, and movies of filmmakers Ingmar Bergman and Luis Buñuel. There are also hints of influences involving drug deals and the band's relationship with known drug dealer Cathy Smith.
The original members of The Band performed The Weight as an American Southern folk song with country music (vocals, guitars and drums) and gospel music (piano and organ) elements.
The lyrics, written in the first-person, tell of a a traveller's experiences arriving, visiting, and departing a town called Nazareth. According to Robertson, this is based on Nazareth, Pennsylvania, because it was the home of Martin Guitars and he had written the guitar parts on a 1951 Martin D-28. The singers, led by Helm, vocalize the traveller's encounters with people in the town from the perspective of a Bible Belt American Southerner, like Helm himself, a native of rural Arkansas.
The colourful characters in The Weight were based on real people known to one, some or all of the group members. According to Robertson, however, The Weight was inspired by the movies of Spanish filmmaker Luis Buñuel. His films are known for surreal imagery and criticism of organized religion, particularly Catholicism. It is fairly evident that the song's lyrics and music invoke vivid imagery, the main character's perspective is influenced by the Bible, and the episodic story was inspired by the predicaments Buñuel's film characters faced that undermined their goals for maintaining or improving their moral character. Of this, Robertson once stated:
´(Buñuel) did so many films on the impossibility of sainthood, all about people trying to be good in Viridiana and Nazarín, people trying to do their thing. In The Weight it's the same thing. People like Buñuel would make films that had these religious connotations to them but it wasn't necessarily a religious meaning. In Buñuel there were these people trying to be good and it's impossible to be good. In The Weight it was this very simple thing. Someone says, "Listen, would you do me this favour? When you get there will you say 'hello' to somebody or will you give somebody this or will you pick up one of these for me? Oh? You're going to Nazareth, that's where the Martin guitar factory is. Do me a favour when you're there." This is what it's all about. So the guy goes and one thing leads to another and it's like "Holy shit, what's this turned into? I've only come here to say 'hello' for somebody and I've got myself in this incredible predicament." It was very Buñuelish to me at the time.
This is also related in Robertson's 2016 autobiography, Testimony, an autobiography in which he paints himself as a caring and supportive figure, much at odds with the description offered for evidence by Levon helm in This Wheel´s On Fire.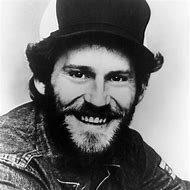 The song-writing credit to Robbie Robertson for The Weight, like credit for many of the songs performed by The Band, was disputed years later by Levon Helm, who insisted that the composition of the lyrics and the music was collaborative, declaring that each band member made a substantial contribution. In an interview, Helm credited Robertson with 60 percent of the lyrics, Danko and Manuel with 20 percent each of the lyrics, much of the music credit to Garth Hudson, and a small credit to himself for lyrics.
Whatever of that is true, there is no doubt that The Band's performance of The Weight in the 1968 studio recording included
In the 1970s, The Weight also appeared on three live albums by The Band; Rock of Ages, Before the Flood, and The Last Waltz.
Just after their November 25, 1976, farewell concert, The Band performed a gospel arrangement of The Weight with The Staple Singers that was filmed for The Last Waltz. Mavis and Pops Staples sang second and third verse lead vocals, respectively, and Robertson performed with an electric guitar. This performance of The Weight was included on the 1978 soundtrack album from the film. The Band's performance of the song during the concert itself was later included in a 2002 extended re-release of the soundtrack album.
The Weight has become a modern standard, and hence has been performed by over fifty artists, including Little Feat, Eric Church, Chris Stapleton, , The Staple Singers, Waylon Jennings, Joe Cocker, Travis, Grateful Dead, New Riders of the Purple Sage, , the Nitty Gritty Dirt Band, the Black Crowes, and The Old Crow Medicine Show, and Rickie Lee Jones recorded The Weight for her 2012 album The Devil You Know.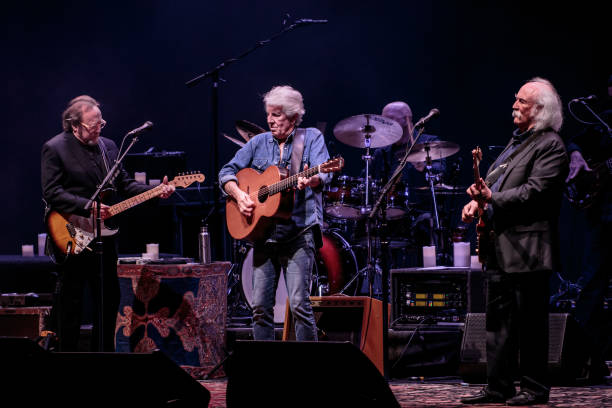 After Levon Helm's death, Graham Nash and Shane Fontayne wrote a song in tribute to him, entitled Back Home. The refrain from The Weight (take a load off Fannie, …) is included as a coda. The song has since become a staple of Nash's public performances, including those of Crosby, Stills, and Nash.
The constant re-discovery of ´old´ songs by new generations of musicians can lend those songs a certain gravitas, of course, but it is hard to argue against Robertson´s comments on the ´meaning´ of the song, and The Weight it carries. Like the best work of Dylan, with whom The Band had been hanging out in the months around the creation of the song, it is a song that juxtaposes a ´serious´ lyric against a deceptively lightweight musical arrangement without denigrating either element and giving the song an attitude all of its own and enabling its reputation and influence to grow.
That reputation and influence can only be further boosted by this incredible zoom concert rendition on the Playing For Change You Tube.
Judge for yourself at
the weight playing for change – Bing video
Meanwhile the award of the Sidetracks & Detours 250 prize for best musical event of the year, real or virtual, goes to Playing For Change and their production of The Weight.
https://aata.dev/wp-content/uploads/2020/12/cover-a-1.jpg
182
324
Norman Warwick
https://aata.dev/wp-content/uploads/2020/04/newlogo.png
Norman Warwick
2020-12-08 09:09:41
2020-12-08 09:27:15
SIDETRACKS & DETOURS 250th EDITION AWARD: best musical event 2020