MICHAEL ROSEN: Laureate refuses to rest on his laurels.
MICHAEL ROSEN writing on the road to recovery
by Norman Warwick
Following forty seven days in intensive care he returned home in June, earlier this summer. He says it them took him only two or three days to write Rigotoni The Pasta Cat, which is the latest in a comic fiction series illustrated by Tony Ross.
´I was thinking about it for a while´, Michael told the Guardian correspondent, Alison Flood, ´after I was in hospital and in rehab, and in the end I thought why go on thinking about it, just write it !´
A lengthy period of his time in The Wittington Hospital in London was actually spent in an induced coma. Although he has learned to walk again, recovery is not yet complete, and there have been further setbacks along the way. Michael told Alison that he has lost the sight in his left eye, and is also losing his hearing in the left ear. On top all this, quite literally, he is quickly losing his hair.
´The thing about Covid is it leaves a sort of trail of mishaps around your body, mostly at the edges, or in the middle with the lungs. In my case, it's all sorts of things, aches and pains and bits and pieces,´ he said. He described his house as having ´turned into a pharmacy´ due to the amount of medication he is continuing to take.
Nevertheless, the 74 year old author of the children´s picture book We´re Going On A Bear Hunt and classic poems like Chocolate Cake was delighted to tell the journalist that he had written a poem the day before their conversation. It looks at the notion that all these pill boxes are like kiddies' blocks, you pile them up – 'is it that one, or that one? Is that pill two times a day or three times a day?'
´It was a jokey sort of thing about the idea of these boxes piling up, which reminded me of my dear old dad as well, who in his last years got all sorts of things wrong with him and was always wondering about which pills he was supposed to be taking. So that's got quite an echo for me´.
Rosen sounded particularly pleased to have returned to writing what he calls ´silly, imaginative stuff´, the aim of which is first and foremost to make himself laugh, and ´then make Tony (my illustrator) laugh´.
"When I'm writing, I feel very contented in myself. So even when it's difficult and a bit of a struggle, it feels like a good place to be´, he added.
This would certainly be why he has frequently explored the notion that the blank page is a friend, an idea that many writers might not agree with. His poem The Space On The Page is one of his works that reaches this conclusion´, though, and he says now that ´You can write (ín that space) and it won't answer you back, and it won't laugh at you. It's not ashamed.´
That, he says, is why he so likes writing on a blank page, but he warns that ´what happens afterwards may vary – it might just go into my files on my computer, or I might just show my wife, or a publisher. But the actual step of sitting in front of a computer or with a blank piece of paper and a pencil in my hand, that's friendly´.
At Andersen Press, the publishing house of this new title of Rigotoni The Pasta Cat, Charlie Sheppard said she had been astonished when the manuscript arrived via email.
´We'd already made the decision we would move it on later´, she told The Guardian. ´Given how ill he had been and how ill he was after he got home from hospital as well. we obviously weren't going to ask him about it. After the past few months we didn't expect Michael's text for some time – so to receive something so funny from him after everything he's gone through is amazing. We can't wait to publish … He's absolutely a legend, a treasure of the children's world´.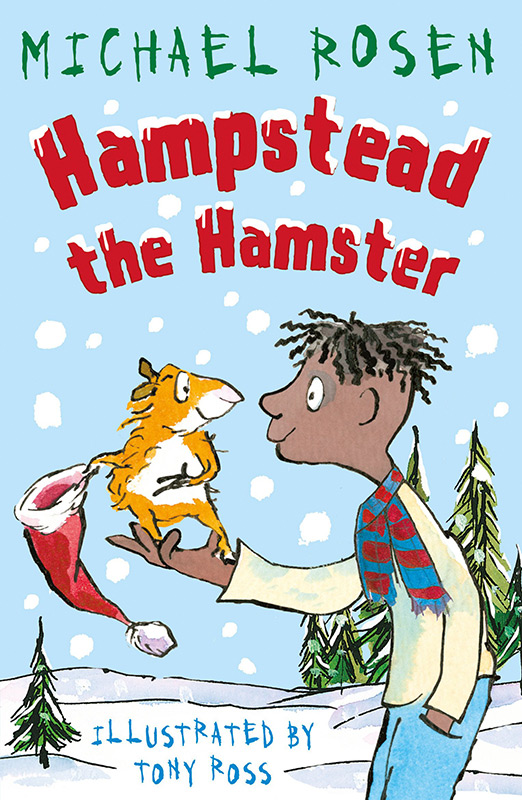 Sales of Rosen´s series have grown by 700% since the lockdown, according to Andersen, and will be boosted further when Rigatoni The Pasta Cat is published by Andersen in spring 2022, joining popular titles in the series including Fluff The Farting Fish, Bilal's Brilliant Bee and Hampstead The Hamster (see right)
Rosen said: ´People are always on the lookout for books where the child has learned to read – when they still like being read to, but when they want books that they can say, 'Oh, I can read that and it has chapters,' even if they're really short. It's that little gap between picture books and Horrid Henrys and Jacqueline Wilsons.´
The ability to tell a story is a major asset, of course, but it is just one of the many skills in the writers´ toolbox. Market awareness, for instance, is similarly vital, and I have lost count of the number of times I have suggested to members of my own various writing groups that they think about what space on the shelves their book would occupy.
A visit to his web site, where Michael welcomes you to his world, shows that he has always been prepared to write on different subjects in different formats, whilst at the same time building a public profile to draw attention to and support his work.
Since the publication of his first book for children, called Mind Your Own Business, came out in 1974, accompanied by wonderful line drawings by Quentin Blake, he has both lengthened and broadened his output. He has not only written books but also articles for newspapers and magazines.
He has raised his profile by attending schools, libraries and theatres and performing the poems in his books. As well as these reading he has also delivered creative writing workshops, helping children write poems and stories.
He also conducts workshops for teachers about poetry, and he teaches about children's literature at universities.
Michael has also made radio programmes, mostly about words, language or books and has been frequently seen on TV, either reading books, or talking about books.
A typical working week might see him doing any one, or all, of these things!
´To tell the truth´, he says on the About Me page on his site, ´I don't really know what I'm doing tomorrow, unless I look in my diary to see´.
His books page shows covers of the literally scores of titles he has written, and there is a videos page, too, that shows more than 20 pages of film of Michael reading and talking about his work.
The events page at https://www.michaelrosen.co.uk/events/ lists three events for December 2020 which, lockdown easing and Michael´s own health permitting, will see him Speaking Of Books at school events.
He has a news section updated as recently as the end of July and the blog pages provide a fascinating look back at his work.
This, and the section dedicated as For Adults reminds us that whilst he is much-loved by schoolchildren everywhere his work intended for the more adult market is just as widely received.
If you visit https://www.michaelrosen.co.uk you will even be able to sign up for his mailout newsletters keeping you up to date with the welfare and the output of a remarkable and well respected man.
https://aata.dev/wp-content/uploads/2020/08/cover-17.jpg
180
285
Norman Warwick
https://aata.dev/wp-content/uploads/2020/04/newlogo.png
Norman Warwick
2020-08-28 08:38:53
2020-08-28 08:42:25
MICHAEL ROSEN: Laureate refuses to rest on his laurels.