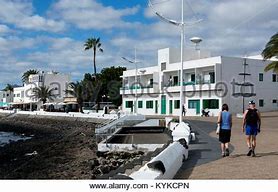 ORQUESTA DE JAZZ DEL ATLANTICO
a concert by the sea
By Norman Warwick
I used to find that tracks in this genre were, to me, indistinguishable from one another but that is not to deny the passion or the expertise of these players, nor the sinewy rhythms and sensuality of their music. Besides which, my buddy Steve Bewick, who presents his own weekly jazz radio programme in the UK has lifted the shades from my eyes. So, I found much to be enjoyed from the opening act, and by the time they handed the stage over to the main guests of the evening there were perhaps another three or four hundred people in the audience in the gazebos and surrounding areas.
Fifteen suited gentlemen took to the stage after having been introduced as Orquesta De Jazz Del Atlantico, (SEE LEFT) but it seems they are an orchestra who do more than simply play jazz.
They also seek to constantly remind new generations of fans and musicians of those trailblazers who brought jazz to such commercial prominence in the twentieth century. This orchestra researches the attitudes and styles of those past masters and serves concerts, usually based on the works of one giant of jazz, to highlight the influences and innovations a body of work. In doing so they hope to give new entrants in the field the necessary tools to further develop the music of a particular trailblazer, and tonight they were going to shine the spotlight on The Duke Ellington Band.
Edward Kennedy 'Duke' Ellington was an American composer, pianist and leader of a jazz orchestra from 1923 until his death aged 73, a career spanning more than fifty years.
Without being able to explain why, I always seem to hear similarities between the Duke Ellington Band and the music of Glen Miller, and that happened again with the opening couple of numbers here. However, as the concert continued we began to hear the African sounds that Ellington experimented with, and that came to be a major signature of his music, around his recording of Black, Brown and Beige his musical story of African American slavery, that remains as instructive as ever in these times of Black Lives Matter.
Such a great musician was The Duke (remember the song of that title that Stevie Wonder wrote and recorded about him?) that I and many critics think his music was beyond the categorisation of even a genre as wide as 'jazz'. So great a musician was he, in fact, that he was posthumously awarded a Pulitzer Special Prize Award.
Despite the whispered aside of an audience member in front of me that he had 'always found Ellington a little too fast for jazz,' tonight's programme offered plenty of light and shade and changes of tempo. There were lengthy introductions between numbers, in Spanish, that I'm sure were informative and interesting observations of Ellington's work but I'm afraid I cannot shed further light on them. I would have found them both interesting and helpful, and it was noticeable by their attire, movements, dance and rapt attention to these introductions that there were scores of jazz players amongst this huge audience.
Most of the members of the Orquesta De Jazz Del Atlantico had taken prominent solo spots, and had all delivered expertly with verve and assurance, before a young vocalist from Lanzarote was introduced. He took what had already been a fantastic audience-friendly performance to a thrilling climax.
In a deep, powerful voice and with a dynamism that totally belied his small stature and baby face this young man urged us, from his first song, to Jump For Joy. This was the title song of another of the Duke's musical explorations of African American identity.
It was immediately clear how the Orquesta De Jazz Del Atlantico had to play in a more restrained fashion to support a vocalist, but they delivered with no less flair or attitude, and this was an example of highly skilled vocal and musical technique.
Don't Get Around Much Anymore has long been one of my favourite songs, and I have heard it delivered in a hundred different attitudes. It is easy to make the song sound forlorn and resigned in the sense of being a song for a lost love. Here the song was delivered in the tone of someone who has found love and is therefore content to not 'get around much anymore.' Recorded by the greats, like Ella, like Louis and like Tony Bennett, and more recently by Harry Connick Junior, this song was given new lyrics by Bob Russell and was set to music by Duke Ellington, and was originally titled Never No Lament.
The vocalist seemed, in his introduction to his next song, to reference a previous Sinatra version and then delivered a bright, bouncy and breezy Sunny (Yesterday The Sky Was Filled With Rain). This song is best remembered by me from a recording by Marvin Gaye but was also covered by Boney M and, I think, Georgie Fame. It was written, lyrically anyway, by a black artist, Bobby Hebb, who recorded it on the night Kennedy had been assassinated. The song speaks about solace, and reconciliation as much as it does about the weather.
I later learned by researching on line at http://northernsoultrain.co.uk/artists/bobbyhebb.html that Bobby Hebb made his stage debut on his third birthday, July 26, 1941, when tap dancer Hal Hebb introduced his little brother to show business at The Bijou Theater. This was an appearance on The Jerry Jackson Revue of 1942 even though it was 1941, "that was how Jerry, a big man in vaudeville in the '30s, '40s, and '50s, did things" noted the singer. Harold Hebb was nine years of age at the time and the young brothers worked quite a few nightclubs before Bobby Hebb entered first grade. Nashville establishments like The Hollywood Palm, Eva Thompson Jones Dance Studio, The Paradise Club, and the basement bar in Prentice Alley as well as the aforementioned Bijou Theater found Bobby and Hal dancing and singing tunes like "Lady B. Good," "Let's Do the Boogie Woogie," "Lay That Pistol Down Babe," and other titles that were popular at that time. Hebb's father, William Hebb, played trombone and guitar, his mother, Ovalla Hebb, played piano and guitar, while his grandfather was a chef/cook on the Dixie Flyer, an express train on the L&N — Louisville & Nashville railroad. Brother Harold Hebb would eventually join Excello recording artists the Marigolds, documented in Jay Warner's biography of singer Johnny Bragg, the book Just Walkin' in the Rain; while Bobby Hebb, with so much musical influence and inspiration, would go on to pen hundreds upon hundreds of tunes, among them, BMI's number 25 most played song on their website in 2000, the classic "Sunny."
At the conclusion of tonight´s concert, that had included a great version of the song, there was a presentation of a plaque to the band by a representative the ayemeuntia to commemorate this event and then a prolonged encore to a complete standing ovation from inside and outside the seated areas. As we looked back we could see throngs of people dancing in the street and to the sides of the gazebos were scores of mums and dads and little ones bopping along too. Every single orchestra member took a solo spot in the course of this encore and deservedly so, and now that lockdown is being eased and perhaps some manageable social-distancing could be established then there is surely a huge audience eagerly awaiting the return of The Orquesta de Jazz del Atlantico.
https://aata.dev/wp-content/uploads/2020/07/sea-walk-Playa-Honda.jpg
192
278
Norman Warwick
https://aata.dev/wp-content/uploads/2020/04/newlogo.png
Norman Warwick
2020-07-21 12:07:50
2020-07-21 12:07:51
JAZZ DOWN BY THE SEA