KIKE PERDOMO WAS HER KIND OF JAZZ
KIKE PERDOMO WAS HER KIND OF JAZZ
By Norman Warwick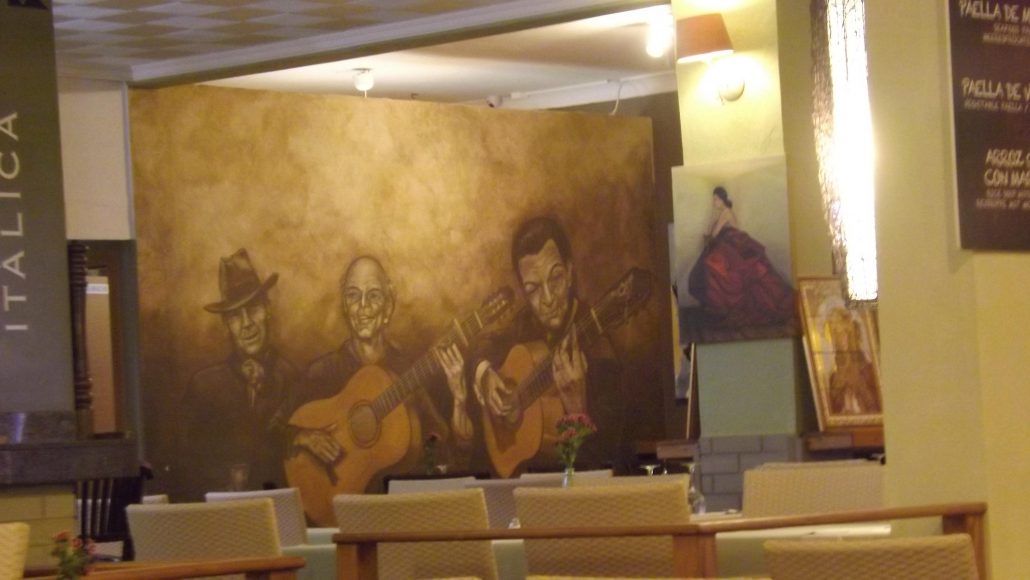 A few minutes later we were sitting outside The Italica restaurant (left) on the front at Matagorda, looking at crashing white breakers and rolling waves of a dozen different hues of blue. The pork chops were lovely, the service friendly and that view was worth every Euro of the bill for the meal.
We arrived in the car park of Castillo de San Jose as dusk began to fall, offering us just enough time to see for the first time the heroic and somehow mythical horses and their riders that seemed to be wading through an incoming tide as if fixed on some epic exploration or glorious quest. Readers who are familiar with the North West of England will be aware of the Antony Gormley 'tin men' who populate the coast around the Crosby area. These bigger statues are, like those in Lanzarote's famous underwater museum, created by Jason de Caires Taylor and in this light seemed eerie and other-worldly, reminding me for some reason of the 'pale battalions' referred to by first world war poet Charles Sorely.
It was soon time to present our tickets and take our seats for the concert we had come to see but we had time before the start to introduce ourselves to our neighbours at the table. We have said before in these reviews that one of the joys of the layout for these concerts is the view afforded to each table placement and the opportunity the cabaret café style offers to meet new like-minded people and have a chin wag.
The other couple sharing our four seater table turned out to be from Cork, whereas we are from Manchester and yet coincidentally we each had grown up children living in South Korea and so we all had many tales to tell of anxious parenting.
All such chin wags fade away here when the artists take to the stage and so it was when Kike Perdomo introduced his three colleagues from his eponymous quartet. At first sight it was a fairly conventional line up of Kike on saxophone leading a drummer and standing bass player and,…..then we did a quick double-take at the instrument the guitarist was wielding. It was electric with a fret board cut off at the neck, so there were no tuning pegs. And what a sound it made.
Kike was obviously sufficiently comfortable in his own musical skin to allow his colleagues their turn in the spotlight and the guitarist wove some silky webs to support Kike's own soulful solo spots. The programme notes had promised the acoustic and classic sounds of jazz with nuances of other genres including 'bop' and 'groove' and that promise was kept. The playlist was compiled pretty much from Kike's two latest albums, Celebrate and Brooklyn Roots and after the show I was able to purchase an album on which the group were accompanied by a traditional 'big band'.
This live performance included a mazy interpretation of Bye Bye Blackbird and a beseeching Ask Me Now and a quick vox-pop of a few other members of the audience revealed that the particularly gentle performance style of these talented musicians had been duly noted. Our new friends from Cork were certainly won over by a genre that was new to them and who had turned up 'just to give a try to something new.'
My wife's yoga professor Daniela Scimonelli, whom we had bumped into just before the show began, told us she had been very impressed by the bass player and drummer who had lent understated support throughout and had never intruded into melody lines and harmonies. This, she said, had been her type of jazz !
https://aata.dev/wp-content/uploads/2020/07/cover-9.jpg
200
200
Norman Warwick
https://aata.dev/wp-content/uploads/2020/04/newlogo.png
Norman Warwick
2020-07-16 09:14:29
2020-07-16 09:15:11
KIKE PERDOMO WAS HER KIND OF JAZZ