DANCE WITH ME down Sidetracks & Detours
An invitation from Norman Warwick
It was one of Rochdale´s revenue funded arts organisations, part funded by the local council and also by any matched funding it could achieve from its own initiatives. There were various caveats to being granted local funding, most of them stipulating governance compliance and serving the community through the art form.
Check out https://www.facebook.com/Cant-Dance-Can /
I had seen much of the good work Can´t Dance Can did when our paths had occasionally crossed on a few multi-disciplinary projects we worked on together but on becoming a trustee of the organisation I was nevertheless amazed to see how well managed the company was, first by Catherine Wilkes, Robinson as then was, and subsequently by Lucy Fleet and most recently by Romina Thornton who has since left to take on a bigger dance organisation in Yorkshire.
Catherine and the board members I joined were able to show me measured outcomes of high achieving projects involving all age ranges addressing not only leisure and physical fitness but also social, gender and ethnic issues.

Small wonder then that I dedicate the first track on this edition of the Sidetracks And Detours playlist, celebrating disciplines all across the arts, to the current chair-person of Can´t Dance Can, Margaret Greenwood (see left). There are several reasons for doing so. Margaret has contributed years of service as a dancer, a manager and now chair of the company, and remains as impressive as ever on the dance stage. I know how much the company, and dance in general, means to her, and so am pleased to nominate the first choice on this selection to her.
The work of American songwriter Jackson Browne has been recorded by leading American country music acts, most notably providing The Eagles with many of their biggest hits. There has also been a double album recorded in his honour with scores of acts lining up to cover his songs on that release.
His song For A Dancer rightly takes pride of place as the first to be selected for inclusion on our Sidetracks And Detours; Dance With Me compilation to commemorate a company that has received regular praise for its inclusivity and delivers an extravagant annual showcase that perfectly justifies that praise.
This particular Jackson Browne song is, then, very appropriate with its lyric urging everyone to take their own steps and create a dance of their own.
I was once privileged to work with CDC dancer Margaret Greenwood as she interpreted one of my poems through dance and I know she too values the message of Browne's wise words.
I remember how surprised I was, as a man who danced with three left feet and no sense of rhythm, to be invited to join Can't Dance Can, or Spiral Dance as it then was, as a trustee. As I recall, I merely mentioned in passing, to the then CEO, how much I had enjoyed a recent Cajun Dance Festival weekend in Bury. I perhaps should have told her I had been there in a journalistic capacity rather than as a dancer but it was true that I had fallen in love with this courtly, patois music.
It is that love of Cajun music that sees me select Acadian Two Step for our playlist. The selected recording of it, by The Balfa Brothers first came to my attention in 2000, on a World Music sampler cd. The Balfa Brothers (or Les Frères Balfa) were an American five piece cajun music ensemble of brothers in a musical line up of fiddle, guitar, harmonica, and vocals, triangle and spoons, and Cajun accordion. This family band had been playing together since the 1940s, first recording in 1951.
We feel sure many readers of Sidetracks & Detours would agree with us that creativity is often a protracted process. Only now, for example, some forty years after the title line of I've Always Been A Careless Dancer first came to me, has the song been properly recorded.
For years all I had was that line, which was not only a truism of my disco techniques but also served as an analogy of an attitude to life that often cost me dear. Although the title's lilting melody left it ingrained in my mind, it was years years before other lines spoke to complement it. The verses that finally did emerge a few years ago arrived only after I had become a trustee of Spiral Dance, and seemed strangely descriptive of my trepidation in taking on the role.
Nevertheless, my song-writing buddy, Colin Lever, cut a decent demo disc with our fellow Rochdale musician, Steve Roberts, on acoustic guitar. Now the song has been 'crossed and dotted' and recorded in the last few weeks. It has for so long been 'the song that got away' that placing it on our Sidetracks And Detours: Dance With Me virtual album might ensure it never wriggles away again. Mixing has been completed now in the Jersey studio now in the studio, and you can find this and recordings of almost fifty other songs we wrote under the name of Lendanear.
After asking me to join the board of what became Can't Dance Can, the management said that I would have to 'man up' to prove the company's maxim that 'everyone can dance.' I wasn't brave enough, either, to argue with the forces of nature that were Catherine Wilkes and Beate Meilemeir, our local arts officer.
I therefore suddenly found myself part of a 'troupe' that also included my fellow Rochdale literature lover Pam Ashton, rehearsing an interpretation of Bell Bottom Blues, recorded by Alma Cogan, to later perform in a public showcase ! There I was, proving that, like Nat King Cole, I could indeed 'Face The Music And (almost) Dance.
It was strange to be thinking of that phrase as I had grown up listening on countless occasions to my dad singing it as he drove us to school. It was from those daily journeys that I acquired my love of rhyming lyrics and poetry. I came to associate the song with the late Nat King Cole, though it has been recorded in various styles by any number of artists.
I never had the privilege of seeing Judy Garland or either of her daughters, Lorna Luft and Liza Minelli, perform live but I do have fond memories of them all through seeing and hearing recorded red letter performances by each of them.
In the case of Judy, particularly, I have also seen some of the recordings of her disastrous falls from grace, stumbling into and slurring words Somewhere Over The Rainbow, the song she had made a classic in the film Wizard Of Oz. Had she been born into a slightly later generation she might have been better served and protected by Hollywood studios which only learned to look after their child stars as the talking film industry itself grew into adulthood.
I don't like my singers tame and soulless, though, so I have always admired the risk Judy was prepared to take to find the heart and energy of any song. Her frenetic take on Fascinating Rhythm, for instance, made me share her fascination in dancing beyond control.
As Can't Dance Can proclaim in their strap-line that 'everyone can dance' this recording of Fascinating Rhythm seems a perfect fit here on the Sidetracks And Detours; Dance With Me virtual playlist.
'Who'd have thought a boy and bear could be well accepted everywhere?' So well received were Simon Smith And His Amazing Dancing Bear by the British public that the song spent several weeks in the pop charts in the nineteen sixties when recorded by The Alan Price Set. Mr. Price had formerly been a member of The Animals, a band led by Eric Burden, that made stars of the later punk era look like choirboys, so It was surprising to hear such a catchy song by this former member of a ´bad´ band. The song even had a jaunty little piano riff that gave clue to those in the know of the songwriter's identity.
Simon Smith And His Amazing Dancing Bear was written by American singer-writer and keyboard player Randy Newman. His song, Rider in The Rain, was for long a staple diet of the UK folk scene and, on our local club circuit, was regularly performed by Jim Schofield. The strange lyrics came to Newman whilst trying to write a song for Sinatra, but that went on, instead, to be recorded by the likes of Nilsson, Morrisey and Harpers Bizarre. Even Fozzie Bear danced to it on a Muppets show!
The Beach Boys were a huge part of the soundtrack of my teenage life. Songs of sand, sea and surf gave us a glimpse of a lifestyle that we who lived in the land of the Pennine wind-chill factor could only dream of. It was in 1965 that a song of theirs lay in the charts presenting social pressure for Lancashire lads. The title of their song suggested we should be asking girls 'Do You Wanna Dance?' but The Beach Boys had obviously never been to Tiffany's nightclub in Rochdale where men were men and girls were wallflowers only to be picked at closing time !
The group, providing classics like God Only Knows and Good Vibrations, was run almost as an orchestra by keyboard player and troubled genius/producer Brian Wilson but there is an exuberance and sheer joy of living within most Beach Boys songs that belied their somewhat dysfunctional family lifestyle.
This particular track, written by Bobby Freeman, could have been adopted as a strap line by Can´t Dance Can had they been around at the time, believing as they do that everyone can dance, which is why this song has made our Dance With Me playlist.
The answer to the frequently asked question 'Do You Wanna Dance?' in the sixties was invariably answered by the invitee´s mate in the words 'Amanda (or insert any appropriate name) Won't Dance.' This was why we guys soon stopped asking.
The suitor in the John Stewart song Amanda Won't Dance, however, simply never gives up and is very obviously smitten.
The reason this song cannot be left out of this playlist is its repeated refrain of 'dancing to the rhythm of sweet sixteen' making the song a piece of rock and roll heaven. This is, amazingly, the John Stewart we knew in the fifties with The Kingston Trio, and the John Stewart who wrote Daydream Believer, recorded by the Monkees, and who recorded more than thirty superb Americana albums over a forty year career. Here on a song on the last album he ever made is John Stewart reminding us that he only really ever wanted to be Elvis by offering us a dance track as infectious as anything The King ever gave us
Banjo player, poet, guitarist, folkie, country musician and rock and roller, John Stewart was and is my absolute hero and is deservedly included on our Sidetracks And Detour: Dance With Me playlist, … even if Amanda Won't Dance.
Dancing In The Dark is a Bruce Springsteen composition that he plays live brilliantly, both solo and with the E Street Band, in an edgy, slightly fearful style of a working class man unsure of his grip on life. I love this song from his incredible Born In The USA album (left) and that particular interpretation but, as almost invariably with Springsteen, I find myself enjoying cover versions of his work more than his own recordings.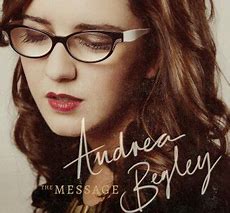 Nevertheless I hardly expected that to be the case when I learned that a British tv talent show winner had recorded the song. When I then realised she seemed to be a mousy, middle class girl hiding behind a big guitar Andrea Begley was quickly losing any credibility I might have given her. However, even this arrogant critic had to eat humble pie when hearing her version on her debut album.
Springsteen's stuttering approach in the night, full of bravado but afraid to ask for love, had in Andrea's own style become a female reassurance, sharing her confidence in her man that 'dancing in the dark' would be just fine.
'I was dancing when I was twelve' Marc Bolan tells us in the opening line of Cosmic Dancer. That would have been an almost Billy Elliot style confession in the Rochdale of the sixties but this song became an important turning point in my musical tastes. The sheer joy in Bolan's voice as he sings this lyric, and the strange alchemy of child-like wonderment and consummate musical maturity in the playing let me allow myself to admire someone I thought of as a girl's rock star.
I had thought T Rex were famous long before they became famous of course, what with all their Sundays on the John Peel Show but I simply wasn't prepared for the explosion that came later with Ride A White Swan and Get it On etc.
There was something other worldly about Marc, and Bowie too, but Bolan, handsome, pretty and androgynous sure loved to Boogie and he and the track's producer, Tony Visconti, made it almost cool for kids of my age to bop
Even Morrissey covered the song live in concert, well enough with only acoustic guitar, but the song was a prog rock product of the seventies, eventies and I danced ´like a loon.'
DANCE WITH ME down Sidetracks & Detours
Track listings
For a Dancer by Jackson Browne
Acadian Two Step by The Balfa Brothers
I´ve Always Been A Careless Dancer by Lendanear
Let´s Face The Music and Dance by Nat King Cole
Fascinating Rhythm by Judy Garland
Simon Smith & His Amazing Dancing Bear by The Alan Price Set
Do You Wanna Dance by The Beach Boys
Amanda Won´t Dance by John Stewart
Dancing In The Dark by Amanda Begley
Cosmic Dancer by Marc Bolan
https://aata.dev/wp-content/uploads/2020/06/cover-13.jpg
120
120
Norman Warwick
https://aata.dev/wp-content/uploads/2020/04/newlogo.png
Norman Warwick
2020-06-26 07:27:07
2020-07-20 12:23:02
DANCE WITH ME