A BROADCAST FROM FRIENDS IN BERLIN
A BROADCAST FROM FRIENDS IN BERLIN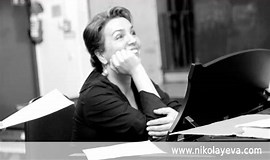 Natalija Nikolayeva (left) has been a good friend of this Sidetracks and Detours blog since we reviewed a concert of Romantic Souvenirs she played in Tias earlier this year with her musical partner, violinist Iya Myaeva. The performance was reviewed on these pages and on Lanzarote Information on-line and then Natalija and Iya graciously allowed us to conduct an exclusive interview about their careers to date and their hopes and aspirations for the future. That interview remains available in our archives and we all stay in occasional touch and I was pleased to receive a pdf attachment to an e-mail from Natalija earlier this week asking me to inform our readers of what sounds like a great concert that will be available in your living room on Saturday 30th May.
The concert is to celebrate the annual Canaries Day which, in the years we have lived here, has always been jam packed with arts events and festivals, with last year´s celebration being presaged the night before by a wonderful concert by The Lanzarote Ensemble orchestra in the atmospheric theatre in the caves of Jameos del Agua .
Now, The Canarias en Berlin German-Canary Society invites you to an on-line concert ´From Berlin and Rome for the Canary Islands.´ This musical greeting on the occasion of the Day of the Canary Islands 2020 Saturday, May 30th,  begins at 8 p.m. with Massimo Macro, cello (Roma / Fuerteventura), and our friend Natalija Nikolayeva, piano (Berlan / Lanzarote) with a programme that will include a recital of Suite For Cello no 1, in G major, BWW 1007 by J.S. Bach (violoncello solo) and ´Himno de Canarias´ from Teobaldo Power "Cantos Canarios" (violoncello /with over-abrasion and accompaniment on piano by Roberto Bacchini)-
Benito Cabrero, (left) will play as a guest artist and Natalija on piano (Berlin / Lanzarote) will then perform Klaviersonate (Moonlight Sonata) op.27 Nr.2 in cis minor by Beethoven, as well as Variations sérieuses, op.54 by Mendelssohn and Prelude op23 Nr.5 in G minor by Rachmaninov. She will also deliver a short improvisation from "Nube de Hielo" by the much-loved Benito Cabrera. This on-line concert will be transmitted via Facebook Canarias en Berlin and will be followed by live chat with the artists Massimo Macro and Natalija Nikolayeva, via ZOOM ID: 974 0391 5387 Password: CeB-2020 Organizer : Canarias en Berlin German-Canary Society.
Whilst we have all been pretty much confined to home over the past few months the wonderful arts events I have enjoyed here over the last five years have come flooding back, as Paul Simon might have put it in in Kodachome, ´that gave us those nice bright colours, gave us the greens of summers and made us think all the world was a sunny day.´ It is funny the way memories have come back to me in lockdown; bright and vibrant and colourful but all jumped up and not in date order. That concert I saw Natalija and Iya play in Tias has seemed to be on constant play-back, though. Nevertheless, in among all my memories of Lanzarote have been earlier memories of the UK. I have remembered cup final days (football and cricket)when my wife, Dee and I would go down with my parents and spend the weekend in London. Wow, the colour and the noise of Manchester United versus Arsenal on the Saturday afternoon, or the breathless hush of watching Lancashire play Northamptonshire in a one day cricket final. Win or lose on the Saturday, the railings of Green Park in London on Sunday mornings would be lined with paintings by artists who worked every weekend at their favoured spot on new creations, to the delight of tourists.
Similarly in other major European cities I later visited when working with Bolton Wanderers such as Lisbon and Madrid, and Barcelona too, I became accustomed to street artists adding colour and vibrancy to the cities' attractions. Flame throwers, stilt walkers, and musicians could be seen and heard on every main thoroughfare.
t In pre-lockdown days, the Sunday morning markets at Teguise on Lanzarote would not have been the same experience for tourists without the silver or bronze lacquered mime artists who stood or sat, invisibly supported, statue still, making no movement or sound until tourists laughed and clapped and threw their odd coins of strange currencies into the cap at the artists´ feet. There was a flamenco artist there, too, stepping and stomping in ferocious fashion with perfect timing, resplendent in a clinging red dress, and then there were Canarian songs performed by a local music group that invariably encouraged spectators to join in the dancing, and ubiquitous pan pipers would later add to the global sound-scape.
It is along the promenade that runs beside the beach of Playa Blanca, however, that my locked down mind refuses to be imprisoned and instead skips me by some of the most unique artists to be found. Here were sand sculptors and bubble blowers and more besides. Last year strollers by the sea were able to watch a group of young people re-create, in sand, well known tourist spots. It is true that some days these artists created, instead, giant sea creatures such as an octopus made with great attention to detail. Most impressive, though, was a sand-built replica of Timanfaya, with carved streams of lava pouring down its sides and smoke fuming out of its cratered top, presumably made by hidden candles and tea lights.
Meanwhile, only thirty metres away a young artist spent all day, with a large bucket, some soapy water and a strange diviner-like instrument, blowing giant bubbles out to sea, where they faded and died on the capricious sea breeze.
Fifty metres from the 'sandcastle builders' in the other direction a crowd gathered, with the seagulls, around the waiters from the local restaurants, who were out on the rocks cleaning and de-scaling their catch of the day with more artisanship than art, maybe, but still drawing an admiring round of applause from those who stopped to look at yet another sea-side art form.´
Our beaches, for a while, were cordoned off and deserted, as coronavirus crept stealthily and with evil intent. We have relied upon Photographs And Memories, to pinch a song-title by the late Jim Croce, in which he recalls that ´we sure had a good time, when we started way back then.´ Those good times, of live music and castles in the sand, may be returning soon but until then artists like Natalija and her friends are making their music available as widely as they can, broadcasting from Berlin to the beaches of Lanzarote
https://aata.dev/wp-content/uploads/2020/05/news-1511504__3401.jpg
340
510
Norman Warwick
https://aata.dev/wp-content/uploads/2020/04/newlogo.png
Norman Warwick
2020-05-28 08:32:40
2020-05-28 08:54:54
A BROADCAST FROM FRIENDS IN BERLIN