a year of MANCHESTER FESTIVALS
Norman Warwick looks ahead to
A YEAR OF MANCHESTER FESTIVALS
There are several fantastic and comfortable venues in Manchester that bring international stars to the city. Places like Bridgewater Hall and The Royal Northern College Of Music, as well as The Arena and The Opera House. Add to that smaller but still atmospheric places like Band On The Wall and Phredds and you have a city that delivers an almost continual backdrop of music from many genres. Festival in the city absolutely reflects all that writ large, with a Manchester Folk Festival a Manchester Jazz Festival, a Blues Festival and The Manchester International Festival all still to be held in 2023, with a Blues Festival taking place, too, on the fringe of the city.
19th-28th May 2023 will see Manchester Jazz Festival take place at venues and sites across Manchester, including weekday gigs at St Ann's Church, nightly gigs at Matt & Phreds, events at Forsyth Music Shop and at The Yard with partners NQ Jazz, and close with an extended weekend-long party at Band on the Wall. In fact according to today´s headline on their web site, MANCHESTER JAZZ FESTIVAL WILL BRING 'THE SOUND OF SURPRISE' TO THE CITY IN MAY.
Tickets are now on sale for Manchester's Jazz Festival with an eclectic roster of artists for you to enjoy.
We're happy to announce the first wave of events as part of mjf2023: Mica Miller will be at at Band on the Wall on 25th May.   Releasing her debut album 'Heaven Knows' to critical review earlier this year, Mica Millar (left) has quickly become one of the UK brightest new Soul stars, picking up Jazz FM's prestigious 'Soul Act of The Year 2022' award alongside a nomination for 'Breakthrough Act of The Year' and featuring on the front cover of the iconic Blues & Soul Magazine amidst an array of five star album and live reviews and national radio support.
After a standout 2022 Jazz Cafe performance, Mica appears at Band On The Wall as a new commission as part of mjf originals – keep an eye on socials for further details – and a free opening weekender featuring live music, food and drink! To remind yourself not to miss this you can vist the website at https://manchesterjazz.com/discover-mjf2023/ to see reminders of last year´s event.
After a hugely successful first year, Manchester is excited to announce that the Manchester Guitar Festival will return in 2023.
The second Manchester Guitar Festival (right) will take place on 19-21 May 2023 with three days packed full of concerts, workshops and master-classes with some of the finest guitar stars.
There will be a headline performance each day in The Stoller Hall, as well as a variety of other performances in The Stoller Hall, The Carole Nash Hall and pop-up performances in The Atrium.
Workshops will include a fingerstyle masterclass from John Gomm, a flamenco workshop with Miguel Pérez, a jazz masterclass from Jim Faulkner and Stuart McCallum teaching a pedals masterclass for electric guitar.
John Gomm and Jim Faulkner will also be performing during the festival, alongside Richard Durrant, Alexandra Whittingham and more to be announced.
We will also be running a series of participatory activities for young people and adults across our site – Stoller Story Sounds for ages 3-5, and Guitar Choir for young guitarist of all abilities aged 8 – 16.
There will even be an opportunity for budding young guitarists aged 9-17 to try out the world of Chetham's as part of our Chetham's Guitar Academy Day which will run alongside the 2023 Festival. Guitar Academy and Guitar Choir are both free to book.
There is definitely something for everyone to watch, learn and participate in. For now, you can book elements of the weekend by following the links below:
Friday Night Headliner – 7.30pm in The Stoller Hall :
Eric Bibb (left)
Saturday Night Headliner – 7.30pm in The Stoller Hall :
Espiritu Flamenco Presents Miguel Pérez
Sunday Night Headliner – 7.30pm in The Stoller Hall:
You can also buy a Full Festival Ticket, which gives you access to everything including all daytime activities, workshops and headliners (excluding youth education activities: Stoller Story Sounds, Guitar Academy and Guitar Choir).
Day Only Tickets give you access to workshops, masterclass, daytime and pop-up performances apart from the three headliners and youth activities, and can be booked as an upgrade to individual concert tickets, or separately. You can check out more details of what's going on each day, as well as booking tickets, below:
Specialist guitar retailers such as Forsyths of Deansgate will have stalls at the festival with a selection of guitars, accessories and music to try and buy.
You can check out the Forsyths website or virtual tour to explore what guitar stock they hold. You can also contact them in advance about specific guitars, accessories or music, which they'll be happy to bring along you to have a look at over the weekend.
Over the coming weeks and months, we'll be announcing more details of all the performances, masterclasses and workshops, so make sure you're signed up to our mailing list to hear more.
In the meantime, if you have any questions, please drop us an email to boxoffice@stollerhall.com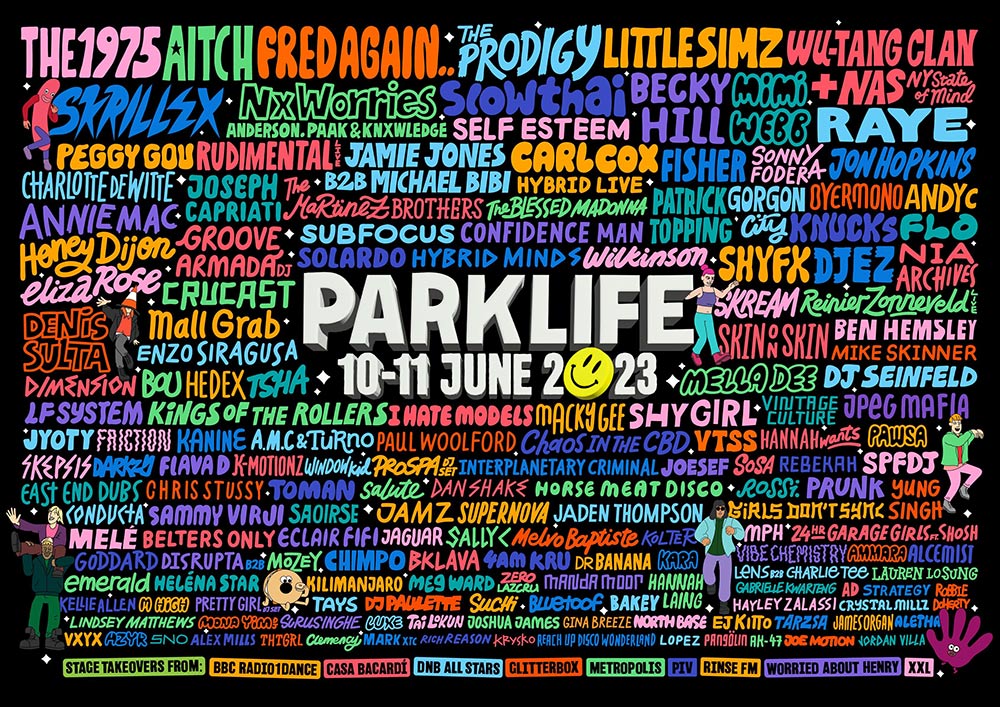 On the 10th and 11th June, The Parklife Festival 2023 will be held in the glorious Heaton Park in Greater Manchester: one of the most popular fests in the northwest of the UK. Parklife delivers a massive party to Manchester. Teaming up with some of the top clubbing brands globally, each stage has its own unique flavour. There will be sixteen stages of music fronted by some of the biggest bands in the world including,
Sonny John Moore (born January 15, 1988),[4] known professionally as Skrillex (left), is an American DJ and record producer. Growing up in Northeast Los Angeles and Northern California, he joined the post-hardcore band From First to Last as the lead singer in 2004, and recorded two studio albums with the band (Dear Diary, My Teen Angst Has a Bodycount [2004] and Heroine [2006]) before leaving to pursue a solo career in 2007.[5][6] He began his first tour as a solo artist in late 2007. After recruiting a new band lineup, Moore joined the Alternative Press Tour to support bands such as All Time Low and the Rocket Summer, and appeared on the cover of Alternative Press' annual "100 Bands You Need to Know" issue.
Rudimental (right) are a British drum and bass band, signed to Asylum Records, Atlantic Records and Black Butter Records. The band consists of Piers Aggett, Kesi Dryden and Leon "Locksmith" Rolle.
They were nominated for a Mercury Prize[1] in 2013, and won several awards including the Brit Award, and the MOBO Award for Best Album.[2] Rudimental also received nominations at the MTV Europe Music Awards for Best New Act, and Best UK and Ireland act.[3] Rudimental has achieved multiple Platinum awards for record sales in several countries[4] including in the United Kingdom and Australia.
The band rose to prominence in 2012 when their single "Feel the Love", featuring singer John Newman, topped the UK Singles Chart,[5] and for which they were also nominated for a BRIT Award in 2013. "Feel the Love" was also used for the opening credits of the 2013 documentary movie Spark: A Burning Man Story.
The band have released further singles, including "Not Giving In", featuring Newman and Alex Clare, "Waiting All Night", featuring Ella Eyre which also topped the chart in the UK, "Right Here", featuring Foxes, "Free", featuring Emeli Sandé, and "Powerless", featuring Becky Hill. Rudimental were named by the BBC as the festival band of the summer. In 2013, Rudimental's debut studio album Home debuted at number one in the UK Albums Chart and was also nominated for a Mercury Music Prize.
The Prodigy are an English electronic dance music band formed in Braintree, Essex, in 1990 by producer, keyboard player and songwriter Liam Howlett. The original line-up also featured dancer and singer Keith Flint and dancer and occasional live keyboard player Leeroy Thornhill, dancer Sharky, and MC and vocalist Maxim. They were pioneers of the breakbeat-influenced genre big beat, and achieved mainstream popularity in the 1990s. Howlett's rock-inspired drum rhythms infused with electronic rave music beats/breaks were combined with Maxim's vocals, Thornhill's shuffle dancing style, and Flint's later modern punk appearance. The Prodigy describe their style as electronic punk.
Groove Armada are an English electronic music duo, composed of Andy Cato and Tom Findlay. They achieved chart success with their singles "At the River", "I See You Baby" and "Superstylin'". The duo have released nine studio albums, four of which have charted in the UK Albums Chart top 50.
visit the Festival web site at
https://www.musicfestivalwizard.com/festivals/parklife-festival-2023/
15th to 18th June are the dates for The Diggle Blues Festival
Visitors will be made welcome from 15th to 18th June at Diggle Blues Festival 2023 in the Oldham area of Greater Mancheter. The Festival is designed so that you can watch the first band at the first venue and have half an hour to walk to the next venue, buy a drink, find a seat, sit and watch the gig and then move on to the site and so on. It's a kind of walking, musical tour of Diggle, which is a lovely part of the world. You don´t have to choose between one band or another. Instead, you can watch all ten or eleven on the programme, and all for free though a voluntary donation of around a pound a head wouldn´t be turned down. The Festival is an indoor event so you don´t have to worry too much about the weather, but rest assured some acts might be staged outside instead in the unlikely event of good weather.
The Diggle Blues Festival runs an ADOPT-A-GIG scheme (about which you can read more on their facebook site. They are pleased to say they´ve just had another sponsor for this scheme. The family of a regular attendee at Diggle Blues Festival have gifted him an Adopt-a-Gig sponsorship for his birthday. They have chosen to adopt the Backwater Blues Band gig at the Diggle Band Club on Saturday. As well as being a fan of our festival, the guy with the birthday also happens to be a huge fan of Backwater Blues Band. Brilliant! A great way to help out the festival, can you think of a way to support this scheme, maybe getting together with a friend to Adopt-a-gig for £20 each. Yes, this sponsorship is only £40 for each of the 11 gigs this year, and don't forget our other fundraising initiative, the Wellwishers Rollcall at only £10. Thanks for supporting our festival.
Thursday 29 June to Sunday 16 July 2023 are dates to red-star in your diaries as it is then that Manchester International Biennial Festival returns this summer from.
The Manchester International Festival is a biennial international arts festival, with a specific focus on original new work, held in the English city of Manchester and run by Factory International. The festival is a biennial event, first taking place in June–July 2007, and subsequently recurring in the summers of 2009, 2011, 2013, 2015, 2017, 2019 and 2021. MIF23 will take place in summer 2023. The organisation is based in Blackfriars House, adjacent to Blackfriars Bridge but is due to move to a new £110 million new home, Factory International, in 2023.
The Festival was promoted and initiated with three pre-festival commissions. The first of these took place in November 2005, when Gorillaz performed live at the Manchester Opera House. Recordings of these performances were later released as the Demon Days Live DVD. The second was The Schools Festival Song, a new piece by Ennio Morricone and Nicholas Royle sung by an 8,000-strong schools' choir, organised by Young Voices, which took place on 4 December 2006.
The third was an art installation, in conjunction with the Imperial War Museum, by Turner Prize-winning artist Steve McQueen, as a response to the 2003 Iraq war and as a tribute to British service personnel killed in that conflict. It was exhibited in the Great Hall of Manchester Central Library from 28 February to 15 July 2007.
The first edition of the Festival ran from 28 June – 15 July 2007. The Festival's showpiece production was Monkey: Journey To The West, a re-working of the ancient Chinese legend Journey to the West by Damon Albarn and Jamie Hewlett, collaborating on their first major project since Gorillaz. Albarn wrote the score while Hewlett designed the set and costumes.[3] Adapted and directed by Chen Shi-Zheng, whose credits range from classical Chinese opera to the Meryl Streep movie Dark Matter, the show also featured 45 Chinese circus acrobats, Shaolin monks and Chinese vocalists. The production was designed and created by Théâtre du Châtelet in co-operation with the Manchester International Festival and the Berlin State Opera, and performed at the Palace Theatre.
As well as Monkey, the Festival showcased two other events. The first was Il Tempo del Postino, a visual arts show curated by Hans Ulrich Obrist and Philippe Parreno and produced in conjunction with the Théâtre du Châtelet, Paris, performed at the Manchester Opera House. The other was a new stage adaptation of The Pianist, combining the original words of Władysław Szpilman spoken by actor Peter Guinness, with the music of Frédéric Chopin performed by leading pianist Mikhail Rudy, and directed by Neil Bartlett at the Museum of Science and Industry in Manchester.
Taking place across the city as well as at Factory International, MIF23 is set to bring 18 extraordinary days of events, performances and happenings to Greater Manchester.
Together with our partners from across the city, we're planning an incredible summer bringing artists from all over the world to use Manchester as their inspiration and canvas – and inviting the people of Manchester to shape what we deliver and how we deliver it.
Expect collaborations from some of the most exciting creative minds of our generation – blurring artforms, pushing boundaries and addressing contemporary issues. More than that, finding the joy in hard times and inviting you to take part too.
As the first festival to take over our flexible new building, expect a dive into the unknown, alongside the usual world firsts and world class art.
We can't wait to share our programme with you next Spring and lift the lid on how you can get involved – watch our space at
https://factoryinternational.org/whats-on/mif-23/
The Three Day Festival Pass offers full access to every gig, session, and event from 19-21st October! Manchester Folk Festival takes place in the Northern Quarter, the vibrant musical heart of the city, at some of the most well-established and iconic music venues this area has to offer.
The festival is a rolling programme where festival pass holders will be able to dip in and out of these legendary music venues for 3 days of the very best in English Folk and Acoustic music. All of the venues are within a short walk of each other, making it easy to move between concerts, catch up with friends, and just hang around taking in the atmosphere.
New for 2023 will be exciting international partnerships bringing in new music from around the world. We are also excited to introduce more sessions into the festival programme, alongside our traditional Sunday singaround.
Our exciting new venues for 2023 include:
Band on the Wall
New Century Hall
Hallé St Peters
Night and Day
Hallé at St Michaels
Soup Kitchen
All of our new venues are fully accessible, for specific information for each venue click here.
Band on the Wall is our new festival hub and late-night festival club featuring the best emerging folk-influenced artists.
The full line-up of artists will be announced in April 2023, but as always, whether you prefer traditional folk, the best in singer-songwriters or something a little more alternative, there'll be something for everyone!
For more information about the festival click here.
https://aata.dev/wp-content/uploads/2023/03/1-1.png
450
1000
Norman Warwick
https://aata.dev/wp-content/uploads/2020/04/newlogo.png
Norman Warwick
2023-03-23 07:30:00
2023-03-17 15:33:08
a year of MANCHESTER FESTIVALS