IMMORTALITY IN LIMINALITY for Jazz Masters
IMMORTALITY IN LIMINALITY for Jazz Masters
by Norman Warwick
The National Endowment for the Arts (NEA) is an independent agency of the United States federal government that offers support and funding for projects exhibiting artistic excellence. It was created by an act of the U.S. Congress in 1965 as an independent agency of the federal government. The agency was created by an act of the U.S. Congress and signed by President Lyndon B. Johnson  (left) on September 29, 1965 (20 U.S.C. 951). The foundation consists of the National Endowment for the Arts, the National Endowment for the Humanities, the Federal Council on the Arts and the Humanities, and the Institute of Museum and Library Services.
The NEA has its offices in Washington, D.C. It was awarded Tony Honours for Excellence In Theatre in 1995, as well as the Special Tony Award in 2016. In 1985, the Arts Endowment won an honorary Oscar from the Academy Of Motion Picture Arts and Sciences for its work with the American Film Institute in the identification, acquisition, restoration and preservation of historic films. Additionally, in 2016 and again in 2017, the National Endowment for the Arts received Emmy nominations from the Television Academy in the Outstanding Short Form Nonfiction or Reality Series category.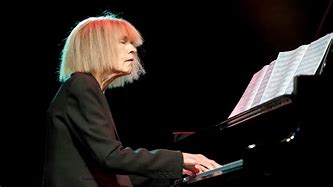 Since 1982, the National Endowment for the Arts has awarded 165 fellowships to great figures in jazz, such as Carla Bley (right), Chick Corea, Ella Fitzgerald, Dizzy Gillespie, Ira Gitler, Sheila Jordan, Charles Lloyd, Pat Metheny, Sonny Rollins, Maria Schneider, Rudy Van Gelder, and Sarah Vaughan. The Arts Endowment's website contains photos and bios for all of the NEA Jazz Masters, as well as archived concerts, video tributes, podcasts, and more than 350 NEA Jazz Moments audio clips. The National Endowment for the Arts has also supported the Smithsonian Jazz Oral History Program, an effort to document the lives and careers of nearly 100 NEA Jazz Masters.
Stanley Clarke, Billy Hart, Donald Harrison, Jr., and Cassandra Wilson will soon receive America's highest jazz honour. It has been announced that the 2022 NEA Jazz Masters fellowship recipients include bassist Stanley Clarke; drummer Billy Hart; vocalist Cassandra Wilson; and saxophonist, educator, and activist Donald Harrison, Jr.
Stanley Clarke (left) is generally regarded as one of the most influential players in modern jazz history, playing on either acoustic or electric bass. Clarke. In addition to maintaining a solo career for more than 50 years, he was a founding member of the jazz-rock fusion band Return To Forever, with fellow seminal members Chick Corea, Lenny White, and Al Di Meola, which would become one of the most popular jazz ensembles of the 1970s, pulling fans from the rock world to achieve commercial success.
As part of his strong belief in giving back, he also established the Stanley Clarke Foundation, a charitable organization which awards scholarships to talented young musicians each year.
Clarke grew up in Philadelphia, Pennsylvania, with his mother encouraging him to study music. He first played the violin and cello before settling on the bass, attending the Settlement Music School, where his focus was on studying classical bass repertoire. Clarke made his professional debut at age 15, joining saxophonist Byard Lancaster at the Showboat jazz club. Following studies at the Philadelphia Musical Academy, Clarke moved to New York City, soon working with legendary performers such as Art Blakey, Gil Evans, Stan Getz, Dexter Gordon, and Horace Silver.
With growing notice of Clarke's remarkable abilities on the bass, he embarked on a solo career, transporting the bass from the back of the stage to the front as the lead instrument. In the 1970s, Clarke released a trilogy of successful albums—Stanley Clarke, Journey to Love, and School Days—that cemented his career as a soloist. He teamed up with keyboardist George Duke in the 1980s, touring and recording together and scoring a top 20 pop hit, "Sweet Baby." Clarke continued playing with a host of artists from various genres, from Ronnie Wood and Keith Richards of the Rolling Stones to violinist Jean-Luc Ponty. Always, his distinctive bass stood out. In addition to his innovations with the bass guitar, he also developed instruments such as a piccolo bass guitar and a tenor bass guitar.
Since the 1980s, Clarke has scored for film and television, with more than 75 credits to his name, including the films What's Love Got To Do with It?, Boyz'n the Hood, Romeo Must Die, Poetic Justice, and The Transporter.
Honours received by Clarke include the Miles Davis Award from the Festival International de Jazz de Montréal (2011) for his entire body of work, numerous Downbeat Reader's and Critic's Poll Best Electric Bass Player"wins, Bass Player Magazine's Lifetime Achievement Award, membership in Guitar Player Magazine's Gallery of Greats, and an honorary doctorate from the University of the Arts in Philadelphia. He is an invited member of the exclusive Academy of Motion Picture Arts & Sciences. In 2016, some of Clarke's instruments and recordings became a part of the permanent collection at the Smithsonian's National Museum of African American History and Culture (NMAAHC) in Washington, DC. To date, Clarke has won three Grammy Awards and one Latin Grammy. He is still actively touring, composing, and recording.
Billy Hart (right) is one of the most sought-after drummers of his generation, having recorded 12 albums as a leader and performed as a sideman on more than 600 recordings.
Along with fellow award-winner Donald Harrison Jr., he is currently a member of jazz super-group the Cookers. He also teaches both nationally and internationally, and has authored the book Jazz Drumming.
Hart grew up in in the nation's capital in a music-loving family who introduced him to jazz early on. His maternal grandmother bought him his first drum set. At age 17, he was hired by the great local saxophonist Buck Hill for an extended gig with his band, which also featured two of Hart's high school classmates, pianist Reuben Brown and bassist Butch Warren. His next important mentor was singer and pianist Shirley Horn. After being established locally, Hart spent most of the '60s touring with three of the preeminent working groups of the era, Jimmy Smith, Wes Montgomery, and Eddie Harris.
Upon moving to New York, Hart became associated with a group of like-minded and forward-thinking musicians, recording with Pharoah Sanders, Wayne Shorter, McCoy Tyner, Joe Zawinul, and, especially, Herbie Hancock, with whom Hart spent three productive years in the band now known as Mwandishi. He also appeared on the seminal Miles Davis 1972 album On the Corner.
Other notable associations include four years with Stan Getz, almost ten years with Charles Lloyd, and record dates ranging from standard bearers like Frank Foster, Clark Terry, Horace Silver to experimentalists like Joanne Brackeen, Geri Allen, and James Newton. A working cooperative with Dave Liebman, Richie Beirach, and Ron McClure—Quest—has existed for more than 30 years. Hart is also a member of the current jazz "supergroup" the Cookers, which includes George Cables, Billy Harper, Donald Harrison, Jr., Eddie Henderson, Cecil McBee, and David Weiss.
His current quartet includes Ethan Iverson, Ben Street, and Mark Turner. In 2016, Hart was featured with the German WDR Big Band on the release The Broader Picture and was honored at the Healdsburg Jazz Festival in California with a 40-year retrospective programming in his honor.
Since the early 1990s, Hart has taught at the Oberlin Conservatory of Music, the New England Conservatory of Music, and at Western Michigan University.
As a saxophonist, Donald Harrison, Jr. (left) —recipient of the 2022 A.B. Spellman NEA Jazz Masters Fellowship for Jazz Advocacy—is known for his hard-swinging improvisational style and the creation of "Nouveau Swing," a blend of jazz with R&B, hip-hop, rock, and soul. And his dedication to preserving the music and culture of New Orleans has been crucial to assuring its important legacy survive. Following the devastation of Hurricane Katrina in 2005, Harrison increased his activism, creating employment opportunities in his own bands for young musicians who had remained in the city when many others had left. He also mentored now world-renowned jazz artists from New Orleans and beyond, including Jon Batiste, Christian Scott aTunde Adjuah, Trombone Shorty, and Esperanza Spaulding.
Harrison is the son of the late New Orleans folklorist Donald Harrison, Sr., who was known for his involvement in local Mardi Gras traditions. Like his father, Harrison devoted himself to the Crescent City's multifaceted cultural heritage, founding the Congo Square Nation Afro-New Orleans Cultural Group to honor the place that Blacks, both free and enslaved, could sing and dance in public. "The incredible part to me is, even though the players today don't have a consciousness of that, some of those things are still at the root of what we call jazz music," Harrison noted in a 2021 Tennessean story.
He also has served as artistic director and educator for Tipitina's Foundation's Internship Program, a nonprofit after-school program for New Orleans high school students interested in music business careers. The program allowed them to perform at New Orleans-based festivals and gave them opportunities to travel to Los Angeles, Memphis, New York, and even to Japan for performances, cultural exchange, and master class experiences.
Harrison studied at the New Orleans Center for the Creative Arts with Ellis Marsalis, Jr. before attending the Berklee College of Music in Boston. Playing professionally during his high school years, Harrison soon was noticed for his talent on both the alto and tenor horns, playing in the bands of Roy Haynes, Jack McDuff, as well as in Art Blakey's Jazz Messengers, along with fellow New Orleans native, trumpeter Terence Blanchard.
Harrison also performs in the traditional New Orleans jazz and hip-hop genres with his group the New Sounds of Mardi Gras and has performed and recorded with distinguished musicians such as Ron Carter, Billy Cobham, Miles Davis, Lena Horne, Eddie Palmieri, the Notorious B.I.G., as well as with the powerhouse jazz group the Cookers. As part of his dedication to preserving New Orleans traditions, Harrison appeared in Spike Lee's When the Levees Broke: A Requiem in Four Acts, a documentary about the devastation on the city after Hurricane Katrina hit, and also in the post-hurricane New Orleans HBO series Treme. He continues to celebrate and promote the culture and music he loves.
Cassandra Wilson (right) has used her distinctive voice and fascinating arrangements of standards, in not just jazz, but blues, country, and folk as well, to create a body of work that has expanded the definition of jazz. Cassandra, in recording more than twenty albums as a leader since 1986, has created a body of work that has expanded the definition of jazz. She has collaborated with a wide  range of artists, from Charlie Haden and Henry Threadgill to Angelique Kidjo and Luther Vandross, and she earned critical acclaim for her performance on Wynton Marsalis' Pulitzer Prize-winning Blood on the Fields (1997).
Wilson grew up as Cassandra Fowlkes in Jackson, Mississippi, whose rich musical history influenced her career. Music was very much a part of Wilson's family; her father was a jazz guitarist and bassist and her mother, a teacher, loved Motown. She began playing piano at six, then picked up the guitar at age 12 and began writing songs. Wilson studied theater arts and philosophy at Millsaps College in Jackson, Mississippi, before leaving to perform with the regional blues/jazz band Bluejohn. In 1979, Wilson returned to Jackson and completed her studies at Jackson State University, earning a degree in mass communications. While performing with local bands such as the all-women band Past Present and Future, she also was studying jazz with drummer Alvin Fielder, an early influence on her singing.
In 1981, she married Anthony Wilson, a New Orleans-based radio personality, and found work at the local television station WDSU. While in New Orleans, she sought out local jazz legends such as Ellis Marsalis, Jr. and Earl Turbinton as mentors. A year later, she relocated to New York City, where she met saxophonist Steve Coleman—with whom she made her first recordings—and became one of the founding members of the M-Base Collective. At the same time, she toured with Henry Threadgill's avant-garde trio New Air and appeared on the recording Air Show No. 1.
Wilson made her first solo recording in 1986 on the JMT label, then in 1993 signed with the storied Blue Note Records. Her releases on the label from 1993 to 2010 revealed the artistic depth of her musical adventurousness in interpreting and reinventing songs and musical styles from blues to Afro-Cuban to country. The albums were well-received by critics and the public, expanding the audience for jazz by taking on songs outside of the jazz canon. She also paid homage to some of her heroes in jazz, such as Miles Davis and Billie Holiday.
The musicians she gathered for her recordings are among the top names in jazz, such as Terri Lyne Carrington, Olu Dara, Dave Holland, Pat Metheny, Jason Moran, Lonnie Plaxico, Marvin Sewell, Fabrizio Sotti, and Jacky Terrasson. She also featured musicians outside the realm of jazz, such as guitarists Keb' Mo', Marc Ribot, and Chris Whitley.
Among the honours Wilson received are two Grammy Awards, Downbeat magazine Female Jazz Vocalist of the Year awards (1995-96), the Miles Davis Prize by the Festival International de Jazz de Montréal (1999), the Mississippi Governor's Award for Artistic Excellence in Music (2009), a marker on the Mississippi Blues Trail (2010), and honorary doctorates from Millsaps College (Mississippi), the New School (New York), and Berklee College of Music (Massachusetts).
Harrison, although a celebrated musician with a distinguished career that stretches back to the late 1970s, will receive the Jazz Masters' A.B. Spellman Fellowship for Jazz Advocacy. This is, at least in part, a recognition of the work he has done on behalf of the jazz community in his native New Orleans, especially since Hurricane Katrina in 2005: mentoring local musicians, finding them employment, serving as artistic director for the Tipitina's Foundation afterschool internship program, and founding the Congo Square Nation Afro-New Orleans Cultural Group, among other notable achievements.
The NEA Jazz Master fellowship carries with it a $25,000 cash award, as well as a tribute concert that for these artists took place on March 31, 2022 at SFJAZZ in San Francisco.
"SFJAZZ is very excited to welcome the 2022 NEA Jazz Masters to San Francisco and the SFJAZZ Center and to celebrate the 40th anniversary of the NEA Jazz Masters program," said SFJAZZ Founder and Executive Artistic Director Randall Kline. "All of us at SFJAZZ look forward to next year's event to acknowledge these legendary artists as they receive our country's highest jazz honor as NEA Jazz Masters."
You can, in the meantime, personally nominate an NEA Jazz Master: The Arts Endowment annually honors musicians who represent a range of styles and instruments. In addition, one fellowship—the A.B. Spellman NEA Jazz Masters Fellowship for Jazz Advocacy—is given to an individual who has made major contributions to the appreciation, knowledge, and advancement of the American jazz art form. NEA Jazz Masters Fellowships are up to $25,000 and can be received once in a lifetime. Visit the Arts Endowment's website for detailed information and to submit nominations. The deadline for nominations for the 2023 class of honourees is October 29, 2021.
Whether the fact that his programme Hot Biscuits jazz programme, presented by Steve Bewick via mix-cloud will afford him the same kind of immortality remains to be seen, but Steve certainly presents a heady mix of internationally acclaimed jazz players as well as emerging names from his neck of the woods in The Greater Mancherster area of the UK.. One artist he has played who lives and works in that part of the world is Beverley Beirne, currently enjoying a serial of residency post at The Ticket Office, in Ilkley. You will find more about both Steve Bewick and Beverley Beirne on facebook.
The prime source for this article were carried in several section of the jazz industry press
In our occasional re-postings Sidetracks And Detours are confident that we are not only sharing with our readers excellent articles written by experts but are also pointing to informed and informative sites readers will re-visit time and again. Of course, we feel sure our readers will also return to our daily not-for-profit knowing that we seek to provide core original material whilst sometimes spotlighting the best pieces from elsewhere, as we engage with genres and practitioners along all the sidetracks & detours we take.
photo npw This article was collated by Norman Warwick, a weekly columnist with Lanzarote Information and owner and editor of this daily blog at Sidetracks And Detours.
Norman has also been a long serving broadcaster, co-presenting the weekly all across the arts programme on Crescent Community Radio for many years with Steve Bewick, and his own show on Sherwood Community Radio. He has been a regular guest on BBC Radio Manchester, BBC Radio Lancashire, BBC Radio Merseyside and BBC Radio Four.
As a published author and poet Norman was a founder member of Lendanear Music, with Colin Lever and Just Poets with Pam McKee, Touchstones Creative Writing Group (for which he was creative writing facilitator for a number of years) with Val Chadwick and all across the arts with Robin Parker.
From Monday to Friday, you will find a daily post here at Sidetracks And Detours and, should you be looking for good reading, over the weekend you can visit our massive but easy to navigate archives of over 500 articles.
The purpose of this daily not-for-profit blog is to deliver news, previews, interviews and reviews from all across the arts to die-hard fans and non- traditional audiences around the world. We are therefore always delighted to receive your own articles here at Sidetracks And Detours. So if you have a favourite artist, event, or venue that you would like to tell us more about just drop a Word document attachment to me at normanwarwick55@gmail.com with a couple of appropriate photographs in a zip folder if you wish. Being a not-for-profit organisation we unfortunately cannot pay you but we will always fully attribute any pieces we publish. You therefore might also. like to include a brief autobiography and photograph of yourself in your submission.
We look forward to hearing from you.
Sidetracks And Detours is seeking to join the synergy of organisations that support the arts of whatever genre. We are therefore grateful to all those share information to reach as wide and diverse an audience as possible.
correspondents Michael Higgins
Steve Bewick
Gary Heywood Everett
Steve Cooke
Susana Fondon
Graham Marshall
Peter Pearson
Catherine Smith
Aj The Dj Hendry
Hot Biscuits Jazz Radio www.fc-radio.co.uk
AllMusic https://www.allmusic.com
feedspot https://www.feedspot.com/?_src=folder
Jazz In Reading https://www.jazzinreading.com
Jazziz https://www.jazziz.com
Ribble Valley Jazz & Blues https://rvjazzandblues.co.uk
Rob Adams Music That´s Going Places
Lanzarote Information https://lanzaroteinformation.co.uk
all across the arts www.allacrossthearts.co.uk
Rochdale Music Society rochdalemusicsociety.org
Lendanear www.lendanearmusic
Agenda Cultura Lanzarote
Larry Yaskiel – writer
The Lanzarote Art Gallery https://lanzaroteartgallery.com
Goodreads https://www.goodreads.
groundup music HOME | GroundUP Music
Maverick https://maverick-country.com
Joni Mitchell newsletter
passenger newsletter
paste mail ins
sheku kanneh mason newsletter
songfacts                                           en.wikipedia.org/wiki/SongFacts
https://aata.dev/wp-content/uploads/2022/08/cover.jpg
432
768
Norman Warwick
https://aata.dev/wp-content/uploads/2020/04/newlogo.png
Norman Warwick
2022-08-02 09:04:11
2022-08-02 09:04:11
IMMORTALITY IN LIMINALITY for Jazz Masters