DIAMONDS IN THE ROUGH: the gemology of Shawn Colvin
DIAMONDS IN THE ROUGH:
the gemology of Shawn Colvin
by Norman Warwick
photo 1 Three-time Grammy winner Shawn Colvin stopped the industry in its tracks with her arresting 1989 debut, Steady On. The following spring, Colvin took home the GRAMMY for Best Contemporary Folk Album, legitimizing a burgeoning genre that's grown ever stronger and richer with time. As the record's 30th anniversary looms, the trailblazing singer and songwriter readies a truly mesmerizing acoustic reinvention of her breakthrough release, lacing up each track with fresh layers of warmth, charm, and wisdom.
With her wistful re-visitation of these well-travelled songs, the lyrics of Colvin's come into sharp focus. ´You can cry like an angel when there are no words´, she sings, offering an outstretched hand that is at once steady and comforting. Shotgun Down The Avalanche intermingles melancholy with the resignation of a failed romance, her world-weary voice nearly whispering the sorrow of being taken down by a broken relationship. The Story thumps along the dusty highway of life, telling the "story" about her upbringing and place in the family, written as a talk with her sister—each experience cherished as a badge of honour.
´I was 32 years old, and the dream of my life had been fulfilled,´ Colvin says, ´not only because I made an album but mostly because I had written or co-written every song, an accomplishment that was hard won. I was so proud. My feeling was then—and still is—that if I never made another album, Steady On. would have been enough´.
Colvin is humble when discussing her work, while fully aware of the inspiration her legacy has provided to countless aspiring artists in the years since her debut. The newly-recorded version of Steady On strips each song to the core, placing Colvin's song-writing master-class on full display.
´I've played these songs countless times, primarily as a solo acoustic artist´, she says. ´All in all, this is the incarnation that feels most genuine. This represents who I am as an artist and all I ever wanted to be, and I believe it does its predecessor proud´.
Able to dissect her own work with a sharper scalpel, entries such as The Dead of the Night and Diamond in the Rogh emerge as exemplary, authentic jewels of Americana. Her voice glides across her gritty melodies with a delicate, at-times towering flourish, as she views these time-tested songs through the lens of her current world. As she tells it, her day-to-day in 2019 is spent training for triathlons, catching up on episodes of Project Runway (she's an avid seamstress), and seeing as many movies as possible. Of course, touring remains her bread and butter, and her time on the open road has allowed her songs to soar.
Now with her daughter of college age and off at school, Colvin has entered a new phase of life that allows freedom to explore. And this involves seeking out more contemporary sounds (often recommended by her daughter), including favourites Beyoncé and Frank Ocean (left).
´I describe Frank as Stevie Wonder on another planet´, Colvin says. ´He's deep musically, lyrically and vocally—he takes me somewhere´.
In keeping with the times, Colvin has also acclimatised to current social-media trends, turning her attention to mastering Instagram, and also participating in the larger online conversation about women in the country and Americana scenes. She recalls confronting many of the same issues when she was a young artist. "Even with Lilith Fair and the onslaught of female singer-songwriters and musicians, it was verboten to play two female artists back to back on the radio. The programmers were like, 'We can't do this.'
Wikipedia describes Lilith Fair as a concert tour and travelling music festival, founded by Canadian musician Sarah McLachlan, Nettwerk Music Group's Dan Fraser and Terry McBride, and New York talent agent Marty Diamond. It took place during the summers of 1997 to 1999, and was revived in the summer of 2010. It consisted solely of female solo artists and female-led bands. In its initial three years, Lilith Fair raised over $10 million for charity. It has spawned some superb female artist compilation recordings.
´I'm grateful for the Grammy accolades, but there was one year when a lot of other women were nominated for top awards and the way they dealt with it was to put us on stage at the same time and have us each do 45 seconds of each of our songs. I felt like it was a pageant, like I should be wearing a sash. You can't help but wonder—would it have been the same approach had it been a bunch of men?"
Over the course of three decades, Colvin has established herself as a heritage artist by creating a remarkable canon of work, touring relentlessly both nationally and internationally, and having her songs featured in television and film. She is a revered storyteller deserving of the special recognition of both her peers and those who have been inspired by her songs. The reworking of her iconic debut album feels not only timely but essential, further underscoring that Colvin remains a vital voice for women in music and reaffirming her status as an Americana game-changer.
The acoustic anniversary edition of Steady On was recorded at Austin's Arlyn Studios with head engineer Jacob Sciba (Steve Earle, Dierks Bentley, Willie Nelson), mixed by Simon Tassano and mastered by Emily Lazar. The adventure of this stripped-down set lies in its new colour palette. Organic and rootsy, Colvin's voice ripples with edgy maturity, allowing her to excavate deeper meaning from songs she's played for decades. It's a captivating listen—distilling the kind of introspective, emotionally honest and deeply moving music Colvin created with the original Steady On.
"…extraordinary songs, mesmerising guitar playing, and a voice that goes effortlessly from bruise-tender to scar-hard in a matter of minutes… her lyrics are crafted and clever, full of subtlety and polished phrases…With delicious sarcasm and acerbic stories, she held the audience spellbound… her songs are so personal to her that they speak to everyone who listens." – The Guardian
In an era when female singer-songwriters are ever more ubiquitous, Shawn Colvin stands out as a singular and enduring talent. Her songs are slow-release works of craft and catharsis that become treasured, lifetime companions for their listeners. As a storyteller, Colvin is both keen and warm-hearted, leavening even the toughest tales with tenderness, empathy, and a searing sense of humour. In the nearly 30 years since the release of her debut album, Colvin has won three GRAMMY Awards, released twelve albums, written a critically acclaimed memoir, maintained a non-stop national and international touring schedule, appeared on countless television and radio programs, and has had her songs featured in major motion pictures whilst creating a remarkable canon of work.
Colvin was born in Vermillion, South Dakota, where she lived until she was eight. A small-town childhood in the university town of Carbondale, Ilionois. drew her to the guitar by the age of ten. She made her first public appearance on campus at the University of Illinois at age fifteen.
By the late 1970's Colvin was singing in a Western Swing band in Austin, Texas—the city she now calls home. Moving to New York at the decade's end she remained in the country music field as a member of the Buddy Miller Band (right) where she met producer, guitarist and co-writer John Leventhal. Leventhal inspired Colvin to find her own voice as a songwriter. She began honing her skill and was soon signed to Columbia Records. Her first album, Steady On, produced by Leventhal, won the GRAMMY Award for Best Contemporary Folk Recording.
Colvin continued to win fans and critics with her subsequent releases, Fat City and Cover Girl before, in 1996, she released A Few Small, which would prove to be her breakthrough. The song Sunny Came Home seemed to everywhere on Transatlantic tv and radio that year and gave Colvin a Top 10 hit, a platinum-selling album and two of GRAMMY's biggest honours: Record of the Year and Song of the Year.
Holiday Songs And Lullabies , recorded while Colvin was eight months pregnant with her daughter Caledonia, followed. Her next studio album, and her first of the twenty first century, Whole New You, found Colvin examining new motherhood and the responsibilities of family. These Four Walls, released in 2006 was lauded by People Magazine as ´the most self-assured album of her career´ and ´one for the ages´ by the Washington Post. The Austin-American Statesman called it ´an exquisite portrait of strength and vulnerability´.
Shawn Colvin Live (2009), was recorded during a special three-night engagement at San Francisco's famous jazz club. Yoshi's. Live captures the beauty and intimacy of Colvin's performances, showcasing her inimitable voice and matchless guitar stylings. Praised by both critics and fans, the album was honoured with a GRAMMY Award nomination for Best Contemporary Folk Recording.
All Fall Down, three years later, was produced by Colvin's longtime friend and musical cohort Buddy Miller. Recorded in Nashville with a group of stellar musicians, the album features performances by Alison Krauss, Emmylou Harris, Jakob Dylan, Bill Frisell, Viktor Krauss, Brian Blade, Stuart Duncan and Julie Miller.
Uncovered (2015) is the long-awaited follow up to fan-favorite Cover Girl. Its twelve tunes include masterful interpretations of songs by Bruce Springsteen, Paul Simon, Tom Waits, Stevie Wonder, Robbie Robertson and Graham Nash – and more – but in their selection and delivery they are pure Shawn Colvin.
In June 2016, Shawn Colvin and longtime friend Steve Earle (left) united to release, Colvin & Earle, their acclaimed self-titled duo album. Produced by Buddy Miller, Colvin & Earle beautifully captures the pair's extraordinary chemistry and is a true standout in careers already filled with pinnacles and masterpieces. The album received high praise from critics – NPR asserted that the duo ´Elevated their collaboration to the level of top-flight album-making, bringing seemingly opposing impulses to the process´.
Colvin was recognized for her career accomplishments when she was presented with the Lifetime Achievement Trailblazer Award at the 2016 Americana Honors and Awards Show. Presenting her with this prestigious award was Bonnie Raitt.
Said Raitt, ´She's simply one of the best singers I've ever heard — and a truly gifted and deep songwriter and guitarist… She was ground-breaking when she emerged and continues to inspire me and the legions of fans and other singer/songwriters coming up in her wake´.
2018 saw the release of The Starlighter (Amazon Music), a new album of songs adapted from the children's music book Lullabies And Night Songs. The Starlighters mixes traditional numbers and children's standards in an elegant and graceful musical offering that resonates with the warmth and tenderness of poignant familial experience and remembrance. The result is an album that captures the magic and mystery of children's lullabies in a moving and timeless musical offering.
After learning to play guitar at the age of ten, Shawn Colvin was determined to make a life in music and at the age of xxx William Morrow/Harper Collins published her memoir, Diamond In The Rough (shown in our cover photo at the top of this article)-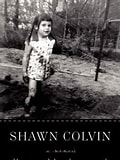 Diamond in the Rough (right) looks back over a rich lifetime of highs and lows with stunning insight and candour. Through its pages we witness the inspiring story of a woman honing her artistry, finding her voice, and making herself whole. Diamond in the Rough recounts this passionate musician's coming-of-age, from the prairies of South Dakota to dark smoky bars in Austin, Texas, to the world stage at the Grammys. With the wit, lyricism, and empathy that have characterized Colvin's performances and inspired audiences worldwide, Diamond in the Rough looks back over a rich lifetime of highs and lows with stunning insight and candour. In its pages, we witness the inspiring story of a woman honing her artistry, finding her voice, and making herself whole. 
e are pleased to deliver
We are pleased to deliver news of a new arts exhibition opening next week, a special Jazz concert in the UK early next month and we can even alert our readers across Europe to dates for the 2022 European tour about to commence by Passenger.
Ale Faijo of Art Space tells Sidetracks And Detours that the inauguration events of Destinos Encontradas, a new exhibition at The Lanzarote Art Gallery in Costa Teguise will take place on 17th and 18th June at 21.00h. the showing brings together three international women artists, including Marité Crespo, from Córdoba, Argentina. This artist travels a path full of contents that challenge her, without absolute truths, expressing herself through mixed techniques among which are painting, engraving and drawing. Her work in art, both in abstraction and figuration, presents her as an artist in the constant visceral and sensitive search for answers to concerns of our time in the face of chaos and beauty. Her work is a game of combinations, where materials, textures and colours, improvise new routes for the senses.
On Friday 8th July at The Progress Theatre, Reading st 7.30 pm
you can see The Collection jazz ensemble. Tickets are £16.00 (£14.00 concessions, £8 under 16) plus maximum 5% booking fee. Check out theatre web site of Jazz In Reading for how to book.
The Collection is led by Alban Claret on guitarand Evan Clegg on trumpet ,with Duncan Eagles on tenor sax, Luke Fowler double bass and Kuba Miazga drums
There London based musicians joined forces to record a 'collection' of compositions inspired by the works of some of their primary influences, notably saxophonist Charlie Parker, trumpeter Miles Davis and pianist Lennie Tristano.
A shared love of bebop and composition discovered at a fortuitous meeting at Tate Britain, set the two founders of the ensemble on a path leading to the May 2021 release of their debut album The Collection. Their original material was rooted firmly within the jazz tradition, being powerful delivery of snappy tunes and confident improvisational passages offering a compelling yet accessible listening experience.
"The Striking aspect of this album suggests great promise for the future" enthused Jazzwise
"A set of highly accomplished & hugely enjoyable tunes. The quality of the playing is exceptional." said The Jazz Mann
Alban Claret was born in the South of France and began playing the guitar when he was eight years old. He studied at the Royal Conservatory of the Netherlands with Martijn van Iterson. He has played with many luminaries, including Gregory Hutchinson and David Liebman.
Evan Clegg grew up in Yorkshire and studied jazz trumpet at Royal Welsh College of Drama and Trinity College of Music. He has performed in many of London's notable venues and in Europe, the USA, Mexico, India and the Middle East. He has toured with Max Romeo and Lee Scratch Perry. Spending time with Kenny Wheeler further shaped his playing and he has developed a mature, distinctive style with musical 'to-the-point' phrasing that nods to his influences but is a unique voice of his own.
image dates The writer-singer-guitarist known as Passenger, has also sent a message to Sidetracks And Detours that he´s like us to share with.
Hello !!
So so so happy to be heading out for festival season !!! Some of these shows have been booked in for two years and its so exciting to finally be able to play them !

Here is a list of everything I'm doing over the next couple of months …. Its a mix of festivals and headline shows in some really beautiful spots …. heading to some brand new places and returning to some old favourites …. Tickets and info from the link below .

See ya'll soon xx
https://click.mlsend.com/link/c/YT0xOTcxOTExNTg1MTY5NDE0Nzg1JmM9cDhoNCZlPTAmYj05ODE2MTAwMjUmZD1tNGk1aDli.tDx55E8fAHHpKQZgDkSKbwoXRaLMuL1zkcRrzDiBLiY
please note logo The primary source for this article was first published in Paste on-line magazine, an excellent and positive information stream not only for the arts but for life in general on Lanzarote. The outlet serves as a force for good in the entertainments industry, and is unafraid to question governmental or corporate decisions when monitoring outcomes.
In our occasional re-postings Sidetracks And Detours are confident that we are not only sharing with our readers excellent articles written by experts but are also pointing to informed and informative sites readers will re-visit time and again. Of course, we feel sure our readers will also return to our daily not-for-profit blog knowing that we seek to provide core original material whilst sometimes spotlighting the best pieces from elsewhere, as we engage with genres and practitioners along all the sidetracks & detours we take.
This article was collated by Norman Warwick, a weekly columnist with Lanzarote Information and owner and editor of this daily blog at Sidetracks And Detours.
Norman has also been a long serving broadcaster, co-presenting the weekly all across the arts programme on Crescent Community Radio for many years with Steve Bewick, and his own show on Sherwood Community Radio. He has been a regular guest on BBC Radio Manchester, BBC Radio Lancashire, BBC Radio Merseyside and BBC Radio Four.
As a published author and poet Norman was a founder member of Lendanear Music, with Colin Lever and Just Poets with Pam McKee, Touchstones Creative Writing Group (for which he was creative writing facilitator for a number of years) with Val Chadwick and all across the arts with Robin Parker.
From Monday to Friday, you will find a daily post here at Sidetracks And Detours and, should you be looking for good reading, over the weekend you can visit our massive but easy to navigate archives of over 500 articles.
e mail logo The purpose of this daily not-for-profit blog is to deliver news, previews, interviews and reviews from all across the arts to die-hard fans and non- traditional audiences around the world. We are therefore always delighted to receive your own articles here at Sidetracks And Detours. So if you have a favourite artist, event, or venue that you would like to tell us more about just drop a Word document attachment to me at normanwarwick55@gmail.com with a couple of appropriate photographs in a zip folder if you wish. Being a not-for-profit organisation we unfortunately cannot pay you but we will always fully attribute any pieces we publish. You therefore might also. like to include a brief autobiography and photograph of yourself in your submission.
We look forward to hearing from you.
Sidetracks And Detours is seeking to join the synergy of organisations that support the arts of whatever genre. We are therefore grateful to all those share information to reach as wide and diverse an audience as possible.
correspondents Michael Higgins
Steve Bewick
Gary Heywood Everett
Steve Cooke
Susana Fondon
Graham Marshall
Peter Pearson
Hot Biscuits Jazz Radio www.fc-radio.co.uk
AllMusic https://www.allmusic.com
feedspot https://www.feedspot.com/?_src=folder
Jazz In Reading https://www.jazzinreading.com
Jazziz https://www.jazziz.com
Ribble Valley Jazz & Blues https://rvjazzandblues.co.uk
Rob Adams Music That´s Going Places
Lanzarote Information https://lanzaroteinformation.co.uk
all across the arts www.allacrossthearts.co.uk
Rochdale Music Society rochdalemusicsociety.org
Lendanear www.lendanearmusic
Agenda Cultura Lanzarote
Larry Yaskiel – writer
The Lanzarote Art Gallery https://lanzaroteartgallery.com
Goodreads https://www.goodreads.
groundup music HOME | GroundUP Music
Maverick https://maverick-country.com
Joni Mitchell newsletter
passenger newsletter
paste mail ins
sheku kanneh mason newsletter
songfacts en.wikipedia.org/wiki/SongFacts
https://aata.dev/wp-content/uploads/2022/06/cover-9.jpg
180
255
Norman Warwick
https://aata.dev/wp-content/uploads/2020/04/newlogo.png
Norman Warwick
2022-06-15 08:15:38
2022-06-15 08:15:40
DIAMONDS IN THE ROUGH: the gemology of Shawn Colvin