Dexter and Maxine Gordon: SOPHISTICATED GIANTS
Dexter and Maxine Gordon: SOPHISTICATED GIANTS
Norman Warwick reads the reviews
The biography of jazz musician Dexter Gordon, written by his widow Maxine and entitled Sophisticated Giant, is receiving excellent reviews from all quarters. The amazon reader reviews seem ecstatic. One obvious jazz fan posted his thoughts and offered fulsome praise.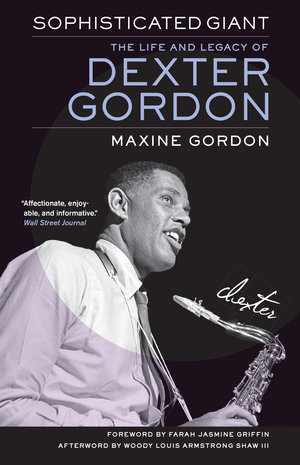 ´In the pantheon of tenor saxophonists, Dexter Gordon rightfully looms large. One of the earliest bebop tenors, Gordon continued to develop, and was the bridge between Rollins and Coltrane, and the younger Wayne Shorter and Joe Henderson.´
In Maxine Gordon's Sophisticated Giant (left) Dex comes alive. This is a well written, entertaining and informative tome. It is probably all the better that Ms. Gordon was Dexter's manager prior to becoming his spouse. This gives her a unique perspective on her subject.

The book contains not only the story of Dexter's life, but includes many of his own insights into his life, and the life of a jazz musician. Gordon felt that being a jazz musician was a calling of the highest order. And, it is that perspective that guided him throughout his life.

Overall, this is a terrific read about one of the titans of the tenor saxophone´.
The book has similarly been praised by jazz writers, broadcasters and critics.
Andrew Read, writing for the Jazz In Europe magazine, also spoke knowledgably and glowingly about the work.
Speaking to Mr. Read about her book and it's journey Maxine said ´Before Dexter's death in 1990, he asked me to complete the book he began after the Academy Award nomination and what he referred to as the movie star year´.
´The late nineteen eighties certainly were successful times for Gordon´, Mr. Read reminds us, ´and his reference to the ´movie star year" was appropriate as he was nominated for an Academy Award for Best Actor in a Leading Role for his performance in the Bertrand Tavernier film Round Midnight (Warner Bros, 1986)´. Around that time he also won a Grammy for Best Jazz Instrumental Performance, Soloist, for the soundtrack album The Other Side of Round Midnight (Blue Note Records, 1986). In fact, even just prior to his passing in April 1990 Dexter also had a cameo role in the movie, Awakenings´.
The Jazz In Europe journalist further informs us that Maxine Gordon, has kept the legacy of Dexter Gordon alive and well by giving lectures and donating of all of her late husband´s archival work to the Library of Congress. Maxine has also established the licensing group Dex Music LLC and The Dexter Gordon Foundation.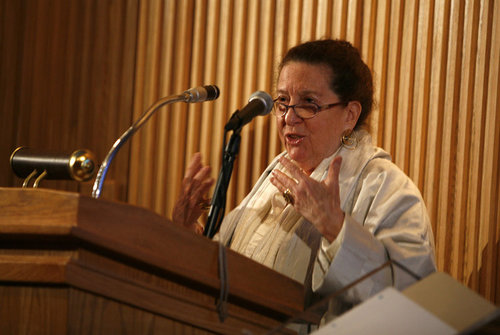 As a historian and archivist in the fields of jazz and African American cultural history Maxine Gordon (right) has, herself, had an illustrious career working with the world's most iconic jazz musicians.
Sophisticated Giant details the life and legacy of Gordon who without doubt was one of the major innovators of modern jazz. In a context of biography, history, and memoir, Maxine Gordon has completed the book that her late husband began, weaving his ´solo´ turns with her voice and a chorus of others from past and present. Reading like a jazz composition, the blend of research, anecdote, and a selection of Dexter's personal letters reflects his colourful life and legendary times. It is clear why the celebrated trumpet genius Dizzy Gillespie said to Dexter, ´Man, you ought to leave your karma to science´.
The foreword to the book, Dan Read tell us, was written by Farah Jasmine Griffin, Director of the Institute for Research in African American Studies at Columbia University. There is, also, an After-word written by Maxine's son, Woody Louis Armstrong Shaw III. Woody III was curator, co-producer and project director for two box sets covering the mid-to-late 1970s recordings by Dexter Gordon (his stepfather) and the great trumpeter Woody Shaw (his father), both called The Complete Columbia Albums Collection and both released by Columbia/Legacy in 2011.
A recent article in Jazz Times, by correspondent Miles Willis, invited us to remember our ´first Dexter Gordon moment´ and said ´that jubilant tenor saxophone sound is Gordon's most obvious legacy´. Of Maxine´s biography he wrote of how she has ensured that ´so much of Dexter´s own achingly painful, brutally honest voice´ permeates the book´.
check out
Book Marks reviews of Sophisticated Giant: The Life and Legacy of Dexter Gordon by Maxine Gordon
for a collection of reviews that offer a unanimously warm welcome to the book.
Many excellent reviews come from reliable and trustworthy sources such as David Hadju in The New York Times who says Maxine has ´has brought back the restive teenage fireball who wanted only to play some new music.´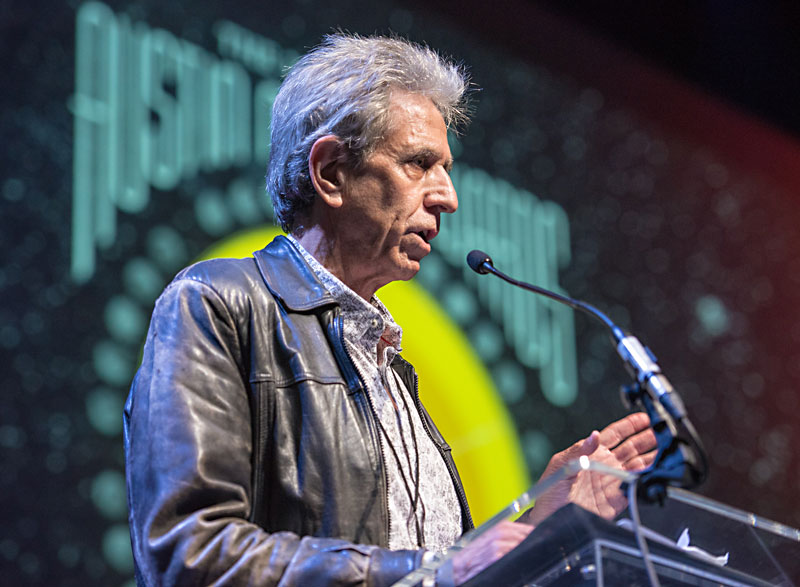 In The Austin Chronicle Jay Trachtenberg claimed that ´most striking for this reader was how, through her intimate, first-hand knowledge of her husband's life, Maxine was able to convey how the art of jazz was far more than a career path for Dexter and his colleagues. The very spirit and essence of jazz was an attitude and a way of living one's life as an artist.
Around thirty years after promising to complete his memoirs, Maxine has kept her promise to Dexter and to his countless fans worldwide, and it seems those fans are agreed it has been worth even such a long wait.
Sophisticated Giant by Maxine Gordon , published by The University Of California Press should be available in all good book shops but can also be ordered direct from
HOT BISCUITS
Following the traditions of spooks and ghouls Hot Biscuits will be celebrating Halloween next week with a selection of the more frightening sounds of jazz and blues from the FC-Radio library. If this sounds interesting then share it with your friends. All you have to do is hop on your broomstick and join Steve Bewick and freinds on Wednesday, or Thursday. at 9pm, (GMT+1) or late Saturday at 11pm (GMT +1) at www.fc-radio.co.uk For archives of my past shows go to www.mixcloud.com/stevebewick
Kit Downes is also a Mercury Music Award nominated musician as a solo recording artist for ECM Records. He has toured the world playing piano, church organ and harmonium with his own bands (ENEMY, Troyka and Elt) as well as with artists such as Squarepusher, Empirical, Benny Greb and Sam Amidon. Kit has written commissions for Cheltenham Music Festival, London Contemporary Orchestra, Ensemble Klang at ReWire Festival, the Scottish Ensemble, Cologne Philharmonie and the Wellcome Trust.
KIT DOWNES
BBC Jazz awards winner – piano and organ
St Andrew's Church Caversham
Albert Road RG4 7PL
Friday 29 October 2021 | 7:30pm
£16-£20 under 16 free
News has just arrived, from the diligent listings agency, Jazz In Reading, that BBC Jazz Award winner Kit Downes will deliver original compositions, display extraordinary musicianship and create magical, wonderful sounds from both the piano and the organ. This will be one of his final concerts before he departs for a tour of the States, and so is an event not to be missed.
Kit performs solo pipe organ and solo piano concerts – and also plays in collaborations with saxophonist Tom Challenger, cellist Lucy Railton and composer Shiva Feshareki. He is also currently working with violinist Aidan O'Rourke, composer Max de Wardener and in an organ trio with Reinier Baas and Jonas Burgwinkel. He also teaches at the Royal Academy of Music in London, where he himself studied and now holds a Fellowship.
The Guardian has referred to his world class stature and Jazzwise has called him one of the finest pianists of his generation whilst Downbeat remarks that he has ´considerable chops and flowing imagination,
Kit´s performance will be one in a series of impressive 'Concerts in Caversham' as the organisationcontinues to establish an enviable reputation for intimate music-making in a warm and relaxed style. Now approaching ten years of chamber-music concerts, the series was established by Adrienne Black (pianist and harpsichordist) and Timothy Watts (oboist – Royal Philharmonic Orchestra), to promote a high quality and fully professional concert series using some of this country's finest musicians. To date the series has show-cased three BBC Young Musician of the Year finalists, along with principal players from some of this country's finest orchestras and ensembles, including The Royal Philharmonic Orchestra, the Orchestra for the Royal Opera Covent Garden, The London Sinfonietta, The Britten Sinfonia the Halle Orchestra and the Oxford Philomusica.
Concerts In Caversham are also delivering an Autumn Festival of Music and Art. With the lifting of restrictions in many concert halls around the country we are introducing a new venture to lift everyone's spirits this Autumn. With an exciting line-up of wonderful musical talent, ticket bundles (incredibly good value), plus local artists displaying their work and sketching throughout the series, it promises to be two wonderful weekends worth of entertainment. Numbers are limited and masks are encouraged but optional.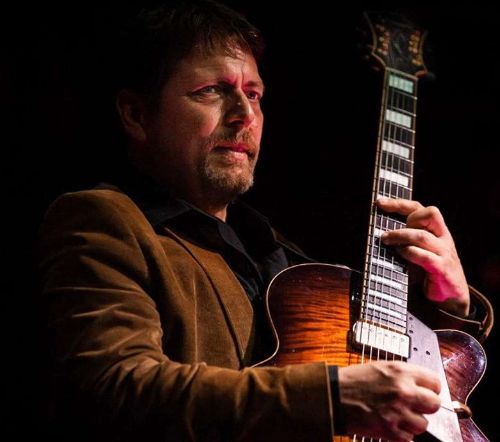 The Nigel Price Organ Trio + Vasilis Xenopolous
Monkton Barn. Monkton Lane, Marlow SL7 3RF
Thursday 4 November 2021,
Doors 7pm | Dinner 7:30pm | Music 8:30pm
£70 including three course dinner
The acclaim for the UK's top guitarist, Nigel Price and his band is at an all-time high! Nigel recently had a sell-out show at Ronnie Scott's and it was a raging success.
´You have the chance to see the most acclaimed and wonderfully entertaining band in UK jazz by coming to the Jazz Experience at Monkton Barn, Marlow on Thursday 4 November, as a part of his current UK tour. Quite simply the best British jazz outfit playing right now.

Nigel Price is a brilliant, funky, and original player of world renown (he is also an entertaining raconteur!). His band features Ross Stanley on B3 Hammond Organ, that most soulful of instruments, and Joel Barford drums, together with special guest Vasilis Xenopoulos on tenor saxophone. Expect a thoroughly entertaining evening!

You can buy tickets here The Jazz Experience – Nigel Price

Our events at Monkton Barn (Monkton Barn Events) deliver dinner as well as the best music. The ticket price of £70.00 includes a set three course menu, table service for food and drinks and of course the band, all at our venue on the edge of the Chilterns in Marlow. The menu for the evening is on the website too. We can cater for any dietary requirements and look to support any special needs our customers have.

Enquiries, please contact Simon Lenton thejazzexp@gmail.com, phone 07803 854514
The prime sources for this article were articles published in Jazz Times, Jazz In Europe and The Austin Chronicle as well as press releases from Jazz In Reading.
In our occasional re-postings Sidetracks And Detours are confident that we are not only sharing with our readers excellent articles written by experts but are also pointing to informed and informative sites readers will re-visit time and again. Of course, we feel sure our readers will also return to our daily not-for-profit blog knowing that we seek to provide core original material whilst sometimes spotlighting the best pieces from elsewhere, as we engage with genres and practitioners along all the sidetracks & detours we take.
This article was collated by Norman Warwick, (left) a weekly columnist with Lanzarote Information and owner and editor of this daily blog at Sidetracks And Detours.
He is also a founder member of the Joined Up Jazz Journalists (JUJJ) with Steve Bewick, writer, poet and radio presenter of Hot Biscuits weekly jazz programme, Gary Heywood-Everett, jazz writer and local historian and Susana Fondon, contributor and reporter at Lanzarote Information. The purpose of forming JUJJ is to share a love of jazz music at the same time as growing our knowledge of the genre to provide an increasingly comprehensive service for our readers and listeners.
Norman has also been a long serving broadcaster, co-presenting the weekly all across the arts programme on Crescent Community Radio for many years with Steve, and his own show on Sherwood Community Tadio. He has been a regular guest on BBC Radio Manchester, BBC Radio Lancashire, BBC Radio Merseyside and BBC Radio 4.
As a published author and poet he was a founder member of Lendanear Music, with Colin Lever and Just Poets with Pam McKee, Touchstones Creative Writing Group (where he was creative writing facilitator for a number of years) with Val Chapman and all across the arts with Robin Parker.
From Monday to Friday, you will find a daily post here at Sidetracks And Detours and should you be looking for good reading over the weekend you can visit our massive but easy to navigate archives of over 500 articles.
The purpose of this daily not-for-profit blog is to deliver news, previews, interviews and reviews from all across the arts to die-hard fans and non- traditional audiences around the world. We are therefore always delighted to receive your own articles here at Sidetracks And Detours. So if you have a favourite artist, event, or venue that you would like to tell us more about just drop a Word document attachment to me at normanwarwick55@gmail.com with a couple of appropriate photographs in a zip folder if you wish. Being a not-for-profit organisation we unfortunately cannot pay you but we will always fully attribute any pieces we publish. You therefore might also. like to include a brief autobiography and photograph of yourself in your submission.
We look forward to hearing from you.
Meanwhile we are grateful to our regular correspondent Michael Higgins and occasional reporter Steve Bewick and the sharing of information by other such reliable sources as
Hot Biscuits Jazz Radio www.fc-radio.co.uk
AllMusic https://www.allmusic.com
feedspot https://www.feedspot.com/?_src=folder
Jazz In Reading https://www.jazzinreading.com
Jazziz https://www.jazziz.com
Ribble Valley Jazz & Blues https://rvjazzandblues.co.uk
Rob Adams Music That´s Going Places
Lanzarote Information https://lanzaroteinformation.co.uk
all across the arts www.allacrossthearts.co.uk
Rochdale Music Society rochdalemusicsociety.org
Lendanear www.lendanearmusic
Agenda Cultura Lanzarote
Larry Yaskiel – writer
The Lanzarote Art Gallery https://lanzaroteartgallery.com
Goodreads https://www.goodreads.
groundup music HOME | GroundUP Music
Maverick https://maverick-country.com
Joni Mitchell newsletter
passenger newsletter
paste mail ins
sheku kanneh mason newsletter
songfacts en.wikipedia.org/wiki/SongFacts
correspondents Michael Higgins
Steve Bewick
Gary Heywood Everett
Steve Cooke
Susana Fondonç
https://aata.dev/wp-content/uploads/2021/10/cover-13.jpg
110
110
Norman Warwick
https://aata.dev/wp-content/uploads/2020/04/newlogo.png
Norman Warwick
2021-10-25 08:19:45
2021-10-25 08:32:02
Dexter and Maxine Gordon: SOPHISTICATED GIANTS