A NUBIYAN TWIST IN THE TALE + news of a Clare Teal gig
A NUBIYAN TWIST IN THE TALE
for Norman Warwick
The journalists I trust to recommend me to listen to a new group or artist are those who generally don´t categorise the acts or the music they are speaking of. Imagine, then my delighted curiosity when I read Mr. Randal opening paragraph in a recent article in Jazz Times
Mac Randall is a journalist, critic, and magazine editor whose focus has been squarely on music of all genres for more than two decades. Since June 2018, he has been the editor of Jazz Times. From April 2016 to December 2017, he was editor-in-chief of In Tune Monthly, a music magazine for middle and high school students and teachers, used in classrooms across the United States as a curriculum supplement. Before moving to In Tune, Mac was the editor of its sister publication Music Alive! and of Teaching Music, the member magazine of NAfME, the National Association for Music Education.
His book, Exit Music: The Radiohead Story, originally published by Dell in 2000, is available in four languages and three revised editions, the most recent being published by Backbeat Books in March 2012. He is also the author of 101 Great Playlists: Songs for Every Listener, a Sterling Publishers/Fall River Press e-book that was published in August 2012.
In previous decades, he was senior editor of Guitar One magazine, East Coast features editor for LAUNCH Media's website (later Yahoo! Music), and senior editor of Musician magazine. The publications Mac Randall has written for as a freelancer include The New York Times, Rolling Stone, Vanity Fair, Details, The New York Daily News, Interview, Guitar World, Billboard, JazzTimes, The New York Observer, Harp, Newsday, CMJ New Music Monthly, Blender, Time Out New York, Mojo, Guitar Aficionado, and Bass Player.
As he is also a guitarist and composer, Randall released his first solo album, I Call Time, in the fall of 2014, and a follow up EP, Germination, in December 2016. From 2003 to 2009, he was a member of the New York-based band Bedsit Poets, which made two albums, The Summer That Changed (2005) and Rendezvous (2008), for the Bongo Beat label.
He received a bachelor's degree in humanities cum laude from Harvard University in 1998. Born in Illinois and raised in Massachusetts, he has been a New York City resident since 1995.
The opening paragraph that hooked me and then reeled me inexorably in to hear Nubiyan Twist read as follows:
´There are things that (the band) is´ he said, ´and there are things that the Leeds-born nonet-plus decidedly isn't, according to its founder, co-composer, producer, and multi-instrumentalist Tom Excell. What (the band) isn't is stodgy, boring, or simple. It also isn't strictly jazz.´
And that, for me, is almost the perfect sentence to send me plodding along on line in search of a band´s music or racing a triathlon around triangulated satellite systems to speak to friends who might be able to help, or (although God knows how far I might have to travel) even traipsing around the record shops which might stock their albums. Given that I live on Lanzarote which doesn´t sell audio cds anywhere on the island, and that I can´t even get a boat or plane off the island at the moment, then my hope of buying the latest album by Nubiyan Twist (for that is the name of the band Mac Randal pointed me towards) is likely to prove difficult. Oh for the days, when we could nip down to the nearest record shop, where the top twenty tunes would be blasting out and we would cram two or three of us into those strange cemi-circular, sound-proofed alcoves to listen to I Am A Pilgrim / Pretty Boy Floyd by The Byrds before one of us would hand over our six shillings and tuppence for a vinyl single we would later put in the youth club´s collection in an attempt to instil into its members some good listening habits. There were times, though, when I´d be squeezed into that booth with a girlfriend who would, instead, would persuade me to invest in Nathan Jones by The Supremes. The things we do for love !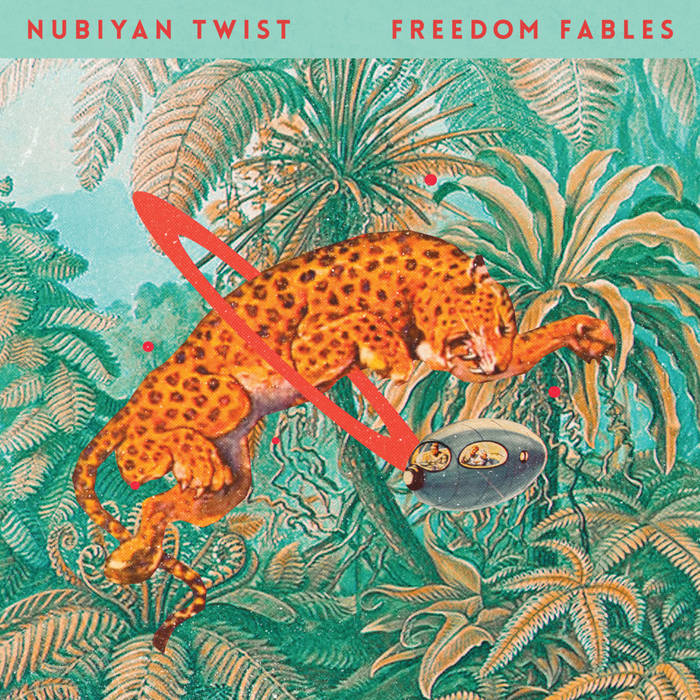 Jazz Times told us that Nubiyan Twist have been together for ten years and are about to release their most vocal-oriented album, Freedom Fables, on the Strut label.
Sometime band front-man, Tom Excell says ´Nubiyan Twist is now absolutely everything I wanted it to be when I started studying music production at Leeds College [of Music]—from what I heard in my dad's jazz album collection to Pan-African, trance, hip-hop, highlife, electronica, and dub.´
Such genre-jumping was very much a part of Excell's childhood classical guitar studies, so you could justifiably say that his creative output was destined to be restless and vibrantly improvisational.
´Combining all of this music, seamlessly, was always the goal,´ Excell told the reporter. ´That and finding a family of friends that I could do all of this with.´
That Excell and fellow Leeds students/current Twisters such as trumpeter Jonny Ense and saxophonists Joe Henwood, Denis Scully, and Nick Richards happen, when together, to sound like Creed Taylor-era George Benson, latter-day Wes Montgomery, and Donald Byrd's A New Perspective makes for one jazzy family unit. Additional influence from Jamaican Studio One session guitarist Ernest Ranglin (a great melodic crossover between reggae and jazz without being too technical) only sweetens the pot.
´It happened quite naturally as Leeds College's jazz courses and its production studios were so close, and I was so inspired by what they were doing there´, Excell said to The Jazz Times journalist. ´We jammed together often. We developed our musical tastes together.´
Starting off with self-produced tracks co-written by Excell and Henwood, Nubiyan Twist didn't jump into a recording scenario as Excell wanted to woodshed the band's process and enhance its onstage prowess. In live DJ sets, he added propulsive beats to the tracks, then eventually recruited drummer and childhood friend Finn Booth when the stickman began his tutelage at Leeds, along with roommate/percussionist Pilo Adami, with whom Excell shared a Brazilian-based ensemble.
Capturing the band's live sound in a studio setting has been an on-going challenge for Excell, one he's come closer to nailing on Freedom Fables.
´How do we best represent the atmosphere and the energy of this band's show, especially at a time when it is so expensive to get the whole band in one space?´ he says with a laugh about a nonet whose members' homes range from the greens of Dublin to the greys of Sheffield. ´Having built our own studio … helps us to have a middle ground, represent the band's textures and the interactivity among musicians.´
Vocals from band outsiders like Ego Ella May that became a soulful part of earlier records such as 2015's eponymous album (´primal and instinctive´ as they might have been, according to the producer) were but a layer of sound, another tone in the mix.
No more; on Freedom Fables, singing guests and Twist members alike came across with stories of diversity, danger, love, hate, and romance.
The lounge-room African acid-jazz track Ma Wonka was written with ´just enough spaciousness´ for Ghanaian vocalist and songwriter Pat Thomas to rant about the ruinous effects of gossip. ´And not be stressed out by it all,´ Excell adds with a laugh, acknowledging his lack of love for social media's spread.
Saxophonist Richards jumps over to vocals on the deeply grooving Buckle Up and sings of breaking psychic chains, while British reeds legend Soweto Kinch contributes a searing solo.
´He's a real pioneer, as a player and as a conceptualist,´ Excell says of Kinch. ´And Nick? Quite frankly, none of us realized how beautiful a voice he had. Where and how he was hiding this from us his whole life was an amazing surprise. We'll be nurturing that skill of his.´
As a lyricist too, on Buckle Up and Wipe Away Tears, Richards, a child therapist in training, impresses as he portrays diverse aspects of empathy, helping others to find their way through positive mental health exercises.
True-life tales such as these set Freedom Fables above any past Nubiyan Twist album, giving the music a purpose beyond dancing, grooving, and simmering.
´We're now telling each person's unique story and celebrating their differences, their cultures,´ Excell says.
´By bringing those rich stories together, we hope that Freedom Fables serves as a metaphor for the life we're all living.´
By enabling the group leader to speak so openly Jazz Times serves kind of tapas portions to give us a taste of the group´s originality and diversity. And, as is the case with tapas served in restaurants here on Lanzarote, the Jazz Times servings are just enough to whet our appetite but never enough to satisfy our hunger.
If you would like a bigger helping of this group with a Nubiyan Twist in their tale, n ote they have recently added three dates to the Northern leg of a forthcoming UK tour. These will be
The Cluny, Newcastle 26th September
The Social, Hull 28th September
The grand, Clitheroe 3rd October
Meanwhile, we bring you more news from those good folk at Jazz In Reading.
With her stunning voice and comprehensive knowledge of jazz, award-winning Clare Teal is a sought-after singer as well as a prolific recording artist. A popular former BBC Radio 2 presenter and recent edition to the Jazz FM community, Clare´s concerts with her Trio are consistently evolving and renowned across the country for their fabulous arrangements, interspersed with Clare´s warm and witty story-telling.
This brand new show promises a rich, jazz-infused repertoire in its many forms, bringing you a more exhilarating swing as Clare (right) and her Trio pay homage to a hundred years of popular music, featuring some of the greatest songs ever written from the Great American and British songbooks and from our contemporary songwriters. As one the UK´s much loved performers and greatest interpreters of song, Clare Teal and her Trio guarantee an evening of inspired music and unbridled entertainment when they appear at The Haymarket in Basingstoke on Sunday 26th September at 7.30 pm and tickets are available at £25.00.
Tickets are available from The Box Office at 01256 844244.
This article was created by Norman Warwick, who acknowledges his sources as including recommendation and comment from Simon Renter at the The Checkout, after Norm had followed directions from feedpost. Your search engines will easily locate these platforms.
Norman Warwick (left) is a weekly columnist with Lanzarote Information and is owner and editor of this daily blog at Sidetracks And Detours. He is also a founder member of the Joined Up Jazz Journalists (JUJJ) with Steve Bewick, writer, poet and radio presenter of Hot Biscuits weekly jazz programme, Gary Heywood-Everett, jazz writer and local historian and Susana Fondon, contributor and reporter at Lanzarote Information. The purpose of forming JUJJ is to share a love of jazz music at the same time as growing our knowledge of the genre.
So, to hear a wide range of jazz music, interviews and opinions, just settle down with a cup of coffee and enjoy Hot Biscuits presented by Steve and Gary at www.fc-radio.co.uk
Remember that you can also find articles from Norman and Susana by subscribing to the newsletter produced by Lanzarote Information. Of course, you will a daily post as well as plenty of good reading from all four journalists in the music section of the massive but easy to navigate archives of Sidetracks & Detours at
https://aata.dev/wp-content/uploads/2021/08/COVER.png
523
800
Norman Warwick
https://aata.dev/wp-content/uploads/2020/04/newlogo.png
Norman Warwick
2021-08-23 08:15:58
2021-08-23 08:30:05
A NUBIYAN TWIST IN THE TALE + news of a Clare Teal gig