CANADA DAY celebrated with music at the beeb.
CANADA DAY celebrated with music at the beeb.
by Norman Warwick
I was, I think, in the second year of my degree course at the University Of Leeds in 1998, under the sever misnomer of ´mature student´. So mature, in fact that when I selected Canadian literature as a module, I thought I might have some inside knowledge´ that might prove useful. So when our thrity something female professor asked our nine.strong seminar why we had chosen the module this fifty year old guy stuck up his hand and decalred, ´because I love Canadian music´ in what I very quickly learned was a very foolish claim. Not only had I listened to only one particular genre of Canadian music but I had also listened to only one generation of that singer-songwriter genre. As was made apparent to me by the teenage class of 1998 there had been, and would be, many more Canadian exponants of the art of songwiriting I had never heard of.
Because I had heard of Joni Mitchell and Leonard Cohen  I must surely be the fount of all knowledge for my fellow students,….but nope, they all knew far more than I did even in this, my specialist subject.
I´d wasted the opportunity to speak of Ian Tyson and Gordon Lightfoot because I was sure my group would never have heard of them, but they had,….and more.
Ian Tyson (born 25 September 1933) is a Canadian singer-songwriter, best known for having written the songs Four Strong Winds and Someday Soon, performed with partner Sylvia Tyson as the duo Ian & Sylvia. After becoming a solo artist he covered songs of the cowboy era and wrote new songs reflecting the modern cowboy and rodeo life in Canada. He was a great guitar picker and his songs have been widely covered. Tyson has created created a huge  catalogue of material, well known, it seemed to my younger students in 1998. In fact, I am told by my friend Peter Pearson, one of our readers, that even at the age 87 Ian has just recorded a backing vocal on one his old tracks Silver Bells for Shaye Zadravek.
Gordon Lightfoot we have spoken of previously on these pages, in articles by Michael Higgins who spent some years as a young man in Toronto. Lightfoot was also a favourite of Pete Benbow, a player on the North West folk circuit, who regularly played the Canadian´s work and even has a signed album by him still in his possession.
Gordon Meredith Lightfoot (right) is a Canadian singer-songwriter and guitarist who achieved international success in folk, folk-rock, and country music. He is credited with helping to define the folk-pop sound of the 1960s and 1970s. He is often referred to as Canada's greatest songwriter and is known internationally as a folk-rock legend. What on earth made me think I was the only person in the Uk to have heard of Sundown or If You Could Read My Mind or The Wreck Of The Edmond Fitzgerald which Pete Benbow performed all the time, and always attributed to the Canadian folk-singer.
I was then, and remain so, a huge fan of the collective and individual members of The Rankin Family, with their incredible mix of contemporary and traditional folk.
The Rankins come from a family of 12 siblings, all of whom would entertain the neighbours musically every third weekend as part of a cèilidh. The first Rankin Family band formed in the 1970s when siblings Geraldine, Genevieve, David, John Morris, and Raylene Rankin began performing at local weddings and dances in Cape Breton.
Canada's Rankin Family members (left) got their began singing and dancing together in their hometown of Mabou, Cape Breton Isle, Nova Scotia. Pianist/fiddler John Morris, guitarist/vocalist Jimmy, and performers Raylene, Carol Jean (aka Cookie), and Heather created a unique mixture of Celtic traditionalism and modern folk and pop, dominated from the easy harmonies from the Rankin sisters. In 1989 the combo documented and self-released its debut and journeyed throughout Eastern Canada, advertising it with shows at folk celebrations and so on. A year later on they released their second documenting, Fare Thee Well Like. The Rankin Family members authorized with EMI in 1992 and re-released their 1st two recordings. North Nation followed a yr later. The recording was the very best representation however from the Rankins' mixture of folk and traditional Gaelic tracks and preparations. After 1995's Gray Dusk of Eve EP, Endless Months appeared. Made by John Jennings (Mary Chapin Carpenter), the recording was a more refined affair and integrated a significant quantity of initial songwriting. Uprooted adopted in 1998. Documented principally in Nashville, the recording included country-tinged materials in addition to experiments with extended instrumentation and spoken term. The Rankin Family members ceased performing like a device in Sept 1999. Cookie continued to a single profession, Heather dabbled in performing, and Jimmy continuing to are a songwriter (he'd go on release a Song Doggie in 2001). Just a couple months following the announcement, John Morris was wiped out in a visitors incident in Sydney, Nova Scotia. He was 40 yrs . old.
I saw the Rankins perfom live two or three times in the UK in the nineties, with a performance by the entire family at Wolverhampton Civic Hall being the most memorable, with its irish-influenced dancing and any number of sea shanties. However, in those days their records were difficult to get hold of in our High Street Record stores, but I would pick up anything new on my 150 mile round trip to Ryan´s Records, tucked away in a lawn-mower repair shop in Pen Y Cae, a tiny village in North Wales.
All those memories are from a past growing more distanced and dimmer by the day. I´m very relieved that the breadth of the BBC music archives help me keep the memories revived and in some sort of chronological order. In fact, though, looking back on their archives on July 2nd 2021 was like looking the wrong way through a telescope with even the most recent of acts looking like a visitor from some far distant star.
This was, however, a great way to celebrate Canada Day. I hadn´t previously known anything about  Canada Day (French: Fête du Canada), which is the national day of Canada. A federal statutory holiday, it celebrates the anniversary of Canadian confederation which occurred on July 1, 1867, with the passing of the Constitution Act, 1867 where the three separate colonies of Canada, Nova Scotia, and New Brunswick were united into a single Dominion within the British Empire called Canada. Originally called Dominion Day (French: Le Jour de la Confédération), the holiday was renamed in 1982 when the Canadian Constitution was patriated by the Canada Act 1982. Canada Day celebrations take place throughout the country, as well as in various locations around the world attended by Canadians living abroad.
And so, for 2021the BBC celebrated Canada Day with a trip through the best of their music archives, exploring some of the great nation´s finest music stars. Canadian Hits At The BBC, and similar programmes throughout the night of July 2nd would celebrate the likes of Joni Mitchell and Leonard Cohen (give yourself a housepoint, not-so-young Warwick) as well as the likes of Michael Buble and kd lang.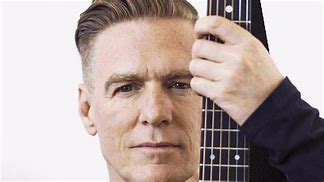 Much as the programme was themed on Canadian music the first clip show was of Bryan Adams (left) and his band playing Run To You sounding not unlike any American guitar-band. Great rock temp, great vocals and instrumentation from the man who later delight us, then defeat us´ with Everything I Do ( I Do It For You).
Bryan Guy Adams is a Canadian guitarist, singer, composer, record producer, photographer, and philanthropist. With several number-one singles and albums in various countries, Adams has sold over 100 million records worldwide. He was the most played artist on Canadian radio in the 2010s and he has had 25 top-15 singles in Canada, and a dozen or more in the US, UK and Australia.
It seemed the clips collated here would be from various BBc outlets and so the next artist we saw was performing on the Jools Holland show.

Alanis Nadine Morissette (right) is a Canadian-American singer, songwriter, musician, and actress. Known for her emotive mezzo-soprano voice, Morissette began her career in Canada in the early 1990s with two mildly successful dance-pop albums. Afterward, as part of a recording deal, she moved to Holmby Hills, Los Angeles. In 1995, she released Jagged Little Pill, a more rock-oriented album which sold more than 33 million copies globally and is her most critically acclaimed work to date. This was made into a rock musical of the same name in 2017, which earned 15 Tony Award nominations including Best Musical. Her more experimental follow-up album, electronic-infused Supposed Former Infatuation Junkie, was released in 1998. Morissette assumed creative control and producing duties for her subsequent studio albums, including Under Rug Swept (2002), So-Called Chaos (2004), Flavors of Entanglement (2008), and Havoc and Bright Lights (2012). Her ninth album, Such Pretty Forks in the Road, was released in 2020. Morissette has sold more than 75 million records worldwide and has been dubbed the "Queen of Alt-Rock Angst" by Rolling Stone.
A piece of the blurb the BBC loves to ´paste´ on screen during this type of collation told us she was singing You Ought Know, which it said was, despite not being a hit, her most iconic song ! Isn´t It Ironic?
It´s all coming back to me now. I had dug for myself a deeper hole in the university discussion by trying to create a saucy tone when I sad, as a sudden afterthought, that I also very much liked BareNaked Ladies (left) . This Canadian rock band formed in 1988 in Scarborough, Ontario. The band developed a cult following in Canada, with their self-titled 1991 cassette becoming the first independent release to be certified gold in Canada. They reached mainstream success in Canada when their debut album with Reprise Records, Gordon, featuring the singles If I Had $1000000 and Brian Wilson, was released in 1992. The band's popularity subsequently spread into the U.S. Appearing in this compilation in a weekly draw for the National Lottery the group gave a dynamic live version of their hit One Week.
NB the photograph shown was found on the internet. However you might want to find a more refined prompt than Bare NakedLadies. I´m in trouble again.
The highlight of the programme was an artist I´m not certain I had everheard of. The Weeknd apparently dropped the third e of that word to avoid confusion with a group already playing at the time called The Weekend. However Abel Makkonen Tesfaye  known professionally as the Weeknd, (right)is a Canadian singer, songwriter, and record producer. Born in Toronto and raised in Scarborough, Tesfaye began his recording career in 2009 by anonymously uploading his song "Do It" to YouTube. Two years later, he met music executives Sal Slaiby and Amir Esmailian, with whom he founded XO Records. He chose his stage name in tribute to when he, along with a friend, dropped out of high school at seventeen years old, took his mattress, and ´left one weekend and never came home´. However, his estranged former producer, Jeremy Rose, claims the name was his idea. The letter e was excluded to avoid trademark problems with Canadian band the Weekend. What was very evident in this clip though was the huge presence and charisma of this arts and his beautiful, soulful voice.
Joni Mitchell (left) was the next inclusion on this screenings collection, singing Paved Paradise (Put Up A Parking Lot). Taken off the Blue album, which celebrates its fiftieth anniversary this year and has been re-released by Joni´s own label with all sorts of tiskets and taskets. The clip reminded me again of her slight knowing-cocquetishness and sense of humour and her daring in soaring and swooping to notes even she had never written. Like all Muses, though, she seemed to be smiling secretively about something I didn´t know.
There was no faux-cocquetishness about Shania Twain who was pretty much in my face as she sneered That Don´t Impress Me Much off her third album.
She might not seem so scary to me if I learned to call her by her real name of Eilleen, but the truth is that Twain pursued singing and songwriting from a young age before signing with Mercury Nashville Records in the early 1990s. Her self-titled debut studio album was a commercial failure upon release in 1993. After collaborating with producer and later husband Robert John "Mutt" Lange, Twain rose to fame with her second studio album, The Woman in Me (1995), which brought her widespread success. It sold over 20 million copies worldwide, spawned eight singles, including "Any Man of Mine" and earned her a Grammy Award.
Come On Over was the afore-mentioned third album, that became the best-selling ever by a female artist. It produced twelve singles, including You're Still the One, From This Moment On, That Don't Impress Me Much and Man! I Feel Like a Woman! and earned Twain four Grammy Awards. Her fourth studio album, Up! (2002), spawned eight singles, including I'm Gonna Getcha Good!, Ka-Ching! and Forever And For Always, selling over 20 million copies worldwide, also being certified Diamond in the United States. In 2004, after releasing her Greatest Hits album, which produced three new singles including Party For Two" Twain entered a hiatus, revealing years later that diagnoses with Lyme disease and dysphonia led to a severely weakened singing voice. She chronicled her vocal rehabilitation on the OWN mini series Why Not? with Shania Twain, released her first single in seven years in 2012, Today Is Your Day, and published an autobiography, From This Moment On.
Shaking and slipping and sliding across stage in some kind of leopard skin jump-suit, she showed why her success garnered her several honorific titles including the Queen Of Country Pop and why Billboard named her as the leader of the '90s country-pop cross-over stars.
No Cars Go, by Arcade Fire, (left) was the next track played, and a caption told me they are regarded as the most influential Indie band. They were, and often are, I think, a kind of wall of sound band and on this track the accordian, violin, guitar and percussion create hugely dense but strangely quiet, haunting sound. Arcade Fire is a Canadian indie rock band, consisting of husband and wife  and Jeremy Gara. The band's current touring line-up also includes former core member Sarah Neufeld, percussionist Tiwill Duprate and saxophonist Stuart Bogie. I have a few of their tracks in my files by various of their line ups. I acknowledge they musical excellence even though it doesn´t fit easily in to my favourites styles.
For a long time, Complicated, by Avrille Lavigne (right) was the most played song on Canadian radio. I couldn´t have brought its name or her name to mind, though, and that felt ridiculous when I realised from the offset how long I have known and how much I have loved this song. Avril Ramona Lavigne is a Canadian singer, songwriter and actress. By the age of 15, she had appeared on stage with Shania Twain, and by 16, she had signed a two-album recording contract with Arista Records worth more than $2 million.
As mentioned earlier, these clips had been extrapolated  from sources all over the BBC: I shouldn´t have been surprised then to see a clip from Blue Peter, but it was a jarring surprise to be reminded that the programme was my main access to pop music when I was a very young child. The performance was by a very young, angelic-looking Justin Beiber (left) and a similarly youthful second guitarist. Even at whatever age he was then, Beiber looked made for stardom. He was a clean-cut All American Boy singing an achinginingly lovely acoustic version of One Time. For some reason he reminded of the boy in My Friend Flicka, a programme from decades ago about a kind of wonder-horse. He has since sold 150million albums worldwide, and I haven´t got one of them, but listening to this track might well send to remedy that.
Nelly Kim Furtado (right) was next up, as a Canadian singer and songwriter. She first gained fame with her trip hop-inspired debut album, Whoa, Nelly! (2000), which was a critical and commercial success that spawned two top-10 singles on the Billboard Hot 100, I'm Like a Bird and Turn Off the Light. The first of the two singles won her a Grammy Award for Best Female Pop Vocal Performance. Furtado's introspective folk-heavy 2003 second album, Folklore, explored her Portuguese roots. Its singles received moderate success in Europe, but the album's under-performance compared to her debut was regarded as a sophomore slump. Furtado's third album, Loose (2006), was a smash hit and became her best selling album with more than 12 million copies sold worldwide, also making it one of the best selling albums of the 2000s. Considered a radical image reinvention, Furtado continued to explore her Portuguese heritage while leaning heavier into hip hop. The album spawned four successful number-one singles worldwide; Promiscuous, Maneater (was the one included in this collation by the BBC), Say It Right, and All Good Things (Come to an End). Not yet they haven´t though and Nellie has now sold over forty million albums !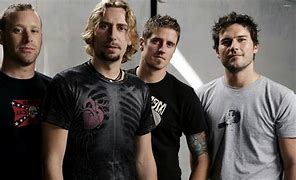 I was aware of Nickelback (left) when I made my claims to like all Canadian music at Uni, but my interest soon cooled somehow. Nickelback is a Canadian rock band formed in 1995 in Hanna, Alberta. It is composed of guitarist and lead vocalist Chad Kroeger, guitarist, keyboardist and backing vocalist Ryan Peake, bassist Mike Kroeger, and drummer Daniel Adair. The Distractify web site, always an interesting read, carries a feature by Sarah Belcher condemning Nickelback for becoming stuck in rut of delivering metal voals and sounds into a category in which they don´t belonf. I think I just thought their second album didn´t compare to the first. However the song played here, How You Remind Me actually did remind me of what I first heard in their music. The singer and writer of the song, wehich was the band´s breakthrough single, has spoken in press interviews about how domestic tensions lay behind the song. Whatever, a lovely tune, laid back vocal in a purr rather a growl over a guitar setting and there´s the hit that convinced so many of.
When I saw the next track being brought up was Black Velvet (and that little boy smile) I sat back, confident I was about to hear the stand out segment of the programme from Alannah Miles (right) After all, it is sung in a sultry voice full of devilment and voodoo and tells the story of Elvis through the eyes of a love struck woman. The Black Velvet of the title is actually a reference to how photographs and portraits are often found laid out in Memphis on Black Velvet. There´s a pronounced percussive beat and mystery and intrigue in the lyric that puts the song up there with Walking In Memphis and Galway To Graceland as the three best of a thousand of songs about Elvis.
the artist Alannah Miles was actually born Alannah Byles on Christmas Day 1958 in Toronto, Ontario. She is the daughter of William Douglas Byles, who was a pioneer in the Canadian broadcasting industry and was inducted into the Canadian Association of Broadcasters' Hall of Fame in 1997. Raised by her parents in Ontario, Myles spent her childhood composing and learning music. Myles began writing songs around age 9, and performed in a song-writing group for the Kiwanis Music Festival in Toronto at age 12.
This is a wonderful song and a seminal performance.
By the rule of personal taste this had been the best clip so far, but there were surprise still to come. I mean seeing Rufus Wainwirght (left) in dressing gown and pyjamas would be a surprise at any time but when he´s so attired whilst sitting at the piano and playing and singing for a 50,000 festival crowd might actually be a shock. Still he looked quite comfortable and sounded in good voice as he delivered a version of Leonard Cohen´s Hallelujah, duetting woth his sister Martha Wainwright. Their harmonies were always adventurous and very nearly always divine in the way that sibling sing-alongs so often are.
Rufus is an American-Canadian singer, songwriter, and composer. He has recorded nine albums of original music and numerous tracks on compilations and film soundtracks. He has also written two classical operas and set Shakespeare's sonnets to music for a theatre piece by Robert Wilson.
His sister, Martha, (right) signed with the independent record labels Rounder Records in the United States, DiS in the United Kingdom, MapleMusic Recordings in Canada, V2 Records in Europe and Shock Records in Australia. She receives positive reviews for her performances and in 2013, she recorded the soundtrack album for the fourth season of the television drama series Trauma.
She participated in the 2015 edition of Canada Reads, (a soul mate of the BBC programme Between The Covers (an article on which is still available in our literary archives under that title) advocating for Jocelyne Saucier's novel And the Birds Rained Down.
She was raised in the musical family along with her older brother, Rufus Wainwright, in Montreal, Quebec, Canada.
In 2020, Martha hosted the television series Mix sonore, a bilingual production featuring Canadian musicians. The show was broadcast on the network Unis TV.
The son of Loudon Wainwright and Kate McGarrigle and his sister Martha conjured a massive triumph in front of a huge audience, with their rendition of Cohen´s masterpiece.
Nevertheless, the work here of Leonard Cohen (left) was not yet done, for here he was on the following footage, this time performing another of his songs. The Stranger Song proved that whilst it wasn´t true he had been ´born with the gift of a golden voice he nevertheless knew his limitations and how best deliver his songs accordingly. On this occasion he was guesting on the Julie Felix show which was compulsory viewing for me when I was a lad.
Then came a song I hear almost every day, blasting out of speakers in beach bars and restaurants and shopping malls here on Lanzarote. I could have guessed its title to be Call Me Maybe, as the catchy refrain is regularly repeated at the end of each verse.
Carly Rae Jepsen (right) is a Canadian singer, songwriter, and actress. Born and raised in Mission, British Columbia, Jepsen performed several lead roles in her high school's musical productions and pursued musical theatre at the Canadian College of Performing Arts in Victoria, British Columbia. After completing her studies, she relocated to Vancouver and later competed on the fifth season of Canadian Idol in 2007, placing third. In 2008, Jepsen released her folk-influenced debut studio album, Tug of War, in Canada.
Jepsen's breakthrough came in 2012, when this single, Call Me Maybe, achieved significant mainstream popularity; the song was the best-selling single of that year, reaching number one in 18 countries. As a result, she was signed to a joint worldwide record deal with School Boy Records and Interscope Records. Jepsen's second studio album, Kiss, was released later that year. It marked a greater shift into mainstream pop music and saw fair commercial success, reaching the top ten in Canada and the United States. In 2014, Jepsen made her Broadway stage debut as the titular character in Cinderella. The following year, she released her third studio album, Emotion.
It is noted for its influence from 1980s music as well as blending dance-pop and synth-pop with indie sensibilities. While less commercially successful than Kiss, it saw the success of its lead single, I Really Like You, and received critical acclaim. In 2016 Jepsen performed in the television special Grease: Live and lent her voice to the animated film Ballerina. Her fourth studio album, Dedicated, was released on May 17, 2019, along with a follow-up titled Dedicated Side B was distributed a year later.
Jepsen has received multiple accolades, including three Juno Awards, a Billboard Music Award, and an Allan Slaight Award, in addition to various nominations for Grammy Awards, MTV Video Music Awards, Polaris Music Prize and People's Choice Awards. Jepsen has sold over 25 million records worldwide.
Even among a plethora of excellent songs and artist Call Me Maybe had its say for the pop audience, and the video of Carly on stage before a festival audience did her and the song proud.
Michael Buble (left) brought down the curtain, and very nearly the house, with a spirited rendition of Just Haven´t Met You Yet, though to be hoinest I found the performance just a little bit too show-biz. It was very Vegas, bright as a Dallas diamond. Michael called in solos from the orchestra, punched the big notes, and grinned and soft shoed his way across the stage. A song I love on his recording lent itself perfectly to a crowd-pleasing hoofer as he turned it into a show stopping song.
Its difficult to be critical of such a likeable man working so hard to please but how much I´d like him to seek his inner Sinatra rather his inner Dean Martin.
Nevertheless, Michael Steven Bublé born September 9, 1975)[1] is a Canadian singer, songwriter, and record producer. His first album reached the top ten in Canada and the United Kingdom. He found a worldwide audience with his 2005 album It's Time as well as his 2007 album Call Me Irresponsible – which reached number one on the Canadian Albums Chart, the UK Albums Chart, the US Billboard 200, the Australian ARIA Albums Chart and several European charts. Bublé's 2009 album Crazy Love debuted at number one on the US Billboard 200 after three days of sales, and remained there for two weeks. It was also his fourth number one album on Billboard's Top Jazz Albums chart. His 2011 holiday album, Christmas, was in first place on the Billboard 200 for the final four weeks of 2011 and the first week of 2012, totalling five weeks atop the chart, it also made the top 5 in the United Kingdom. With this, Christmas became his third-consecutive number-one album on the chart. To Be Loved was released in April 2013. Bublé has sold over 40 million records worldwide, and won numerous awards, including four Grammy Awards and multiple Juno Awards. Bublé is a dual citizen of Canada and Italy.
The programme had been not only a celebration of Canada´s musicians and their music but also a massively vibrant hour of uninterrupted entertainment.
Whether or not there was anything reflecting or creating a Canadian music might be debateable, ….. and we will have that debate, so watch this space.
https://aata.dev/wp-content/uploads/2021/08/music.jpg
771
1011
Norman Warwick
https://aata.dev/wp-content/uploads/2020/04/newlogo.png
Norman Warwick
2021-08-02 07:10:49
2021-08-02 18:45:22
CANADA DAY celebrated with music at the beeb.