REELING IN THE YEARS:
a c90 compilation by Norman Warwick
It was from Az Munrallee, in The Daily Mail edition of Friday 12th March 2021, that I learned the name of Lou Ottens, probably for the first time, as being that of the man who invented the audio tape cassette. The journalist had written a news story telling of the inventor´s death at the age of 94. I was drawn to the article by a colour photo of an iconic red- leotarded figure of a beautiful girl on roller skates who used to proclaim the virtues in an advert, as Cliff Richard did in his hit song, of being Wired For Sound (left). She used the phrase, I think, to announce the Sony Walkman, and her photograph was being used in that context because it was Leo Ottens´ development of the cassette tape that first enabled such ´on-the-move listening´. In fact, it was a very synergetic relationship between the cassette tape and the Sonly Walkman because the invention of the latter helped boost sales of cassette tapes beyond the incredible figure of 100 million. Cassette tapes paved the way for us to best listen to music whilst travelling in a car and were eventually used to record audio books and even telephone messages.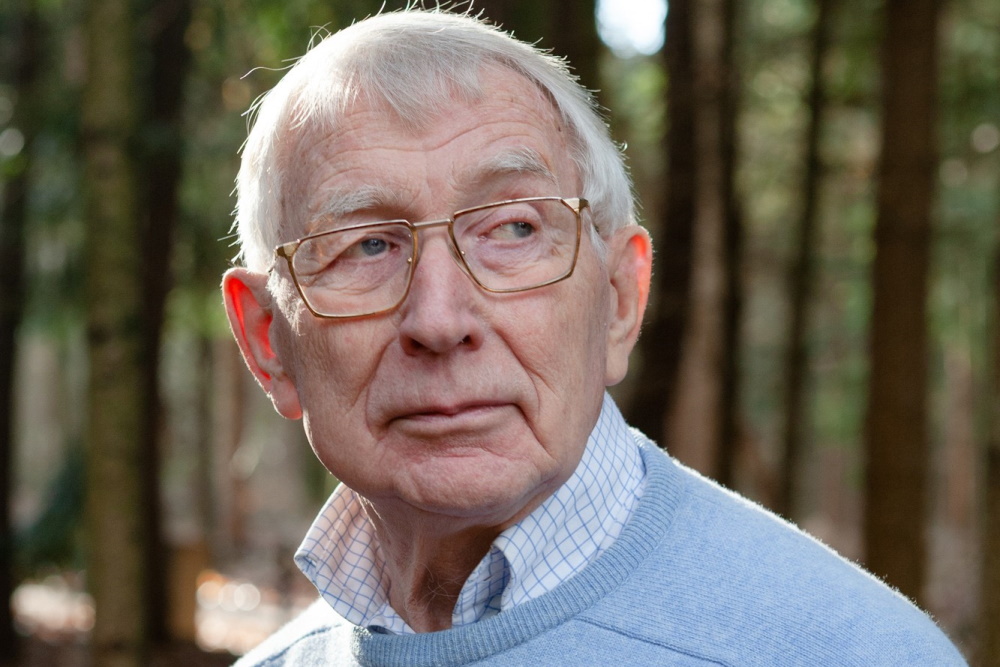 Associated Press announced on Friday March 12th 2021 that Lou Ottens (right), the Dutch inventor who pioneered the compact disc and invented the cassette tape — the medium of choice for millions of homemade mix tapes — has died at a care facility in the Netherlands.
Ottens died March 6 at 94, the Dutch electronics conglomerate Philips announced.
A structural engineer who trained at the prestigious Technical University in Delft, he joined Philips in 1952 and was head of the company's product development department when he began work on an alternative for existing tape recorders with their cumbersome large spools of tape.
His goal was simple: making tapes and their players far more portable and easier to use.
"During the development of the cassette tape, in the early 1960s, he had a wooden block made that fit exactly in his coat pocket," said Olga Coolen, director of the Philips Museum in the southern city of Eindhoven. "This was how big the first compact cassette was to be, making it a lot handier than the bulky tape recorders in use at the time."
The final product created in 1962 later turned into a worldwide hit, with more than 100 billion cassettes sold, many to music fans who would record their own compilations direct from the radio. Its popularity waned with the arrival of the compact disc, an invention Ottens also helped create as supervisor of a development team, Philips said.
The cassette tape's success stemmed from its simplicity, Ottens said in an interview published by the Philips Museum.
"It was a breakthrough because it was fool proof," he said, adding that players and recorders also could run on batteries, making them very user-friendly and, ultimately, portable.
"Everybody could put music in their pocket," Ottens said.
The prototype wooden block never made it to the company's museum. Ottens used it to prop up his jack when replacing a flat tire and left it by the side of a road,
"Lou loved technology. When he talked about that his eyes began to twinkle," Coolen said.
I, personally, will never forget the marvellous, miserable times in the small hours of the night, sitting beside my stereo system with its twin cassette holders and record deck and cd slot, headphones on so the sound wouldn´t wake my parents or disturb Whiskey, the cat, who if wakened would begin clawing at all the wires strewn over the living room floor.
If I had recently started seeing a new girl at Stand Youth Club I would have been compiling a play-list designed to show her my hidden depths, love of poetry, mature musical taste and my position as an outsider from the crowd serving as the arbiter of musical taste and my willingness to advise her on what her own record collection should look and sound like.
As I became more ambitious in my mixing, with each passing girlfriend, I began to not only record tapes of vinyl and cd but also in in tape to tape fashion from second, third or fourth generation tapes I had in my collection. I would also begin to use a microphone to introduce certain songs, offering my girl the benefits of the qualities of the song, a potted history of the artist and writer and producer and studio musicians and what each one had for supper on the nights of recording. I would probably add a few words of endearment to Lucy or Suzie or whatever floozy I had fallen for over the previous few days. I would then present this precious gift to the girl on the following Friday night in the youth club´s invariably darkened TV room.
She could not fail to be impressed I always felt, but I would nevertheless be heavily dumped by the next Tuesday at the latest after Jean or Joan or Janet had listened to the tape. They for some reason hadn´t enjoyed my song sections, artistic awards and pompous pretensions. It wasn´t until 1983 that I met a girl who taught me the truth.
Girls Just Want to Have Fun, she whispered seductively in my ear.
Armed now with that information I included the song of that title on to my next Dedication To Dee cassette and I spoke the details of the recording into my microphone, all sotto voce, a la Whispering Bob Harris (left).
I relayed information about how American singer Cyndi Lauper (right) had included the track on her debut album,  She's So Unusual. Portrait, a subsidiary of  Epic, released the song as their first single on September 6, 1983. It was composed by Robert Hazard and produced by Rick Chertoff and William Wittman.
I continued to regale the girl of my dreams with the story of how the song gained fame as a feminist anthem, an award-winning video and great success around the world. Girls Just Want to Have Fun has been listed as one of the best pop songs by Rolling Stone magazine, and the MTV and VH1 television networks. The single received great worldwide acceptance in late 1983 and early 1984, reaching number two in the United States. The song received two Grammy Award nominations in the categories Recording of the Year and Best Female Pop Vocal Performance. The song was compared to those of Madonna and Kylie Minogue, and is now considered a classic of the culture and music of the nineteen eighties, and appears in several films—including the film of the same name, Girls Just Want To Have Fun—and in several commercials.
Having provided her with all this information about the song I recorded it for her, but had taken so long with its intro I had not left enough space on the tape for the final verse. Still I had told her all about the song, singer and everything else, so she was bound to be pleased. The truth is, though, that if she hadn´t already become my wife by then I'd have been dumped by Tuesday.
We have somehow survived another forty years since, and I still make her romantic playlists, although of course, she chooses her own tracks now, and doesn´t allow me to speak in between songs.
And a lot has happened to music technology in those forty years too. Now we have podcasts, downloads, I pods, playlists, digital, downloads, mix-clouds and Spotify. Can you see the words tape cassette in there anywhere? No, well its hardly surprising, considering that in 2007 Curry´s stopped selling cassette tape because of soaring downloads.
Most of my generation will still have old cassette tapes, naturally, tucked away in the backs of cupboards, clogged with dust, or maybe in drawers under our beds, wrapped in blag plastic bags, or in my case still stored alphabetically, generically and thematically in some shelving my dad knocked up for me.
I have to sift through assorted debris of university life to find any of an estimated total of 500 million tapes that had been home-recorded around the world that became redundant yeaars and years ago because no new technology was produced on which to play them.
We saved them, nonetheless.
Now people listen to MP3 and mobiles, the tapping of their feet the only give-away as they listen in silence to their own preferred music, and we can see by different rhythms on the trains and boats and planes that we, indeed, all dance to the beat of a different drum.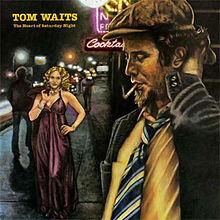 In my day, though, the only pre-cassette way to re-record my music was on my family´s hideously expensive and massive reel to reel tape recorder. I would stand up the microphone alongside my family´s dansette record player. Everything came out sounding like a kind of song I would come to associate with a guy I hadn´t then heard of. Every track had the pipping horn of a car on the road outside my house, or the dull muffled roar of the crowd whenever Rochdale scored a goal at my nearest football ground (not a frequent occurrence to be honest) or the not so dulcet tones of my mum as she shouted from the kitchen, ´Our Norman, come and get your tea or its going in the bin´. My recording sounded like a production of Tom Waits with Diamonds On His Windshield, Looking For The Heart Of Saturday Night (left).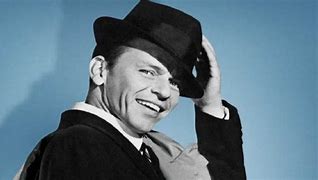 And sometimes too, I would wake up in a morning and go to release last night´s recorded playlist from the deck only to find out that the cassette had been recorded over by my dad who, having arrived home from the pub in fine voice, would record for posterity all the Frank Sinatra songs he had been singing down at The Welcome Inn.
Then, in 1963, based on an idea by Lou Ottens, Philips introduced the ´compact cassette 'in Europe and a year later in America. These cassettes came in different formats, usually dictated by the length of the recording time of thirty, sixty or one hundred and twenty minutes. Because, through generosity or oversight, Philips did not charge royalties on the design it very quickly became universally accepted.
As an observant journalist later observed, ´with that, the modern musical nerd was born.´ He was right, and I know, because I was, at least the epitome of that modern musical nerd.
I wasn´t alone, of course. I doubt if there has since been any musically sentient boy in the Western world who hasn't at some time compiled cassettes, (or later burned CDs) of his favourites records (for his favourite girls).
Nick Hornby dramatised the cassette compilation in his novel High Fidelity
Compiling records and listing them seems overwhelmingly a boys' preoccupation. Some boys, it's been said, put together favourite tracks for the ever-hopeful purposes of seduction, often employing Donna Summer´s Love To Love You Baby (left) in an attempt to clinch the deal.
But it always seemed to me that by far the greater purpose of the compilation cassette or CD was as a definition of its maker.
The cassette also managed to turn an entire generation of previously law-abiding people into not-so-petty thieves, for not one of us ever took the slightest bit of notice of the fact that we were infringing someone's copyright by making recordings from our records.
In my adult life, as a songwriter, I would have had solicitor's letters flying right, left and centre if I had ever heard of anyone recording on of my songs in such an indiscriminate manner. I never had to because no one ever did, of course.
But it never felt like theft, anyway. We were just sharing something we loved.
I have been delivering music news and opinion for a living now for four decades and more, so stuffed in boxes in my study are hundreds of interviews on cassette of some very, very famous people. I have, with the help of my favourite computer geek, managed to upload those in some way on my co,mputer, and it is from these that I bring most of my pages to Sidetracks & Detours.
Among the first artists to release pre-recorded music on cassette format were Nina Simone, Eartha Kitt (right) and Johnny Mathis, in the mid-sixties and Avril Lavigne´s 2002 album was one of the last few recordings released in the format, although a slight resurgence over the last few years has seen modern artists like Billie Ellish, Alana Grande and Justin Beiber issue pre-recorded tapes.
Finally, you might be interested to know that the artist formerly known as, Prince, gave away a tape, The Versace Experience, at a fashion show in 1995. In 2016 that cassette tape sold at auction for 3,OOO pounds, but of course that doesn´t mean,…..Stop ! What are you doing, love ? Stop it ! They were all in order. Where are you going? Don´t you dare sell my John Stewart cassette ! Dee, Come back !!
https://aata.dev/wp-content/uploads/2021/07/cover-15.jpg
357
680
Norman Warwick
https://aata.dev/wp-content/uploads/2020/04/newlogo.png
Norman Warwick
2021-07-29 07:59:11
2021-07-29 07:59:13
REELING IN THE YEARS: