HIS ´N´ HERS JAZZ AS ARTS COME BACK
HIS ´N´ HERS JAZZ AS ARTS COME BACK
by Norman Warwick
Our first e-mail of Friday 21st  May came from our friends at Jazz In Reading, who have a great web site, provide an excellent regional listings service and still found time to include details of our recent Joined Up Jazz Festival in their mailings. Their e-mail contained the news of the next livestream concert from the Boileroom, Guildford.
´Previous events in the series have been very well received,´ they said ´and we're confident this one will fill an hour or two, in the comfort of your own home, with some top-class jazz followed by an informative Q&A´.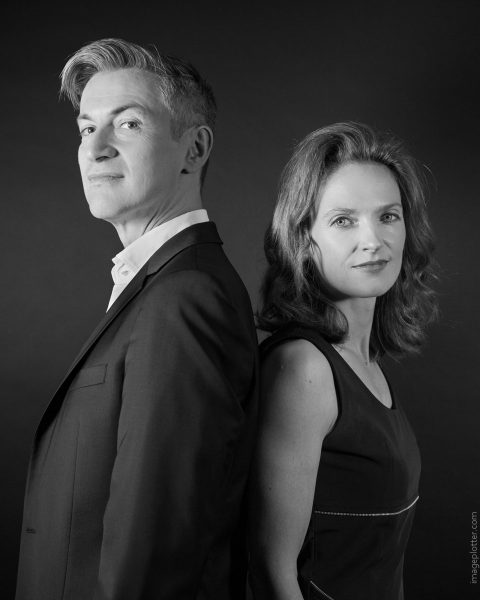 The Dave & Judith O'Higgins Quintet will present a His 'n' Hers jazz set on Wednesday 16th June at 7.30pm with tickets at £10.00

Livestreamed from the Boileroom, Guildford.
the line-up will feature Dave & Judith O'Higgins on tenor saxes, Graham Harvey on piano, Marianne Windham bass and Sebastiaan de Krom drums

Remember to book before the cut-off time of 7pm. Tickets here

Saxophonist Dave O'Higgins has been a mainstay of the UK jazz scene since the early 1990s when he first emerged as a bandleader in the wake of the 80s jazz boom. In recent years his music has been more firmly rooted in the jazz mainstream and he is well known for his work with the American pianist and composer Darius Brubeck. He has recorded extensively with over twenty-two albums to his name. His 'n' Hers, a good-humoured presentation of two contrasting styles of playing tenor, produced in the midst of the Covid-19 crisis of 2020, was the realisation of a project with his multi-talented wife Judith that had been on the back burner for some time.

In his review for The Guardian, Dave Gelly described this Four Star rated album as 'a tenor masterclass' and continued:
'How do they do it, those rare individuals who combine playing music at the highest level with another, totally different and demanding occupation? In jazz alone I can think of a consultant surgeon, an acoustic architect, a newspaper cartoonist and several more, now joined by Judith O'Higgins, saxophonist and forensic pathologist.Dave, her other half, has to content himself with merely being one of Britain's top jazz saxophonists. Here, they engage in a traditional "tenor battle", in which two well-matched tenor saxes take it in turns to show what they're made of.'

Gelly could have added that Judith, a published author and accomplished graphic artist – her design for the His 'n' Hers album cover is an affectionate tribute to the 1960s television series "The Avengers", also helped to engineer the recording.
Mr & Mrs O' Higgins will be joined by a 'super swinging' rhythm section of Graham Harvey on piano and Sebastiaan de Krom on drums, with Marianne Windham in the dual role of hosting the evening and playing bass.
The gig will start at about 7.30pm. We'll send you an email to confirm your booking, followed by a link to the performance the day before.  
Tickets are £10 each, click here to book now.
His 'n' Hers' affectionately pits Mr and Mrs O'Higgins against each other as in the movie, Mr & Mrs Smith… In reality, this is a swinging "tough tenors" band in the good humoured tradition of the great Johnny Griffin – Eddie Lockjaw Davis group, who made nine albums together between 1960 and 1962. But what Griffin and Davis did together was not a competition, however apparently combative. It was collaboration, mutual inspiration, and special because of both the similarity and contrast of the two protagonists.
The eponymous His'n'Hers recording has been prepared specifically for vinyl. The appeal of this medium was to present something considered and well programmed in an elegantly digestible format. Pour yourself a glass of wine and listen to Side 1, whilst perusing the large-scale cover art and familiarising yourself with the tune titles and personnel. Then, 18 minutes later it will be time for a refill and you'll be lured into hearing what Side 2 brings. An LP requires careful programming on the part of the artist, in the same way as a good set at a gig. The track order is crucial and, due to the nature of the medium, often listened to in the intended order. The CD format can be the musical equivalent of the "all you can eat" buffet – too much for one sitting! In addition, the tactile, analog nature of the 12" disc encourages focused engagement, not ripping onto a digital device for shuffled play in the background.
The recording was made with a "new meets old" aesthetic: inspired by the 50s and 60s Rudy Van Gelder recordings in terms of transparency and natural fidelity, but also with a nod to contemporary sonic developments. The O'Higgins have been on a mission for 10 years or more now to create a jazz friendly, ribbon mics, spill-and-all recording environment and JVG Studio gets better all the time.

This record kicks off with a bright modal original tune, "Fourth Dimension", and Judith sets the tone with the first tenor solo statement. Throughout the session she is on the left and Dave on the right. "We'll Forget March" is another new composition, disguised from its inspiration (can you guess what it is?) by a change to 3/4 and a pedal interlude. "Spring Can Really Hang You Up the Most" is inspired by Stanley Turrentine, and lulls us into a relaxed mood before having to get up to turn the disc over. Side 2 begins with another song by the O'Higgins frontline, and has perhaps the most obliquely developed lines of the date. Two crowd-pleasers from the book, amassed over years of occasional His'n'Hers gigs, finish things off: Save Your Love For Me from the Griffin / Davis repertoire, and Dexter Gordon's catchy theme, Soy Califa. 
The album was released on October 23, 2020 and features
Judith O'Higgins (tenor saxophone) & Dave O'Higgins (tenor saxophone), Graham Harvey (piano), Jeremy Brown (bass) and Josh Morrison (drums).
HIS 'n' HERS is available as a limited edition vinyl album, CD or digital download here
The performance will be followed by a Q&A session and online chat with the band, based on questions submitted by members of the online audience during the course of the concert.
If more than one person in your household is likely to watch, perhaps you would consider buying the appropriate number of tickets so that we can support the musicians as much as we can, but it's entirely voluntary and at your discretion.
If you have any problems please contact info@guildfordjazz.org.uk

You will receive an email to confirm your booking and the link to the performance the day before, which you can watch on computer or mobile device or on a Smart TV.
For those of you yet to sample a 'Boileroom Livestream' here's a taster of the experience …
Frank Hammel, of JazzED magazione, ensured that Friday May 21st would continue in a great vein of form when he offered even more good jazz news in our next e mail from feedspot, speaking about the intriguingly titled Goat Rodea Re-Union, slated for the 15th August.
It has been almost ten years since four particular string virtuosos last performed together but Yo-Yo Ma on cello, Stuart Duncan on fiddle, Edgar Meyer on bass, and Chris Thile on mandolin, are coming back together for the long-awaited Goat Rodeo reunion. Vocalist Aoife O'Donovan will join the musicians.
Goat Rodeeo combine so much of my own favourite music, with what Mr. Hammel calls a ´collision of sound´ that blends Americana, bluegrass and classical. The show will take place at 5 p.m. & 8 p.m. on Aug. 15 at the VPAC Rocky Mountain theatre in Beaver Creek, CO.
Tickets start at $225 and are available now at the VPAC box office (970-845-8497; www.vilarpac.org). The VPAC is located under the ice rink in Beaver Creek Village (68 Avondale Lane, Beaver Creek, Colorado).
´Celebrated and revered by a global audience, Yo-Yo Ma is a profound bearer of hope and peace in our age as well as arguably the prevailing cellist of our time. His performances are historic events that fulfill the dreams and aspirations of classical concertgoers and wide-ranging music lovers alike. It is fitting that Yo-Yo Ma's visit to the VPAC with his Goat Rodeo companions will venture into Americana, folk, bluegrass, jazz and acoustic genres that are deeply embraced in the mountain community. This performance will be a distinguishing moment in the lives of those present and in the history of the Vilar Performing Arts Center´, said VPAC Executive Director Owen Hutchinson when announcing the forthcoming event.
Frank Hammel goes on to tell us that ´in 2011, the group released the Grammy-winning Goat Rodeo Sessions, which NPR's World Café called ´organic, yet composed in a way that only four deeply talented, in-tune musicians could make it, hinting at Appalachia, Chinese, classical, Celtic, and jazz influences´. The group bonded in a way that made it impossible to just leave the collaboration at one album. It took nearly a decade for their schedules to align but the group reunited to record Not Our First Goat Rodeo, released in 2020.
JazzED even went on to explain the musicians´ choice of band name.
´At the VPAC show´, the JazzED article continueds, ´we would expect exceedingly complex compositions from these master musicians. The group likens the sound to a goat rodeo, the nickname airplane pilots use to describe situations where many different things need to go right in order to avoid disaster´.
The band name surely alos reflects that feeling enjoyed and endured by musicians and audiences alike at all the world´s great jam sessions, doesn´t it?
´These five musicians' diverse traditions and experiences intersect,´ suggests Mr Hammel, ´to create a compelling sound that is at once global and Americana, a shared voice that speaks powerfully to the American experience´.
This and all VPAC events will be in collaboration with and implement Eagle County's precautionary guidelines to prevent the spread of COVID-19. The organisers will continue to prioritize the health of ourpatrons, artists, community and beyond during every event. Health and safety protocols will continue to be updated throughout the summer at: www.vilarpac.org/covid19-policy.
And the good news just kept on coming, as we received another missive of glad tidings from our old friend Graham Marshall, an occasional contributor to these pages on behalf of Rochdale Music Society.
´It may not be long´, he almost sang in gospel-choir fashion, ´before we can publish a Concert Series brochure for 2021 to 2022 incorporating most of the artists we have had to cancel because of the Covid -19 restrictions´.
Meanwhile, you may like to know that there is going to be a mid-day concert in St. Mary at the Baum, Rochdale on Wednesday, May 26h at 12.30pm the details of which you can find in this email I've received from our President, Dr. Joe Dawson; (shown below (with previous music award winners)
Dear concertgoer,
I hope you are well. We hope to try a Covid-secure pilot on Wednesday 26 May 2021 at 12:30 to 13:15, doors open from 12 noon. NB Refreshments of any kind are not allowed.
Our very own Jonathan Ellis renowned and popular concert pianist will bring a sure-fire Hungarian flavour to Spring.
We would love you to join us. As we come out of the pandemic, hopefully we can begin to appreciate the wonder of live music all over again.
Step 3 of the 'Easing road map' allows us to restart the concerts so long as we follow the government guidelines to keep everyone safe:
We will do that, and we know you will and we hope to see you there.
To which Graham added that he is confident Rochdale Music Society will seek to support Dr. Joe Dawson in the wonderful work he does in organising the Toad Lane concerts.
The fourth e mail we opened at our desk on that wonderful morning of Friday 21st May 2021 (a date we might yet look back on as a red letter day) came in the form of The Indy Arts Newsletter, a weekly post we receive at Sidetracks And Detours from journalist Alexandra Pollard. Beneath the positive-sounding headline of That´s Entertainment she wrote that:
´It's Friday 21 May – which means, in the UK, the birds are singing, the hailstorms are hailing, and lockdown restrictions have been lifted! Not only can we hug each other again, but museums, cinemas, galleries and theatres are back in action.
I've got my tickets booked´, said Alexandra, (left) ´for three things already: Constellations, a revival of Nick Payne's romantic play, this time starring a rotating cast of paired actors (I'll be seeing the brilliant Anna Maxwell Martin and Chris O'Dowd); Walden, the debut play by Amy Berryman starring Gemma Arterton as a Nasa botanist; and David Hockney's new exhibition of iPad landscapes at the Royal Academy.
After a year of very little in-person, immersive culture, it feels like an embarrassment of riches.
Theatre, too, is making a grand return and there will be plenty of comprehensive listing sites offering details of dates, time and ticketing processes but why not check out what Paul Taylor of The Independent is recommending?´
We at Sidetracks & Detours will keep our eyes and ears open and offer our own comments of course. You will notice reviews on these pages in the next couple of weeks that show how the arts on Lanzarote are also rising slowly from similar not-so-golden- slumbers,… actually, perhaps not really so slowly either. Our calendar in the rest of May and throughout June is looking pretty full. So, why are you still sitting here? The doors are open and the music and theatres are back,….and in the words of football commentator, the great Martin Tyler,…….. its LIVE !
https://aata.dev/wp-content/uploads/2021/05/logo-1.jpg
180
262
Norman Warwick
https://aata.dev/wp-content/uploads/2020/04/newlogo.png
Norman Warwick
2021-05-24 09:05:49
2021-05-24 09:05:51
HIS ´N´ HERS JAZZ AS ARTS COME BACK