part 8 of our inaugural S &D Joined Up Jazz Festival presented in association with Hot Biscuits. SWING TIME IN EUROPE by Steve Bewick
part 8 of our inaugural S &D Joined Up Jazz Festival presented in association with Hot Biscuits
SWING TIME IN EUROPE:
with Steve Bewick
Join me in this short musical article as I take you on a European journey through the early jazz scene and the origins of jazz into the growth and influence of the big band jazz sound as this American phenomenon swept across Europe. It's not that I think of this as an American colonial conspiracy to rule the world's musical culture, as surely, had it been so, they would have chosen a less controversial genre.
We start in America itself to set the scene, and then move swiftly onto old Blighty, Sweden, the Netherlands, France and Italy before attempting a foray into the western front of Russia to finish our swing time with Hitler and the rise of Nazism.
I Like To Be In America.
It is generally accepted that jazz was born out of the melting pot of musical styles and cultures of New Orleans to become the most innovative form of music in the nineteenth century. Influenced by the marching bands at that time and of course the rag time sound , it was to head north to Chicago and eventually westwards and Easterly in a pincer movement reaching the east coast on its arrival in New York and, contrariwise, reaching California and San Francisco in the west. By this point, jazz had evolved from its distinctive New Orleans sound to be incorporated into a big band version of jazz becoming the popular swing sound.
The Tuba was removed; dancing replaced marching with a lighter beat to become far more propulsive in this sound. The new `pop music` was born, influenced by the likes of Duke Ellington, Benny Goodman and Fletcher Fletcher.
From this point jazz took many twists and turns on the dance floor before it evolved into what was to be known as Be-Bop with the emergence of a hard hitting, punchy, tripping sound from the new smaller bands. Whilst the bands at first grew ever bigger in New York the various sections of the bands became more prominent in their role and influence. This scene was eventually to implode like a burnt out star to fragment and release a small band scene from which came the new dance craze with hip hop (not to be confused with the recent evolution of Rap and Hip Hop). From this came Bebop from the lips of Charlie Parker. However, we content ourselves here with the influence of that earlier phenomenon, swing as it swept across Europe.
Jazz musicians liked Europe and visited as much as possible to gig for a predominantly non-racial audience. Lest we forget, jazz was initially pioneered by black American musicians facing racism and prejudice in there host country. Dixieland arrived around 1919 and interacted differently in each part of Europe it was hosted to evolve into a distinctive national jazz sound for each country. The Duke (Ellington) arrived around 1933, and (Louis) Armstrong in 1934 who was then followed closely by Benny Carter and Coleman Hawkins.
Trombones Over The White Cliffs Of Dover
In dear old Blighty it was to compete with pre-existing BBC dance bands and orchestras in the form of Jack Hylton with his Cho, Cho sound and vocalist Pat O'Malley. The hoteliers welcomed the visiting American musicians until the Musicians Union (MU) stepped in fearing a loss of jobs for gigging British bandsmen and women. This ban stayed in place till 1935. From then on a mutual exchange of musicians took place between the two countries.
Hot Tubs And Hot House Jazz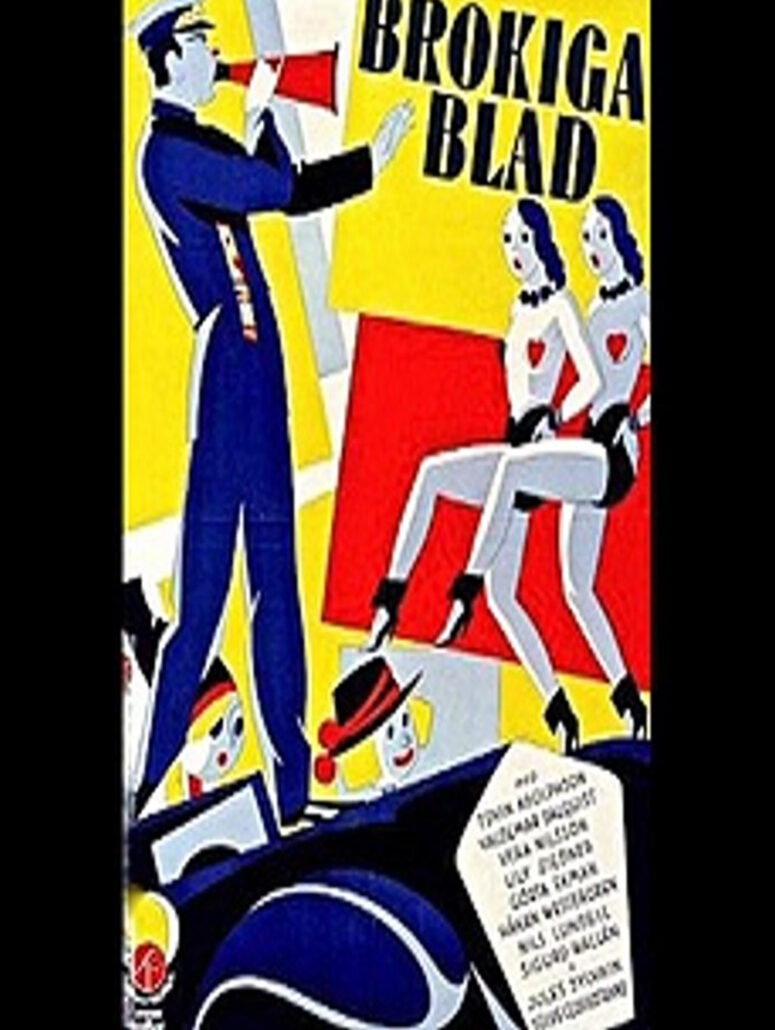 In Sweden the growth of the music into the Centre Of Excellence For Jazz that exists today was initially hampered by the anti-American mood of the 1920.This was largely led by the Trade Union for musicians who did eventually accommodate the American bands on the question similar to that of the British MU. Visiting musicians came from America following that turn of events and even as far as Canada where jazz had made inroads across the border with North America. Britain also sent over Jazz musicians to win over the Swedish music fans to the new syncopated sounds of jazz. Initially Sweden incorporated this new sound with a tendency towards comic effect. The best example of this is found here with the Håkan von Eichwald's Kaos Orchestra reflecting the elegance of the 1930s rising passion for Art Deco.
Going Dutch For A Night Of Swing
Following on from Sweden jazz goes Dutch and crosses the border to the Netherlands. There it was to compete with the very capable amateur jazz scene bands already emerging from the impact of Radio and magazines on the youth culture. The developing Dutch jazz scene embraced the pioneer Theo Uden Masman, who was later to be deported by the Nazi hierarchy which had difficulties accepting American Jazz music for reasons which we shall explore in more detail later. The War and occupation by Germany was a challenge for this emerging new sound. Best examples of the dissenting Dutch jazz fans were the Het Ramblers Dansorkest – Jitterbug's Nightmare which was found acceptable by the occupying German Army. They had a similar two bar sound with solos rather like the Glenn Miller Orchestra.
Home Of The Hot House Jazz Club
Going further south we arrive in France. Here a jazz revolution was already taking place. Black jazz musicians were indeed already very popular with the French. Jazz enveloped well with the rising cubism in the arts. Jazz was to become the idealisation of African American music into the French youth scene.
Here the sensational sound of Django Reinhardt (right) was to emerge around 1928 where, at times, he partnered Stephan Grappelli. The small jazz group was to become the icon of jazz in Paris. This was to become the home of the famous Hot Club of Jazz, Paris, France, and a regular hot house of jazz where Django and Stephan were to be found playing, much to the annoyance of the Nazi leadership.
Mussolini Swings, literally
Whilst the Americans introduced the syncopated sounds of jazz into France in the first world war the Italians had an even earlier taste of the new music from across the Atlantic when a group of Creole singers and dancers, billed as the ´creators of the cakewalk´ performed at the Eden Theatre in Milan in 1904. The first real Italian jazz orchestras and ensembles however, were not formed until the thirties by musicians such as Arturo Agazzi with his Syncopated Orchestra and Carlo Andreis with his Quartetto Andreis (left) , enjoying immediate success. In spite of the anti-American cultural policies of the Fascist regime during the thirties, American jazz remained popular. (Even Romano Mussolini, Benito's son, was a great jazz fan and then prominent jazz pianist.) Also, in 1935, American jazz great Louis Armstrong toured Italy with great success.
Stalin Is Displeased
Northward now to Russia, or as it was then the Union of Soviet Socialist Republics where briefly, in the pre-revolutionary days of the Tsar, jazz was in vogue. However the Bolsheviks were not entirely happy with it.
According to Lenin:
´Every artist, everyone who considers himself an artist, has the right to create freely according to his ideal, independently of everything. However, we are Communists and we must not stand with folded hands and let chaos develop as it pleases. We must systemically guide this process and form its result.´
After Joseph Stalin had succeeded in expelling Leon Trotsky from the Central Committee in 1927, he very soon cut off connections with the West and established an isolationist state. Stalin rejected 'Western bourgeois principles,' as these did not agree with the values of the Soviet Communist Party or the working class. The Association of Contemporary Musicians (ACM), a faction of more progressive Soviet musicians, who had thrived from exposure to the West during the National Economic Plan (NEP) years, quickly dissolved without the support of the worker's state. Former members of the ACM joined the Russian Association of Proletarian Musicians (RAPM). The RAPM, composed of 'reactionary proletarians,' opposed Western music ideals, instead seeking to encourage traditional Russian music. Conflict between reactionaries and progressives (former ACM members) within the RAPM ensued. Although the Communist Party supported the reactionaries, it did not directly act to resolve the conflict; the party's attention during this period was instead focused on the USSR's economic development. In 1932, the RAPM was disbanded in favour of a new organization: the Union of Soviet Composers (USC).
Amongst the intellectual struggles we can find examples of Alexander Tsfasman's `snowflakes`, a Russian retro jazz swing number. Also Eddie Posner and the State jazz of the Belarusian Republic of the USSR, a Polish exile from who fled from under the jackboot of Fascism, playing a Duke Ellington number, Caravan.
Mien Fuhrer Is Furious
Finally we come to the dark period of Germany's history and swing time for Hitler. This is a period of race hatred, pursuit of empire and the irritation of jazz. It goes almost without saying almost that, unlike Mussolini, Hitler hated Jazz. The music, said Hitler, was to be banned in Germany and all its occupied countries. Hitler even tried to outlaw the use of the saxophone. For the `swing kids, ` Jazz youth internment camps were established, for male and female dissidents.
Nazi ant Hitler preferred the nation to listen to German folk music, of Oompha brass bands with lots of tuba and, of course, Wagner. He wanted conformism to a white Arian stereo type. Jazz was described ruthlessly as black American Niger music.
It was vilified in such exhibitions as the, Degenerative music exhibition at Dusseldorf (1938).
For the opponents of Hitler, Jazz came to be seen as a form of low level resistance and protest by the youth running in parallel with plots of assassination, wearing of the white rose and an active underground resistance movement of sabotage and murder. The alternative protest actions were seen as meeting up to listen to jazz music and dressing up in American inspired fashion items such as the Zoot suit. Basically, German youth were ignoring what they were being told to do by the Regime, as youth so often does.
The challenge in banning something as popular as jazz was left in the hands of Josef Goebbels, Nazi propagandist, to become a tool in the Nazi Anti-western propaganda war. Goebbels recognized that both art and propaganda were meant to bring about a spiritual mobilization in their audience, and was well aware of the popularity of swing and big band music in Allied countries. He gave permission to bring Berlin's best jazz musicians into the music-propaganda program, and in 1940 Charlie and his Orchestra was born.
As an official Reichsministerium band, the group made over 90 recordings between March 1941 and February 1943. Arrangements were by Templin, Willy Berking and Franz Mück, with lyrics written by the Propagandaministerium. Representatives were permitted to travel to neutral and occupied countries to collect jazz and dance music, which helped the band and propaganda ministry to produce more recordings. Outside their ´official´ duties, many members of the band supplemented their income by playing in underground venues. Bands such as Charlie (left) and his Orchestra, a dance band of swing musicians, were engaged to create jazz swing propaganda films directed at jazz fans in the UK and USA.
This was very much based on the Glenn Miller sound of the time. However Britain struck back with the Lambeth Walk, a cockney model made famous as early as 1899 when music hall star, Alec Hurley, performed Edward W Rogers' song named after the street and the strut. It celebrated "costers", "pearlies", and pretty girls on the "Surrey Side" who knew that "kick-in' up a dust, proud enough to bust, is the style of the Lambeth Walk." The silver screen brought this London lifestyle quirk to a worldwide audience.
Attempting to get jazz to work for the Nazi cause was plagued with problems. Luftwaffe airmen, on being captured by the allies, were more than happy to give up what secrets they had about Hitler's air force for a record player and a collection of Count Basie records to reduce the monotony of their internment. At the Delphi, one Fun Kendrick MC´ organised a dance evening. He thought it might be a lively diversion to have the resident band break into a jam session after the break. The band so jammed, the audience hushed, not knowing how to react and Fun fled the country on threat of death. Last, but not least was the popular Django Reinhardt who, despite being officially banned, returned to France and continued to play his despised, gypsy jazz in the underground French Jazz clubs. No action was ever taken against him, such was his fame, notoriety and popularity, even amongst leading Nazi officers.
The war ended, Europe was liberated and subsequently divided by a wall. Django played on in the Hot Club Of Jazz in Paris and swing continued its popularity in the celebrations that followed, only to be displaced, ironically, by the progress of bebop rather than the forces of reaction.
Steve Bewick, Jazz Broadcaster.
https://youtu.be/klIuL654rdc Brass Band Music from New Orleans.
https://youtu.be/fPmruHc4S9Q Scott Joplin,'The Entertainer. `
https://youtu.be/J0KeCRirEoU Bird: Charlie Parker on Dial (Volume 1) Bebop.
https://youtu.be/091DM3WYjUw Choo Choo, Foxtrot by Frank Trumbauer & Matt Malneck, Jack Hylton and his orchestra. Vocal chorus: Pat O'Malley & vocal trio
https://youtu.be/8wRNw35z488 Håkan von Eichwalds Kaos orchestra Då kände jag en liten rysning (Then I felt a shiver) 1930
https://youtu.be/U-0GkrRe43M The Ramblers – Theo Uden Masman; "Mooi Holland"
https://youtu.be/ebuP9TatXDo Het Ramblers Dansorkest – Jitterbug's Nightmare
https://youtu.be/ANArGmr74u4 Django Reinhardt & Stéphane Grappelli – Jattendrai Swing 1939
https://youtu.be/jvmRkhrksss Quartetto Andreis, Gesang, Bei mir bist du schön (Per te vivro), Italien, 1938
https://youtu.be/amDvzDQ8q8k Snowflakes Played by Alexander Tsfasman. Recorded in the early 60s.
https://youtu.be/SQiwRIxwNVg Борис Матвеев и Eddie Rosner's Orchestra Solo percussion and orchestra
https://youtu.be/ovCf9VRLnDY The Producers (1968) – Springtime for Hitler
This article was written by Steve Bewick, presenter of Hot Biscuits who is, along with Norman Warwick, Gary Heywood-Everett and Susan Fondon, one of the founding members of The Joined Up Jazz Journalists.
Don´t forget you can hear Steve and Gary presenting Hot Biscuits on
You can also read an archive of Susanna´s work on Lanzarote Information.
We will continue with day nine of our Joined Up Jazz Festival with tomorrow´s post, The Colours Of Jazz In Spring, by Norman Warwick.
Meanwhile we are also grateful to Jazz In Reading, Jazz North, Ribble Jazz And Blues, Monster fm Radio, and Lanzarote Information for their kind support by including details of our festival in their listings, We look forward to bringing you further details in the weeks to come of the excellent work they do for the jazz community.
https://aata.dev/wp-content/uploads/2021/03/cover-6.jpg
288
192
Norman Warwick
https://aata.dev/wp-content/uploads/2020/04/newlogo.png
Norman Warwick
2021-03-10 08:23:09
2021-03-10 08:23:10
part 8 of our inaugural S &D Joined Up Jazz Festival presented in association with Hot Biscuits. SWING TIME IN EUROPE by Steve Bewick