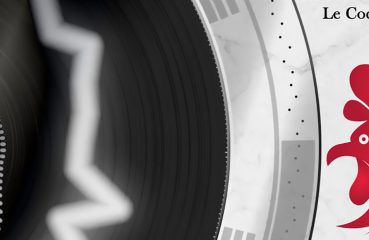 FOUR TIMES MORE FUN
from joined up jazz journalists
with Norman Warwick
I and Steve Bewick and Gary Heywood-Everett a few weeks ago dubbed ourselves as three ´joined up journalists of jazz´ for our inaugural Annual Sidetracks & Detours Joined Up Jazz Festival which will ruin for two consecutive weeks from 1st March to 5th March and then from 8th March to Friday 12th March. We have now been joined by my colleague Susana Forden from Lanzarote Information who will be writing about the jazz scene on Lanzarote.
Before all that, however, we recently learned from Jazz In Europe magazine that a new label, Le Coq has been formed to enable new combinations of established artists to play together.
With live performances available ´in camera´ as it were, and more and more musicians finding time on their hands, it is great to welcome a new jazz label to the scene, that seems determined to bring the genre´s musicians together in new and exciting combinations. Le Coq Records is a new label founded by Piero Pata, who has kicked off the company's releases with a band. The first title is Le Coq Records Presents The Jazz All Stars, Vol. 1 and features a who's who of modern jazz performers delivering original tunes as well as classic standards.
The roster already includes keyboardists Bill Cunliffe and John Beasley; drummers Vinnie Colaiuta, Marvin "Smitty" Smith and Joe LaBarbera; percussionist Alex Acuña; trumpeters Terell Stafford and Wayne Bergeron; saxophonists Rick Margitza and Ralph Moore; guitarist Jake Langley and vocalist Andy James, among others. Bassists John Patitucci and Chris Colangelo hold down the groove and take some killer solos.
You can hear Patitucci, Acuña, and drummer Marvin "Smitty" Smith recreate the Mongo Santamaria tune Afro Blue. The bassist employs an upright for the melody and groove while soloing and comping with an electric bass.
Another notable bass moment is on Rockin And Rhythm, which begins as a full big band arrangement before breaking down at the 2:30 mark to all Patitucci and Colangelo to go funky.
Now Jazz In Europe magazine tells us, too, that three players well known on the jazz scene have also decided that joined up jazz can be fun and so have been recording together for Le Coq as a trio.
These veteran jazz virtuosos, joining forces for the first time, are pianist Bill Cunliffe, bassist John Patitucci and drummer Vinnie Colaiuta. They have recorded a ´high-spirited, vigorously swinging standards session´ titled, simply, Trio. Jazz In Europe rightly point out that, after all, with three names like those on an album cover, no further embellishment is needed.
That the Trio album, due out February 19, 2021 via Le Coq Records, came together so spontaneously, makes the exhilarating chemistry and dynamic interplay all the more remarkable. Cunliffe has become something of a house arranger and musical director for many of the newly-launched imprint's projects, and Patitucci and Colaiuta have quickly become part of the Le Coq family.
It was at label founder/producer Piero Pata's urging that the three players were let loose in Hollywood's storied Capitol Studios without a script.
´Piero surprised us as we were working on some other projects with him,´ Patitucci recalled for Jazz In Europe. ´He had the idea for us to do this trio record. It was very impromptu, like in the Blue Note record era, where you basically do a record in a day. We had a lot of fun and it was really relaxed.´
Cunliffe remembered that he felt "like a kid in a candy store,´ during the sessions.
The work was pretty challenging because it just three guys in a room. However, what made it a lot of fun, he reckoned, was that his colleagues were two master musicians whose work he had loved for years.
A GRAMMY® Award-winning arranger, Cunliffe would, typically, have embarked on a project with far more preparation. Since beginning his career as pianist and arranger with the Buddy Rich Big Band, Cunliffe has worked with such luminaries as Frank Sinatra, Joe Henderson, Freddie Hubbard, Benny Golson and James Moody. In parallel with that he also established himself as a renowned solo artist and bandleader with more than a dozen albums under his name. Daunting though this recording was he thoroughly enjoyed it as an ultimately thrilling experience, and is confident will it just as thrilling to listen to the album as the artist were to play it.
Cunliffe (seen left at the piano) told Jazz In Europe that he likes jazz music that has shape, in that it has a beginning, middle and end, and drama.
¨Usually I craft those elements in my arrangements,´ he says, ´but John and Vinnie are able to create those qualities on the spot."
Patitucci may be best known for his long and meaningful associations with Chick Corea and Wayne Shorter, but he's worked with an A to Z of artists in and outside of jazz. With Corea he came to prominence as a member of the pianist's Akoustic and Elektric Bands; for the last two decades he's been a member of the Wayne Shorter Quartet alongside pianist Danilo Pérez and drummer Brian Blade, which Jazz In Europe suggest is ´perhaps the most revered small band in jazz today´. But he's also played throughout the world with Herbie Hancock, Stan Getz, Pat Metheny, Wynton Marsalis, Joshua Redman, Michael Brecker, McCoy Tyner, Nancy Wilson, Sting, Aaron Neville, Natalie Cole, Joni Mitchell, Carole King, Astrud and Joao Gilberto, to name but an orchestra of some of the world´s finest musicians.
Colaiuta has also bridged the worlds of jazz and pop throughout his career. He rose to fame playing with Frank Zappa, Joni Mitchell and Sting, while touring with jazz greats from Herbie Hancock to Chick Corea. He's also a prolific first-call studio drummer whose work graces recordings by Leonard Cohen, Barbra Streisand, James Taylor, Billy Joel and countless others.
The separate and combined skills and attitudes of this trio cross musical borders, swapping and sharing within all genres, walking through diverse cultures as it does so.
Patitucci and Colaiuta are no strangers to one another, of course. Colaiuta is one of three drummers on the bassist's self-titled debut album on GRP from 1987; they've crossed sidetracks & detours scores of times over the intervening decades, including as a version of Chick Corea's Akoustic Band that recorded Live From The Blue Note Tokyo in 1996. Cunliffe has worked with both of them at various times as well, but Trio marks the first time they've been able to interact as three musicians on the same recording.
Although John and Vinnie have spent a lot of time in different aspects of the pop world, they both grew up in jazz as Cunliffe did
´They're both stone cold jazz guys,´ he confirms.
Such compliments are returned, too.
´Working with Bill Cunliffe,´ Colaiuta says, ´you can always expect – at the very least –amazing skill and professionalism, some deep swinging, and a big bucket of fun!
The tone for the session is set with the trio's sprightly take on George Shearing's Conception. Introduced by a brisk solo shot by Colaiuta, the tune lights nimble, graceful solos from all three members, all clearly in upbeat spirits. It's followed by a swooning and more winsomely romantic interpretation than the noir-tinged usual version of David Raksin's classic theme from Laura,
They select from previous repertoires, of Patitucci's long-time bosses for a hard edged version of Wayne Shorter's Anna Maria and Chick Corea's The One Step, on which the bassist speaks with eloquent lyricism beneath the graceful rendition. Colaiuta's whip-crack rhythm sets the pace for a race through the Miles Davis favourite Seven Steps To Heaven, while the drummer's lush, whispering brushwork conjures a carpet of cloud for Cunliffe to ruminate nostalgically on the classic ballad Good Morning Heartache.
The camaraderie that the three locked into so quickly and (seemingly) easily is playfully evident on a loose, celebratory spin on the well-worn standard My Shining Hour, while their musical tightness braces a slyly grooving re-think of Thelonious Monk's We See. The album concludes on a wistful note, with a tender but lively Just In Time, one of my personal favourite songs.
Cunliffe explains that the mix of standards and songs familiar to us was not only a practical consideration given the impromptu nature of the session, but was also key to capturing what jazz In Europe describe as ´such brilliantly conversational playing.´
´Except for The One Step´, he recalled, ´we did all of the tunes from memory, without using any music at all. That means we were able to look at each other, hear each other, challenge each other and react to each other in the moment. It felt very organic and was so much fun. Vinnie and John really lifted me and made me play better than I ever could.´
Jazz in Europe placed the following details at the foot of the article and once again feedpost had pointed us in the direction of an eloquent and elegant magazine.
Trio.
Release Date: 19 February 2021
Format: CD | Digital
Label: Le Coq Records
Le Coq Records Presents The Jazz All Stars, Vol. 1 is available now via iTunes and Amazon MP3.
To hear more jazz from a broad church why not tune in to Hot Biscuits presented by Steve Bewick, at fc-radio-co.uk , one of our Sidetracks & Detours Joined Up Jazz Journalists
Coming soon in March 2021 a World premier of Joined Up Jazz. A festival to celebrate jazz music and its musicians in joined up words and notes. Sidetracks & Detours blog editor, Norman Warwick, in association with Hot Biscuits jazz broadcasters Gary Heywood Everett and Steve Bewick and Lanzarote Information journalist Susana Forden will be presenting a two week festival of writing on jazz. A fresh posting will take place each day of the festival.
Starting Monday 1st – 12th March 2021 we shall be posting to Normans website, https://aata.dev/ articles on the jazz and blues pioneers Bessie Smith and Ella Fitzgerald, modern jazz men John Coltrane and the post-modernist Gill Evans. Features will also include a personal take on the Israeli jazz scene, the rise and influence of swing jazz across Europe and an eclectic journey down the side tracks and detours of jazz. Many of these pieces will carry links to music to inform, amuse and to bop to. All you have to do is journey on down to our festival site at www.aata/dev no tickets required. This is a free festival to brighten up these Covid times. You can also tune in to fc-radio-co.uk to listen to Hot Biscuits
https://aata.dev/wp-content/uploads/2021/02/Le-Coq-Feat-369x240-1.jpg
240
369
Norman Warwick
https://aata.dev/wp-content/uploads/2020/04/newlogo.png
Norman Warwick
2021-02-18 08:16:19
2021-02-18 08:20:35
FOUR TIMES MORE FUN