TIMPLE SAFE IN HANDS OF ALEXIS LEMES
TIMPLE SAFE IN HANDS OF ALEXIS LEMES
by Norman Warwick
Alexis Lemes, (left) born in Lanzarote in 1977, is a brilliant musician sadly, might not be found in any kind of Guide To Jazz reference book. His instrument of choice does not fit easily into any jazz line-up, being a smaller wood-bodied version of a ukulele. His route to his acknowledged expertise on the stringed instrument was driven in a self-taught way. His dream and enthusiasm is to keep working on interpreting the music he likes most. His forays into jazz and his mastery of technique have become his trademarks.
A recent interview on Timple.com offered a great insight into the musician and his instrument and their relationship with jazz.
Basically Alexis has always been self-taught, though he also benefitted from a period with the Cuban teacher Aldo Vázquez, It was after winning the first timple contest in Lanzarote, that Alexis started taking the music seriously, influenced, too, by the many artists with whom he had by then already played.
´In my opinion,´ he told the web site, ´nothing is secret, everything is achieved with a lot of effort."
He still remembers the first time he saw and heard Master Gopar (´a great musician´) doing great things with timple and guitar, that Alexis had never heard before, and he has ever since been hooked on the timple as an instrument and on that particular technique.
He admits to also having been influenced by three other great musicians; Domingo 'el Colorao', Benito Cabrera and José Antonio Ramos. He found their work was amazing and still thinks they represent a high point in the development of the timple.
He has two such instruments he especially cherishes, one of which was built by Vicento Corujo, and another that has been restored by Jesus machine.
I have been fortunate to see Alexis perform many times, both individually and collaboratively, but was nevertheless disappointed when a scheduled concert, that would have been under the production auspices of Kike Perdomo, a saxophonist jazz player we have reported on in these pages previously. in November last year at Teatro Tias, had to be indefinitely postponed because of covid restrictions.
I know that was scheduled to be a busy period for Lemes, with international concerts then scheduled in Berlin, from October 24 to 28 as a musical representative of the 'Canary Islands Association In Europe' in the Embassy Auditorium, although I am sure that must have been reshaped or re-scheduled as well.
So, like all musicians, his work and plans have been disrupted by the virus, although we have regularly seen him on zoom style virtual concerts and have heard him on radio
´Of course the covid protocols affect everyone,´ he says on-line, ´but even if not publicly, musicians can play at home with family or a few friends, although organizing any kind of events, however remotely we have to be so careful to properly ensure social distance for everyone´s protection. On the other hand, in the world of cultural projects there are alternative ideas that have been supported and others that have gone to the trash can. I personally would like to see higher support for timple."
The lack of financial support might seem surprising to those of us who know of how proud the island is of this instrument, so much so that there is even an incredible Timple museum in the picturesque centre of Lanzarote´s capital. Nevertheless, it is perhaps not seen as mainstream instrument like the violin or cello which can be adopted by both jazz and classical orchestral ensembles.
This seems such a pity but Alexis doesn´t sound too down-hearted, instead reflecting that he thinks the Timple is still in a good time. More and more people are interested and there are more luthieres than in the past. Even though there are a large number of other countries that ignore it, The Timple is well known and loved in this part of the world,
He would like to see Timple theory and practice included in the curriculum at the Conservatoire on Lanzarote, offering initiation skills right the way through to professional skills. There are many schools doing very interesting things. I think the interest in the end depends on each one. And within that, there are people interested in the accompanying timple and others in the solo timple.
´I think we perhaps need to reach out more, down the streets, bars, etc. That kind of thing invariably generates a real interest in the people.
´Nevertheless,´ he says, "The current situation seems to me to be very good. There are a lot of people playing very well and especially with different styles and genres.´
This is especially good to hear, indicating as it does how fprward thinking is in the insertion of the arts into the education curriculum, in ways in which organisations like Arts ARE Education are following in America, in a development we followed in our post AJazz Lesson on xxx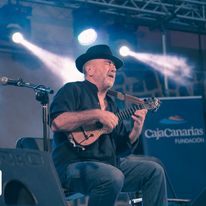 He recognises that there are people who see weaknesses in the range of the timple and Alexis admits that the subject of amplified sound is very complicated. I ´belives that the "natural" instrument works well simply with a good mic  and he offers the example of the great master Domingo 'El Colorao' to rest his case.
There are, of course, players of Alexis´ generation, and younger, who like to play with bands and electrical components, but who, in concert are often forced to amplify themselves with a previously-set sound system, bringing many confusing factors into play: the same performer, the timple adjustment, the previous setting, the sound technician, etc. Alexis does worry that there are a lot of strident sound systems with too little quality in the aspect of amplification.´
Almost as if he hates to complain, though, he immediately reminds us that the timple is, rhythmically, a very large instrument.
Sound, and distance it can cover, seem to haunt him, however, as one of the most vivid recollection he has of his career to date was of a concert in The Torrelavega Room, when during the opening tune he broke the first string. He looked everywhere really quickly but there were no other timples to be found in the place.
What must have seemed like a catastrophe at the time didn´t lessen his enthusiasm for the instrument and his advice to aspiring players today is that first they must find a passion for the instrument, and having found that passion they must surrender to it.
The instruments is much associated with the folk lore music of Lanzarote and the other Canary Islands, and visitors to the island who might only ever hear the instrument being played at The Sunday Morning Market in Teguise might well think of it as quaint, old fashioned instrument being employed as a curiosity for their amusement. Alexis is determined to correct that notion, however, and anyway a visit to the adjacent Timple Museum in Teguise would soon dissuade notions of redundancy and antiquity.
´There are a lot of older people who have lived the timple in an authentic way and can tell very interesting things,´ he says. ´Also, it seems to me that any of today's timplists are sure to have very interesting things to say as well. Within the world of luthieres, I have had conversations with Jesus Machin and, in truth, I have never met another luthier with so much information about these instruments.. Machin is from another world, entirely.
Alexis is grateful to all the timple lovers here who keep the instrument alive and relevant one way or another by always enthusing about how great the sound is and how grandly and proudly it represents our island.
Whether you are a holiday maker on Lanzarote or someone who has settled here to live, you can find out much more about the instrument and its top exponents like Alexis at
Alexis Lemes: "Hay mucha gente mayor que ha vivido el timple de una manera auténtica" : Timple.com
Obviously you should check on line for whatever covid restrictions are in place but when open, the Timple Msuem in Teguise is a really rewarding visit. The museum also served as venue for concerts before the restrictions and has a delightful concert toom.
sources: the author´s own archives and Timple.com
https://aata.dev/wp-content/uploads/2021/02/cover-10.jpg
180
161
Norman Warwick
https://aata.dev/wp-content/uploads/2020/04/newlogo.png
Norman Warwick
2021-02-16 08:04:25
2021-02-16 08:04:26
TIMPLE SAFE IN HANDS OF ALEXIS LEMES