We are the music makers: KATE RUSBY
Norman Warwick stops At The Barrier and learns
KATE RUSBY ALBUM IS MORE THAN JUST A HAND ME DOWN.
Release Date: 14th August 2020
Label: Pure Records
Format: CD /DL / vinyl (incoming)
Mike Ainscoe is informed and informative and I will be certainly looking for his critiques again. He is a reviewer, I think, who probably looks for the positives first and that´s a trait I applaud, especially when writing from a platform of fandom would not actually affect his judgement.
He is clearly a fan of Kate Anna Rusby the English folk singer-songwriter from Penistone, Barnsley. Known as The Nightingale of Barnsley, she has been the head of the line-up at several major British folk festivals and is one of the most famous contemporary English folk singers. In 2001 the Guardian described her as ´a superstar of the British acoustic scene.´ In 2007 the BBC website described her as The First Lady of Young Folkies. She is one of the few folk singers to have been nominated for the Mercury Prize.
Mr. Ainscoe is clearly a fan, and he tells us that Kate has been busy playing her part during this strange Summer season with her irrepressibly bright Singy Songy Sessions from her front room; husband Damien O'Kane providing his usual flawless musical accompaniment.
Ainscoe says that Kate´s latest recording is surely one that fans will adore. Ever since appearing as a duo with Damien at his Folk Prostate Cancer fundraising gigs, the potential and appeal for them doing something more concrete has gained momentum.
Add their appearance on the Jo Whiley show where the expectation to come up with a cover version is part of the deal and you have the planets aligning.
The versions of Oasis' Don't Go Away and Fairport's Crazy Man Michael on her Philosophers, Poets And Kings album were a mere aperitif for the full-blown collection on Hand Me Down.
´As a folk singer, it's what I do, re-interpret existing songs, but usually the songs are much, much older,´ Kate (left) told Mr. Ainscoe while adding, ´it dawned on me that not just the very old songs are handed down through the generations, but also favourite songs of any age, of any generation.´
And although it's her name on the cover, bar the odd part from a band member recorded remotely, it's not just all Kate and Damien O'Kane. What wasn't part of the plan was having their couple's two daughters – Daisy Delia aged 10 and Phoebe Summer aged 8 – having to come to the studio. Look down the credits and you'll also see the expanded Rusby family doing their bit too, like the Yorkshire version of The Partridge Family.
It is obvious in Michael Ainscoe´s work that whilst he is a fan of musicians he is an even greater fan of songs and their tangled roots
´It's always interesting with these sorts of projects to see what's hovering in the consciousness,´ he says.
There are clues all over the cover art which are all explained in the booklet as (those clues) are quite personal and not always as straightforward as they might seem. There was me, after spotting a 'green plastic watering can' – thinking could it be the very same one as mentioned in Radiohead's Fake Plastic Trees (a particular personal favourite). Also bearing in mind that Radiohead drummer Phil Selway has played her Underneath The Stars Festival and that the Rusbys also attended the Radiohead Old Trafford gig a couple of years ago, I was feeling confidently smug. Turns out I'm a long way from adding Sherlock to my list of pseudonyms…miles off. However, Kate/Damien, take note…
Nevertheless, we do get Coldplay (like Ciaran Algar, Kate is a great fan) and Chris Martin needs a nudge that maybe he should don his folk hat and get a duet on the schedule.
Perhaps the biggest curveball is The Cure's Friday I'm In Love although you might argue a similar case for The Kinks, Prince via The Bangles, Taylor Swift and Bob Marley.
Lyle Lovett's If I Had A Boat was pretty much the track that introduced me to Lyle Lovett many years ago, when I thought he would go to become a great country music singer-writer. He did for two or three albums but then went on to experiment in jazz and other genres in which he proved just as exceptional.
Kate´s version of If I Had A Boat is, according to Ainscoe, swathed in what's become the familiar Rusby cosmic wash of recent times that provides the sonic menu on the album. By contrast, Taylor Swift's Shake It Off gets a more rustic treatment; banjo and some rubbery bass lines set up a groove that threatens, but never quite does, to take off into a real hoedown. Restraint and moderation at most, if not all, times. However, these are the two songs I find I'm turning back to.
When I look back to my time as an ´after the raffle´ performer around my local Greater Manchester folk clubs in the sixties and seventies the chronology of recordings release and events throughout the period has become, as Chris Farlowe might have had it, somewhat ´out of time.´ My memory tells me, for instance that it was from Days, by The Kinks, that I learned you could tell a novel in a three and half minutes disposable pop song. However that realisation might have been arrived at via their Waterloo Sunset, Wonderboy or even the considerably later Come Dancing. No matter.
Ray Davies' Days has a sprightly electro bounce in Kate´s version. and Ainscoe informs us that we're rubbing elbows with a bit of funk with Love Of The Common People. While songs made famous by Cindi Lauper and James Taylor remain suitably low key, two TV theme tunes – from Littlest Hobo and Connie – broaden the song selection.
The songs all remain fairly faithful to the original, although sprinkled with the fairy dust of the breathy Rusby vocal. Trouble is, now you have the Rusby versions in your head, you'll find it a task to go back to the originals. Like me, you may have tried and found it difficult.
Of course, everything is exquisitely crafted/played/produced by the precision of the multi-instrumental skills of Mr O'Kane that comes as standard. That monster of an electric tenor guitar rings out and adds an ethereal ambience and wispy quality. He's the Fripp & Eno of folk music, shaping and fashioning his soundscapes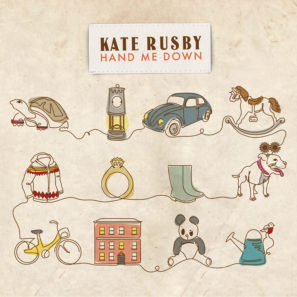 So what's next? Hand Me Down highlights another string to the bow that aside from the regular albums and the increasingly higher profile Christmas albums and tours, is a nice little side project. Whatever, you can guarantee anything that comes from the Pure/Rusby studio will continue to be first class and of immaculate quality.
There are, it seems to me, as much for us to love about Michael Ainscow´s review as he finds to love about Kate Rusby´s Hand Me Down album. He speaks knowledgably but is also happy to share a bit of ´ínsider´ humour with those of us not as close to the artists as he obviously is. His achievement here is that I felt compelled to listen to the album straightaway, in the certainty it wouldn´t let me down.
I did, it didn´t and I am therefore forever in his debt. Check him out at
https://aata.dev/wp-content/uploads/2020/09/cover.png
340
478
Norman Warwick
https://aata.dev/wp-content/uploads/2020/04/newlogo.png
Norman Warwick
2020-09-24 09:12:35
2020-09-24 09:16:26
We are the music makers: KATE RUSBY