SEND THREE OR FOUR PENCE, WE ARE GOING TO A DANCE
SEND REINFORCEMENTS, WE´RE GOING TO ADVANCE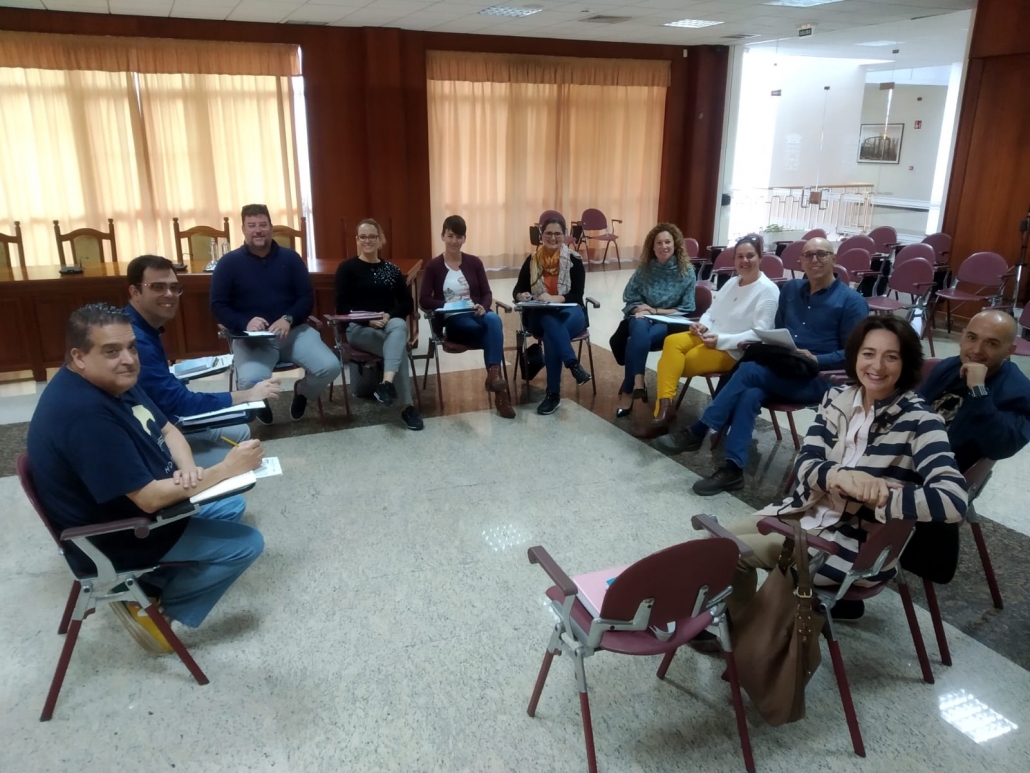 Present at a recent meeting about publicity and arts communications here on Lanzarote was The Councillor of The Insular Table of Culture, Alberto Aguiar, and technical and political representatives of the municipalities of Haría, Tinajo, Arrecife, Tías, Yaiza and San Bartolomé. all across the arts understand that details will be issued shortly announcing the launch of a circuit of visual arts exhibitions and another series of performances around the island by choirs and municipal bands of Lanzarote. The final calendar of dates and places will be agreed at specific technical tables to be held in the coming weeks.
However, it is already known that the proposed touring exhibitions of visual arts will include collections called Categoric Portrait and The Great History of Art on a first tour of municipal galleries.
Among the new programming proposals for the coming months, the Bureau discussed the holding of training actions, such as conferences and workshops, to improve professionalization and cultural management. These will cover recent changes in the administration of Music, Theatre and Dance 2020 and the identification of island circuits dependent under the guidance of Government of The Canary Islands. The details of these changes were specified at the meeting so that all Lanzarote municipalities are able to meet the new criteria required on application for participation in such events.
This could help ensure a more uniform standard of publicity and presentation.
The reason we try to highlight in advance as much as possible of the arts and culture calendar is because even although the contents of the event might seem to be of only parochial interest to those born and bred here on the island, the quality is often so high that would be appreciated by any audience, however cosmopolitan. We feel sure there are plenty of new English-speaking residents like ourselves who would find much to enjoy.
This is, of course, the time of year for the carnival processions that seem to parade in each town of the island. We will be visiting Arrecife to witness Monday´s procession on 24th February and will be back there later in the week for ´gran quema de la sardinas del carnaval 2020´!!
In the theatre that carries the name of El Salinero there will be a performance of the play Siete Hombres Buenos on 28th February and admission is only ten euros. This play considers human characteristics and why some lead and others of us follow. Check out the theatre web site or follow Miguel´s what´s on link on Lanzarote Information web site to see a wide range of exciting performances scheduled at this venue over the next three months or so.
A few days later, dramatic-arts workshops look at similar issues in Disobedient Art & Education at Cic El Almacen from 5th to 7th March. This venue stages concerts and houses collections by explorative artists like sculptor Rigoberto Camacho who has an exhibition, Sincrentismo, there until 25th April.
On March 7th your all across the arts team will be returning to Salón Indieras Ayuntamiento de Tías, to hear Máximum Ensemble, a quartet concert for 15 euros. This is actually the event that has produced this mild protest piece of writing ! The show was advertised on Lanzarote Information on-line but when we went to the venue, we were sent all round the town to other buildings but ended up back full circle at the venue. Nobody at the box office knew anything about a concert in that building that was, after all, only a week away.
Eventually Maigret Marguerita, our private detective, found some information on a web site we had never heard of and we thus leanred not only of this concert but of several more listed for later in the year. My point is that nobody seems to know or at least certainly no English person seems to know, of this web site. !!
We do, already know, thanks to the diligence of our classical music correspondent in the UK; Graham Marshall, that on that same day of 7th March there will be a performance by Pelleas Ensemle as part of the 40th birthday celebrations of Rochdale Music Society. This will take place at Heywood Civic Hall. Graham has reviewed previous concerts in this series, and his works on the Society´s web site are always worth a read.
What makes the convoluted trails taken by snail and electronic mail and the anti-social media, is that sometimes, as we´re struggling to locate a venue or information about an event here on Lanzarote we receive tons of information about events somewhere else in the world.
Emma Decent, for instance, is not only a formidable poet in the UK but also a master exponent of the art of communication. Wherever she gives readings or delivers workshops she collects group contact details, so because I was on the Weaving Words mailing list for that Rochdale group more than five years ago, I receive all Emma´s postings, such as her most recent communique about a writing day retreat she is running on 14th March at Todfellows Hall in Todmorden. So, here is how proper communication might work. I urge you to check with Emma, via facebook or on her web site, or through the venue, or even through weaving words in Rochdale for details of the event. Then take yourself along there. Emma is always thought provoking and I have no doubt that you will not only swell the numbers at the event but will also produce some good and fulfilling work.
Over here on that day we will be chasing more music, when on 14th March, Orquesta Barroca de Tenerife perform at Teatro Víctor Fernández Gopar "El Salinero" (subject to quarantine decisions that might have to be made.)
It will be music of a very different kind on 19th March when Lemes and Infante play at Sala Buñuel del CIC El Almacén in the Ciclo de Jazz short series of events.
The duo formed by Alexis Lemes and Javier Infante, is the result of the merger of two musicians who, starting from an island root, work in the constant search for their own language.
Attracted and influenced by the philosophy of the prestigious ECM record label, the work of Infante and Lemes permanently oscillates between aural beauty, melodic counterpoint and exciting improvisations. This music, in short, combines contemporary language with jazz and roots.
For this occasion, Lemes and Infante are accompanied by Javier Colina, one of the most recognized bass players on the international scene, highlighting his work with Tete Montoliu, Chucho Valdés, (who also gives his own concert on March 20th at Teatro El Salinero in Arrecife), Jerry González, Tomatito, Pepe Habichuela, Diego El Cigala or Enrique Morente.
Another good reason for attending any arts events you can is that so often the quality of the venue is as mind blowing as the art you will see and hear. That is certainly true when you attend a concert in Cueva de los Verdes. You follow guides with torches along a fifty yard path cut into the cave floor, lit by colourful but subdued lighting to take comfortable seats around an exquisite stage. We will be doing that on March 21st to hear a piano recital by Luis Fernando Pérez for €22
On the same evening there is a production of El Sueno De Cesar which we would also love to see at Teatro Tias for only six euros. El Sueño de César is a children's play in which the characters travel through the artistic universe of the great painter and sculptor César Manrique. Despite the threat of the diabolical titan Timanfaya to be erased from the map, Tamboril and Lenguado, two sketches of the imaginary of Lanzarote, persuade the artist César Manrique to materialize pictorial works inspired by natural motifs of the island. Timanfaya does not entrust nature to man, but Manrique fights for communion between the two.
There will be a jazz concert at 1.00 pm on March 22nd when Tecenla play at the El Grifo Bodego- It is always advisable to try to visit the venue in the two or three weeks beforehand to secure tickets.
However, if you truly do seek magic in the arts, then there is really no need to search beyond Teatro Víctor Fernández Gopar "El Salinero", where Jorge Blass will be performing a magic show later in the evening on 22nd March.
Blass, the most international Spanish illusionist, accepts the challenge of reinventing his magic and presents live revolutionary effects. This will be an innovative production that has as a common thread the ability of the human being to invent extraordinary things. Invention has a creative staging in which Jorge will use elements of the 21st century; a 3D printer that clones people, drones flying through the air, the formula of invisibility finally materialized and other technologies of the future that will serve Jorge to leave his audience speechless. His assistants on stage, a robot and a drone, will generate laughter and wonder as the audience consider what ´life´ would mean to a robot that is connected to the Internet and can "google" everything? This show is for all audiences that reinvents the current magic with an interactive proposal with its viewers.
We return to music on March 26TH to hear Lorca´s Spanish songs that so influenced Leonard Cohen. The concert entitled, Mariola Membrives takes place in Cic El Almacen and tickets are only ten euroes each.
Lorca, Spanish Songs, released by Karonte in March 2019 with the special collaboration of guitarist Marc Ribot, was considered one of the albums of that year by critics and the specialized press. The repertoire for this live presentation is formed by the popular songs that Lorca himself recorded on piano with the voice of Argentinita, turning into authentic classics such as "Anda jaleo", "La Tarara", "Los cuatro muleros" and "Zorongo gitano" although, on this occasion, Mariola offers us a renewed reading of them. To do this Mariola Membrives has created a powerful live band with some of the best exponents of rock, jazz and national flamenco.
At Cic El Almacén he will be accompanied by the electric guitar of Javier Pedreira (Luz Casal, Tomasito, Quique González…) and the trombone by Vicent Pérez (Perico Sambeat, Voro García, David Pastor Chris Cheek…), to offer us one of the most exciting new look at Lorca and his work.
The following day we can enjoy a taste of a different kind of traditional Spanish music, also being contemporised, by The Flamenco Jazz All Stars on 27th March at 8.30 pm, in another concert under the Ciclo de Jazz umbrella at Teatro Víctor Fernández Gopar "El Salinero"
Even from as far ahead as April, there are plenty of events beckoning us. Vicente Bru is a musician we have seen before as he and a female vocalist gave us ´antique music´ some while ago in Yorkshire, and after the show Vicent gave his captivated audience a long and loving talk about the replicated ancient clavichord he had been playing. On April 4th Vicent Bru takes to Salón Indieras Ayuntamiento de Tías, a harpsichord concert for 15 euros admission.
Later that month on April 17th The Hayriders will be one of various ´pop´groups´ performing free shows throughout the day as part of The Big Bopper Jamboree in Peurto Del Carmen.
In fact April is already looking like a very busy month, with The Levitants performing at El Grifo Bodego on 19th April and with April 21st being a celebration by the LBGT community proclaiming Yaiza Simply Love in performances throughout the town throughout the day.
St. George´s Day does not go forgotten, either, as on April 25th there will be a full day of appropriate musical celebrations on Plaza Varedero in Puerta Del Carmen.
Fuller details of these day long activities can be found on Miguel´s what´s on columns here on Lanzarote Information or on the Cabildo on line web site.
That evening of April 25th also brings us a concert at Cueva de los Verdes. Nostalgia by Trío Rodin is €22 for admission.
Trío Rodin is one of the most internationally renowned young chamber music bands. It started in 2011 in Utrecht, aiming to come up with a common project and three different personalities. Acclaimed by critics for their expressive strength and their communicative performances with the audiences, Trío Rodin has been unanimously awarded at several national and international competitions.
The Cueva de los Verdes Auditorium concert will be a metaphorical journey around countries such as Spain (eastern cultures and the gypsy influence of the "Five Gypsy Dances" by Turina, and the romanticism of the "Barcarola" by Teobaldo Power), Lithuania (with the piece "Song and Dance" by Senderovas, with different contrasts and moods), Argentina (with Piazzolla's New Tango part of "Oblivion" and "Death of an Angel"), and the US (an exciting visit to Broadway with "Café Music" by Schoenfield, and the highly renowned "West Side Story" by Bernstein). This will be unique non stop dancing experience, an original and unbeatable programme, delivered as Part of the Festival de Música Cueva de los Verdes.
That all leads us to go gathering buds in May, and rich pickings they will be.
On 2nd May Cristina Santonica will be giving a concert of arias and songs at Indieras Hall in Tias in a promotion by the Nino Diaz Foundation. Tickets for this are only 15 euros.
Phone 00 34 928 524 260
On 9th May we can hear Voz en Contra for only €22 in Cueva de los Verdes.
The third edition of the Cueva de los Verdes Music Festival comes to an end with Voz en Contra, with Reinier Elizarde "El Negrón", a renowned current jazz double bass player, and Marina Lledó, a Hispano-Brazilian singer, musician and composer. They combine forces on an interesting and exotic musical journey between Brazil, Cuba and their inner worlds through their own compositions.
Voz en Contra invites us on a journey through latin jazz, world music and a combination of styles.
The double bass, together with the versatility of both artists on stage, as well as how they take over the space with such two different instruments, leaves audiences in awe, taking them to a whole new level of musical reality.
Almost before we know where we are we have followed Sidetracks and Detours to where June is bustin´out all over with a plethora of concerts. As a fine example of how to get news out early around the world we offer you Graham Marshall, our occasional correspondent on classical music from the UK. Graham is tireless in spreading the word about the classical music he loves, posting on the Rochdale Music Society, promoting their concerts through our all across the arts office in the UK and even inviting us to adapt his reviews for our purposes here on this blog. Graham has already told his social media followers that on June 3rd at St. Michael´s Church in Bamford in Rochdale at 8.00 pm there will be a concert by The Rochdale light orchestra, playing music by Eric Coates, Frederick Curzon, Beethoven, Graham Marshall and others. Admission is free but there will be a retiring collection.
We are then back to the Indieras Hall in Tias for a concert by musician Radavan Caballin on 13th June at 8.30 pm. This is another promotion by Nino Diaz Foundation.
Amazingly, we then step into the second half of 2020 with a concert at The Arts Centre Lanzarote, a venue that we have never previously visited. On 4th July, The Absit Duo, an act we have never previously seen will be entertaining us, in yet another production by Nino Diaz Foundation.
So, whilst we offer our grateful thanks to all those who supply us with news of these events, we also urge anyone reading these pages to let us know of news, interviews, previews or reviews of happenings in their own arts organisations from all across the arts.. Simply drop us an e mail with your news from anywhere in the world to normanwarwick22@yahoo.com and we will try to spread the word.
Web sites, e-mails, social media, tv and radio are wonderful but there is nothing like telling a mate for spreading the word. It has to a bit clearer, though, than the ¨Chinese Whispers´ conveyed in our headings for this piece.
Pass It On.
https://aata.dev/wp-content/uploads/2020/02/blog-cover-creative-writing.jpg
340
486
Norman Warwick
https://aata.dev/wp-content/uploads/2020/04/newlogo.png
Norman Warwick
2020-02-26 09:30:39
2020-02-26 09:38:54
SEND THREE OR FOUR PENCE, WE ARE GOING TO A DANCE